Florida Football: The Top 10 Players for the 2012 Season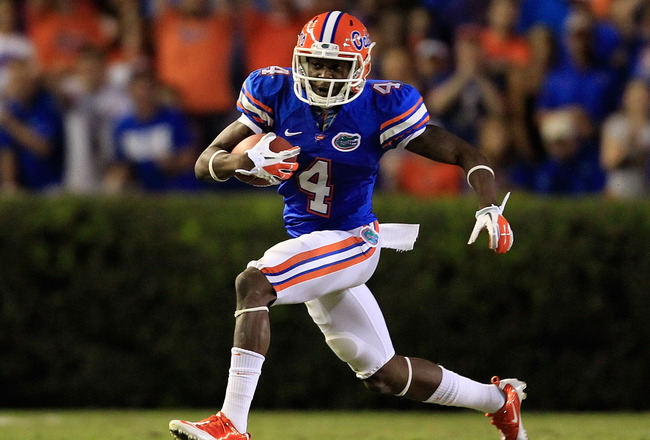 Sam Greenwood/Getty Images
The Florida Gators were expecting a down season in 2011, but not too many expected a 7-6 record at the end of the year.
In head coach Will Muschamp's second season in charge, the Gators return 16 starters, including nine on the defensive side of the ball. Therefore, this year should be a little better than the last.
That being said, who are the most important players for this Gators team?
The offense has struggled to find playmakers to improve a unit that averaged just 25 points per game last season. Meanwhile, the defense was extremely solid, but lacks depth and experience at certain areas.
As we quickly approach the 2012 college football season, here are the top 10 most important players for the Florida Gators.
10. Safety: Matt Elam
Elam was a 5-star recruit from the 2010 class and he has yet to let this Florida defense down. He has played in all 26 games during his career and enters his junior season as the unquestionable leader of this secondary. Last season, he finished second on the team with 78 tackles and also racked up 11 tackles for loss and two interceptions.
Elam is a very physical player who makes plays all over the field. He doesn't mind getting his hands dirty in the backfield, but can also make a quarterback pay for a bad decision with the football. As he becomes an upperclassman, you should expect even bigger things for this former 5-star recruit.
9. Linebacker: Jelani Jenkins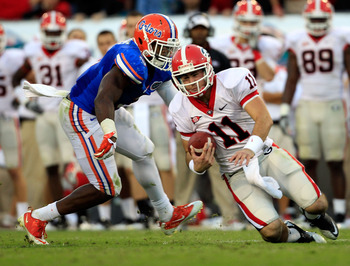 Sam Greenwood/Getty Images
Jenkins has been a consistent player over the last two seasons for this Florida defense, finishing third on the team with 75 tackles a season ago. He is a speedy linebacker, who covers a ton of ground and makes plays. He is great at getting into the backfield or dropping back in coverage, with two interceptions and seven broken passes in the last two seasons combined.
Jenkins is an experienced player who has started 23 games in his career, and will once again be a key player for this defense in 2012.
8. Punter: Kyle Christy
While punters may not receive much credit for successful football teams, a great punter can truly go a long way. Kyle Christy struggled last season with even becoming a starter as a freshman, but ended up finishing the season strong, averaging 40 yards per punt on 30 attempts.
The sophomore punter should end up starting full-time for this team and once again have another solid season. He has a tremendous leg and is capable of kicking field goals if needed. Don't be surprised if Christy ends up becoming the best punter in the conference when this season is all said and done.
7. Defensive End: Jonathan Bullard
The defensive line for the Gators last season was all out of place, although heavy recruiting in that area should improve this unit heading into next season. One of the true-freshmen that could start right away for this team is defensive end Jonathan Bullard.
He is a 5-star recruit, who has great size at 6'4" and 250 pounds and is a straight-up bull (no pun intended). He is extremely strong, gets off the line quick and bullies through anybody standing in his way. Bullard should see a lot of action this season and will be a key player in creating a more consistent defensive line this year.
6. Left Tackle: Xavier Nixon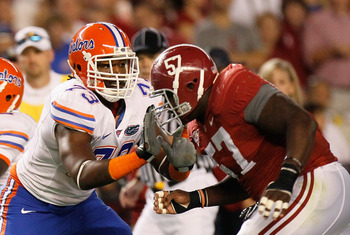 Kevin C. Cox/Getty Images
Nixon is one of the more experienced offensive linemen the Gators have on the roster. He has started 22 games and has seen action in a total of 35 games throughout his three-year career. The problem is that he spent most of the 2011 season battling injuries and illness, along with inconsistent play.
Nixon is considered to be one of the offensive linemen heading into next year's NFL draft, and it would be huge to this unit if he can regain form and get back on the field. This offensive line was shaky at best last season, so having an experienced tackle step in would help heading into September.
5. Linebacker: Jonathan Bostic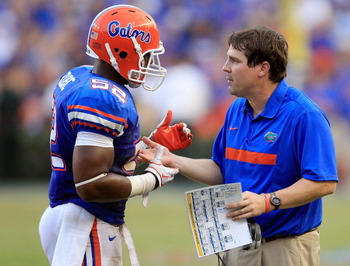 Sam Greenwood/Getty Images
There isn't a lot of depth at linebacker for this Florida team, which is why linebacker Jonathan Bostic is this high on the list. He led the team in tackles last season with 94 and has played in 38 games, of which he started 19.
This Florida defense was ranked fifth in the SEC last season, allowing 299 total yards a contest. If it's going to take the next step and become an elite unit in the SEC, it will start with Bostic at the outside linebacker position.
4. Quarterback: Jeff Driskel
Last season, the Gators offense struggled to do anything because the passing game was nearly nonexistent. With two young quarterbacks battling it out for the starting job, it must be better than the 185 yards in the air they averaged last season.
Jeff Driskel will likely be named the starter because of his dual-threat ability. He is a great weapon to have on the offensive side of the ball, and as you can see in the video, the kid has a robotic arm. Look for the sophomore to receive a lot of playing time this season and help add a spark to this offense.
3. Wide Receiver: Andre Debose
The Gators are a team that is used to seeing playmakers on offense and somebody who is capable of taking it the distance when the ball is in their hands. Junior wide receiver Andre Debose has that potential, but hasn't quite lived up to expectations in his first two seasons. In the last two years, he has a total of 26 receptions for 528 yards and four touchdowns.
The 5'11" wide receiver came out of high school as a 5-star recruit and the expectations were through the roof. It is about time the upperclassman steps up to the plate and helps provide some type of stability at a receiver position that doesn't look good at all on paper.
2. Running Back: Mike Gillislee
The Gators had two speedster running backs last season, but couldn't get the ground game going. Now that Chris Rainey and Jeff Demps are no longer on the roster, it will be up to some of the younger guys to take over. Gillislee is a power running back, who can run in between the tackles. He has the most experience of any of the other candidates, and has averaged over five yards a carry in each of the last three seasons.
If Gillislee can stay healthy, the Gators have themselves a productive runner who is strong, but who doesn't lack big-play ability. The senior back was named a top 150 SEC player heading into the 2012 college football season.
1. Defensive Tackle: Sharrif Floyd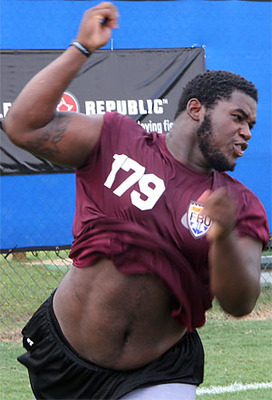 sportsillustrated.cnn.com
Florida had a very inconsistent defensive line last season; finishing six games with only one sack or no sacks at all. The Gators recruited extremely well in this department last season, which means that former 5-star recruit Sharrif Floyd can move back to his more comfortable position at defensive tackle.
Floyd has huge size at 6'3" and 305 pounds, but moves extremely well for his size and creates plays in the backfield as well. He finished sixth on the team with 46 tackles and picked up 6.5 tackles for loss. With Floyd playing in the middle of the line, he should help free some of the defensive ends and make this a much stronger unit this season for Florida.
If you can pressure the quarterback in the SEC, you give yourself an opportunity to have a very successful year.
Keep Reading

Florida Gators Football: Like this team?