Georgia Football: The Top 10 Players for the 2012 Season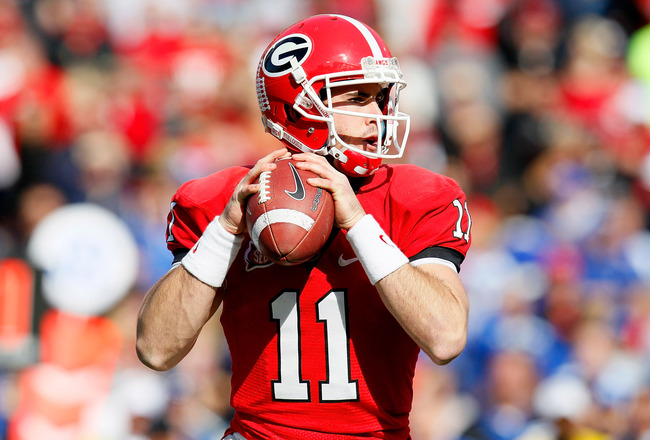 Kevin C. Cox/Getty Images
The Georgia Bulldogs enter the season as one of those teams in the SEC that many seem to be sleeping on. This is a team that returns 16 starters from a year ago, including nine from a defense that ranked fifth in the country.
The talent is certainly there to win this conference, as I recently predicted would be the case.
But in order to become SEC Champions, the Bulldogs must have certain players step up this season and they must stay healthy. Who would you pick to be some of the more important players on this 2012 roster?
As we get closer to the regular season kicking off, here are the top 10 most important Georgia Bulldogs for the 2012 college football season.
10. Wide Receiver: Tavarres King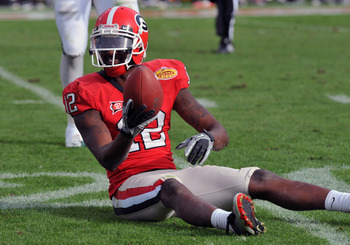 Al Messerschmidt/Getty Images
Georgia doesn't exactly have the most talented receivers in the country, but it does have enough to get by, especially with quarterback Aaron Murray throwing the football.
King will enter the season as the No. 1 option and it's about that time he takes that next step in his career during his senior year.
He has good size, has solid speed and is great at picking up yards after the catch. Seeing him improve on the 47 receptions he had last year would be terrific for this Georgia team.
9. Nose Tackle: John Jenkins
Scott Cunningham/Getty Images
Jenkins transferred from a Community College last season and quickly made his impact felt on this defensive line.
Georgia is a defense that is built around a ton of speed, but adding Jenkins and his 6'3", 351 pound frame in the middle gives this line some size and someone that can draw double teams. That of course makes the job easier for everyone else and is a main reason that the Bulldogs finished second in the SEC with 35 sacks.
Jenkins may not get a lot of credit or put up sexy numbers, but he is a very important member of this defense heading into the 2012 season.
8. Safety: Shawn Williams
Williams has been that emotional and pumped up player throughout his last two seasons as a starter. Now that he enters his senior season, the Bulldogs will need a lot more of that early on in the year.
That is because he is the only starter from the defensive backfield that won't start the season off with a suspension.
Williams finished last season with four interceptions, 72 tackles and five tackles for loss. That same type of production will need to be there, as well as leadership to some of the younger guys that will replace last year's starters for a couple games.
7. Offensive Lineman: Kenarious Gates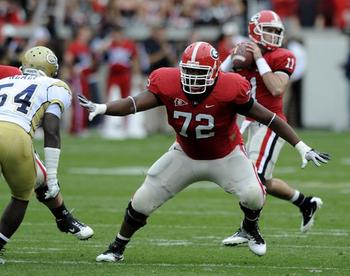 timesfreepress.com
The Bulldogs' offensive line needs some serious work after losing nearly every starter from a year ago. Kenarious Gates is the linemen that returns with the most experience, which is only 12 starts.
He will likely end up at left tackle, but has the ability to play right tackle or the guard position if needed.
Georgia needs to answer these issues on the offensive line before it can even think about an SEC title this season. Having Gates on the team and answering the left tackle position would be a huge first step heading into September.
6. Running Back: Isaiah Crowell
Crowell entered his true-freshman season with a ton of pressure on him. He was one of the top recruits of the 2011 class and many around the country expected huge things from day one.
He didn't quite fulfill those expectations, averaging under five yards a carry, totaling 850 yards on the ground and scoring just six touchdowns.
Now that doesn't mean this kid is not talented. He has terrific speed, changes direction with ease and is a threat to take it the distance every time he touches the ball.
With a full year under his belt, we should expect a better sophomore season from the speedster. And if he gets going, Georgia could have one of the best 1-2 punches along with true-freshman Keith Marshall.
5. Kicker: Marshall Morgan
Kickers never get talked about until you have a bad one, and last season, the Georgia Bulldogs were terrible at making field goals. The combined 59.5 percent was ranked 11th in the SEC last season.
Now that Blair Walsh is no longer on the roster, Georgia must look elsewhere for somebody to help put three on the board.
Morgan is a freshman kicker with a tremendous leg, and was considered by many recruiting sites to be one of the top kickers in the 2012 class. You can never really judge a kicker until you actually see him on the field in pressure situations, but if he can make more than 60 percent of his kicks, I'm sure Bulldog fans everywhere will take it.
4. Safety: Bacarri Rambo
Rambo helps complete an entire secondary that includes nothing but seniors, but in his junior year, Rambo finished the season with 55 tackles and was second in the country with eight interceptions.
He obviously has a nose for the football and can do his fair share of hitting as well. (As you can see in the video)
The senior safety will miss the first four games of the season due to a violation of team rules. Luckily for Georgia, the games aren't exactly the most difficult. Still, Rambo will be a huge part of this defense this year and will need to be on the field if the Bulldogs want to win the SEC.
3. Cornerback: Malcolm Mitchell
Michell played a big part on offense last season his freshman year. He hauled in 45 passes and finished second on the team with 665 receiving yards and four touchdowns. With his playmaking ability and good size, he will be counted on to once again be one of Georgia's best receivers.
But that is not why Mitchell is this high on this list.
With the recent suspensions to some of the Georgia defensive players, Mitchell will switch to the defensive side of the ball for a couple of games. It will be up to this sophomore to help fill in some of the holes and avoid an early upset to the Missouri Tigers in Columbia, MO.
2. Quarterback: Aaron Murray
Aaron Murray will enter his third season as the starter for the Bulldogs and should end up having another great season. As a sophomore, Murray threw for over 3,100 yards and 35 touchdowns, making him one of the top quarterbacks this conference has to offer. The junior has the skill set to lead this team, has the playmakers around him and now certainly has the experience.
This will likely be the year that Murray takes that next step in his career, and Georgia will need every bit of it if it would like to win the SEC this season.
1. Linebacker: Jarvis Jones
Jones had to sit out the entire 2010 season due to transferring from USC, but he made sure to make up for a year of lost time in 2011. He finished the year with 70 tackles, 19.5 tackles for loss and finished second in the country with 13.5 sacks.
The guy is an absolute beast and a key member to a defensive unit that ranked fifth in the country last year.
The 2011 AP All-American has quickly become one of the better defensive players and is a leader for this football team on and off the field. He has recently been named a member of the Lott IMPACT Trophy watch list.
Keep Reading

Georgia Bulldogs Football: Like this team?