Celtics vs. Heat: Game 7 TV Schedule, Live Stream, Spread Info and More
June 8, 2012

It all comes down to one game for the Miami Heat and the Boston Celtics.
In what has turned into a heavyweight fight, LeBron James got up off the canvas in Game 6 and now has the opposition on the ropes with only 48 minutes of basketball left in one team's season.
Facing elimination, James did exactly what he had to do in Game 6. The regular season MVP put the Heat on his back and turned in one of the greatest postseason performances in history, scoring 45 points, grabbing 15 rebounds and dishing out five assists on 19-for-26 shooting from the floor.
Can he turn in another special performance in Game 7? He will have to for Miami to advance to the NBA finals.
As for the Celtics, did they blow their best chance to close out the series? And has fatigue finally caught up with the aging squad?
Here is a look at everything you need to know about the deciding game of the Eastern Conference finals.
When: Saturday, June 9 at 8:30 p.m. EDT
Where: American Airlines Arena in Miami, FL
Watch: ESPN
Live Stream: ESPN3
Betting Line: Miami (-8) via 5Dimes
Celtics Injuries (Per CBS Sports)
Out: Avery Bradley (shoulder)
Heat Injuries (Per CBS Sports)
No key injuries reported
What They Are Saying
Jackie MacMullan of ESPN Boston takes a look at how the Celtics let a golden opportunity slip away against a team that had lost 15 of their previous 16 games in Boston.
Here's the one irrefutable thing about the Heat: They are a marvelous, athletic basketball machine when they are in front and running and dunking and scoring. And here's one irrefutable thing about the Celtics: They don't have enough weapons to erase double-digit deficits late in ballgames.

It's one thing to lose because you miss shots, as Paul Pierce, who was 4-of-18 from the floor, most certainly did. It's another thing to falter because of fatigue, the culprit that appeared to finally cut the single-minded Kevin Garnett (12 points in 31 minutes) down to size.

But to literally throw away your chance to advance to the NBA Finals, to punt on the best storyline in the league -- Old, injured, exhausted Green Geriatrics eliminate South Beach's Insufferable Stars! -- it's frankly hard to understand, and even more difficult to digest.

The Heat forced a Game 7 in Miami on Saturday because they played as if their professional lives depended on it. The Celtics, meanwhile, forfeited their edge, their swagger and a small piece of their credibility as the team that is superior in pressure situations, by being unwilling or unable to match the Heat's urgency.
As for the Heat, ESPN's Brian Windhorst looks at how no one really saw this coming from LBJ.
Still, no one saw it coming quite like this. Not James' 45 points, not his 15 rebounds, not his 19 made shots on 26 attempts, not even the emotionless dark stare from a player known for being so expressive that it qualifies as a turnoff for some.

"I'm not a fortune teller," Dwyane Wade said. "I didn't see it coming."

No one of sound or rational mind would have predicted James to have one of the greatest games of his career at TD Garden, the graveyard of his seasons past, in an elimination game against his most bitter rival. Maybe the Heat hoped for it, and they certainly needed it against a Celtics team that by any measure had outperformed them for most of this Eastern Conference finals. But no way was it foreseen.
Most Important Player to Watch: Dwyane Wade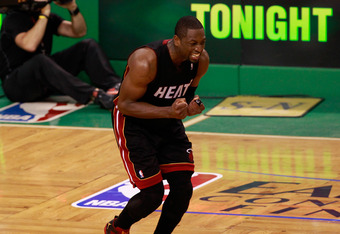 Jared Wickerham/Getty Images
LeBron will be LeBron in Game 7, but can we expect that type of performance in back-to-back games?
If he doesn't, Wade will have to find a way to be more productive. Put in another 6-of-17 shooting performance like he did in Game 6, and the Heat will be watching the Celtics celebrate at American Airlines Arena. 
In the past five games of this series, Wade is averaging 21 points, but only shooting 41 percent from the floor. He got off to another slow start in Game 6 and must come out more aggressive in Game 7.
Don't expect Doc Rivers to change his strategy, as he will continue to run double teams at Wade all game.
Key Matchup: Paul Pierce vs. LeBron James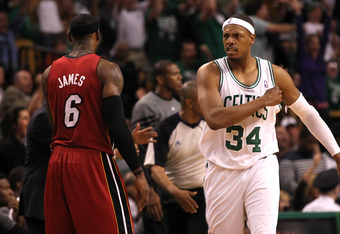 Jim Rogash/Getty Images
No pressure, but for the Heat to win Game 7, LeBron will need to deliver another otherworldly performance. He is just not getting enough help from his teammates. 
One thing that was largely overlooked in Game 6 is the job he did defensively on Pierce when they were matched up. 
Pierce finished the contest with only nine points on 4-for-18 shooting (0-for-6 from beyond the arc) and must be at his best for Boston to win Game 7 on the road.
The word "clutch" is often mentioned with these two players, but in very different ways. Pierce is considered one of the more clutch players in the league, while James frequently gets criticized for his performance in those same situations.
I guess we will see who is really clutch on Saturday night.
Prediction
Common sense would tell me to pick the Heat, especially considering the fact that they haven't lost back-to-back games at home all season. But I have a feeling Boston will make more shots in Game 7 and I'm concerned that Miami's role players will not come through. 
I'm calling upset.
Final Score: Celtics over Heat 95-93