Nadal vs. Ferrer: French Open 2012 Semifinals Scores, Highlights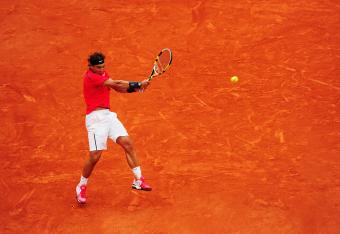 Mike Hewitt/Getty Images
It's men's semifinal day as we go from the Final Four to the last two standing. The first match of the day pits two Spaniards against each other in No. 6 David Ferrer and No. 2 Rafael Nadal.
Ferrer has registered the biggest win of the tournament, earning today's semifinal birth with a win over No. 4 Andy Murray. Nadal has played the best tennis in the field, having won every set thus far. Rafa is nearly impossible to beat when he is on his game, can Ferrer solve the puzzle?
Stick around all morning for up-to-the-minute updates.
Sincere thank you's to anyone who tuned in and I'll be starting a live blog for the next match shortly. Hopefully you decide to stay with us and I look forward to keeping you as up-to-date as humanly possible.
So one match is down and we now have one half of our finals pairing. Nadal was absolutely dominating today and he should have plenty in the tank for Sunday. Nadal owned his countryman today and will look to do the same to whomever he faces next.
Nadal is scribbling autographs and looks like he's barely broken a sweat. He's actually not had to sweat in this tournament yet.
Straight sets and Nadal has himself in position to win his seventh French Open title. He has to be considered a heavy favorite regardless of who he faces on Sunday.
What a dominating and mesmerizing performance by Nadal. Ferrer really had no chance today as he had no answers for anything Rafa did.
Once more Nadal blasts the forehand and that's it! Nadal takes the match 6-2, 6-2, 6-1 over the No. 6 player in the world!
A beautiful backhand return gives the advantage to Nadal along with match point.
Ferrer with an unforced error and we are at deuce #2.
Advantage Ferrer after Nadal returns into the net.
Nadal responds again with a forehand for deuce!
Ferrer, to his credit, battles back for game point.
Nadal leads 15-30 and it's just a formality now. If he breaks Ferrer he's in the final.
Another huge forehand from Rafa and he now leads it 5-1. He's one set away from a spot in the finals!
But Nadal quickly answers to take the lead back. It's hard to imagine Ferrer breaking him now. 40-15 for Nadal.
Ferrer shows a deft touch to even the score. He hasn't given up and he is actually not playing badly.
Nadal once again wins a quick point on his serve to go up 15-0.
A double fault by Ferrer gives Nadal the game and a 4-1 lead in the third set.
Ferrer with another forehand winner to keep the game alive.
Just like that Nadal is at triple break point again.
A masterful point by Nadal to go up 15-30.
An unforced error from Rafa evens it back up.
Nadal again just too much for Ferrer going up 0-15.
Nadal hits three straight slice backhands to seal the game. Nadal leads 3-1 in the third set.
Nadal serving for the game just misses an ace.
Ferrer with another big forehand evens it up. It's been his best weapon today but Nadal answers back with authority.
This article is
What is the duplicate article?
Why is this article offensive?
Where is this article plagiarized from?
Why is this article poorly edited?