Have the Arizona Diamondbacks Simply Underachieved or Have They Regressed?
June 8, 2012

Norm Hall/Getty Images
The 2012 Arizona Diamondbacks are worse than the 2011 squad essentially across the board—wins and losses, pitching performances and offensive statistics.
At the conclusion of play on June 7, 2011, the Diamondbacks boasted a 33-28 record and a .541 winning percentage, just one game back of the NL West-leading San Francisco Giants. On this date in 2011, the D-Backs were 14-7 in one-run affairs, had scored 282 and allowed just 269, a differential of 13 runs, translating to an expected record of 32-29, or just one game worse than their actual record.
As of June 7, 2012, an off-day, Arizona holds a 27-30 record, a .474 winning percentage and is 9.5 games back of the division-leading Los Angeles Dodgers. With a 5-11 record in one-run ballgames and 235 runs scored to 239 runs allowed, the Diamondbacks' expected record is a nearly-even 28-29, or one game better than their actual record.
The 2012 Diamondbacks are 15-13 within the division, but just 10-16 against all other NL teams.
On paper, Arizona has barely underachieved, though a 67-point winning percentage drop suggests a possible regression.
The Diamondbacks could claim that the injury bug has stunted their 2012 growth, but compared to the first-place Dodgers losing 2012 MVP candidate Matt Kemp, Mark and A.J. Ellis, Juan Uribe, Javy Guerra, Ted Lilly, Rubby De La Rosa and Justin Sellers, Arizona's losses of Daniel Hudson, Chris Young, Geoff Blum, Stephen Drew and Takashi Saito seem rather pedestrian by comparison—and the Dodgers have the best record in baseball.
The Diamondbacks could point to a Justin Upton slump as part of a reason for their drop in the standings. The dugout had an emotionally charged atmosphere in the wake of Ken Kendrick's comments about the "enigma" that is Upton earlier this week, though Upton, CEO Derrick Hall and GM Kevin Towers were all in agreement on Thursday that Kendrick's words might very well motivate, rather than divide the team.
Nonetheless, Arizona should be proud of young Wade Miley, who has already earned his seventh win early on in his rookie campaign. Jason Kubel contributions this year have been a significant improvement over his 2011 season with Minnesota and the Chase Field faithful should smile upon hearing the name, "Trevor Bauer."
After going 3-for-4 against Colorado on June 6, first baseman Paul Goldschmidt has appeared in 48 games for Arizona in 2012; he appeared in exactly 48 games in 2011. Through 48 games in 2012, Goldy has improved his batting average by 33 points to .288 and his OPS by 64 points to .872. While his home run count is seven in 2012 compared to eight in 2011, he has compiled seven more doubles (16 to nine) and 10 more total bases (84 to 74 in 2011).
Goldschmidt's strikeouts are also down by seven, even though he has had exactly seven more at-bats in 2012 compared to 2011 and his ground-out to air-out ratio has decreased from 1.23 to 1.06, suggesting Goldschmidt has learned to elevate the baseball. This past weekend against San Diego, Goldschmidt belted two long balls in consecutive games after picking up a home run last Wednesday against Tim Lincecum.
Odd-man-out outfielder Gerardo Parra picked up a pair of four-hit games last week, reaching base all five times he came to bat on May 26.
Even Ian Kennedy seems to be returning to form, striking out 12 in six shutout innings against Colorado on Tuesday, earning his fifth win and dropping his ERA to 3.93. Prior to that start, newcomer Trevor Cahill reversed his early-season woes by hurling a shutout vs. San Diego on Sunday.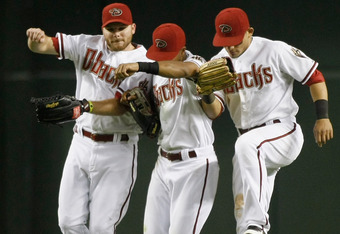 Ralph Freso/Getty Images
After the start Arizona has had, this sort of progress should not be taken lightly. Even though Upton stands to miss out on his third NL All-Star Game appearance, the pieces are there to make a second-half run, though the two NL Wild Card berth look far more attainable than a division crown at this point.
Through April and into May, the Arizona Diamondbacks had regressed—their record gradually sank to below the .500 mark and the performances of several newcomers and veterans alike suggested the team was significantly worse than the 2011 incarnation.
Yet with recent individual successes, Arizona has demonstrated glimmers of hope—a qualified possibility of rekindling the 2011 fire that spread when Kennedy, Goldschmidt, Young and Upton excelled in concert, driving the Diamondbacks into the playoffs.
Arizona's recent performance suggests this early 2012 crew of underachievement may instead have spent the first two months of the season masquerading as a squad of regression.