Does Jay Cutler Have Potential to Be a Top 5 Quarterback in 2012?
June 8, 2012

Jonathan Daniel/Getty Images
Yes, I know Jay Cutler isn't a rookie or a second-year player. And it may seem a little late to be talking about potential, but Cutler is a 29-year-old quarterback entering the prime of his career. 
This season, there are high expectations for the Bears quarterback, and he may be ready to meet and surpass those expectations.
Jay Cutler is entering his seventh season in the NFL, but as mentioned before, he's only 29. Most quarterbacks hit their prime at or around this time. So there's no reason to think Cutler is "too old."
Cutler has always had a pretty solid reputation around the NFL as a big-armed, gun-slinging quarterback for the Bears, but no one has even put him in the elite category with some of the top QBs in the NFL. Cutler has always been clumped into the middle tier of average QBs and nothing more.
However, this is an injustice to Cutler, because it doesn't take into account his situation. 
I've mentioned before in my other article that hypotheticals never seem to work in sports, but it's imperative to note that if you switch Cutler with Aaron Rodgers, Tom Brady or Drew Brees' teams, you're probably looking at a top five quarterback.
The fact of the matter is Cutler has had to overcome and attempt to carry an inept roster, and until he got hurt last season, he was doing an admirable job of it. (The Bears were 7-3 when Cutler broke his thumb.)
The weapons some of the top quarterbacks in the league have compared to Cutler is just flat out unfair.
Aaron Rodgers, for example, has Greg Jennings, Jordy Nelson, Jermichael Finley, James Jones and Donald Driver. Tom Brady has Wes Welker, Deion Branch, Brandon Lloyd and the two best pass-catching tight ends in the NFL in Rob Gronkowski and Aaron Hernandez.
Let's get to Drew Brees, as well, who has Marques Coleston, Jimmy Graham, Darren Sproles and Devery Henderson. I can go on and on and on, but I'm sure you get the point.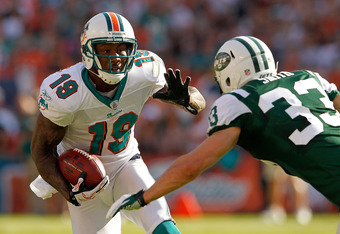 Mike Ehrmann/Getty Images
Yes, Cutler now has a No. 1 wide-receiver in Brandon Marshall, which is why expectations are so high for the Bears shot-caller, but I'm talking about the ineptitude of Cutler's supporting cast until this year.
Virtually every good quarterback in the NFL has a No. 1 wideout. Matt Stafford has Megatron, Eli Manning has Victor Cruz, Matt Schaub has Andre Johnson, Matt Ryan has Roddy White, Tony Romo has Dez Bryant and Michael Vick has DeSean Jackson. 
I'm sure you can see the point I'm trying to make here.
Cutler hasn't had a No. 1 wideout since his Denver days, and now, he has one, which is why he has the potential to be a top five QB.
Let's delve deeper into comparisons. I'm not going to go head over heels for Cutler because I know where to draw the line, but I'll let you know the quarterbacks who are better than Cutler and the quarterbacks I wouldn't take over Cutler.
Quarterbacks who are currently better than Jay Cutler are (in no particular order) Aaron Rodgers, Tom Brady, Drew Brees, Eli Manning, Ben Roethlisberger and Peyton Manning (when healthy). 
Quarterbacks who aren't currently better than Cutler are (in no particular order) Joe Flacco, Mark Sanchez, Matt Ryan, Cam Newton, Michael Vick, Tony Romo, Matt Schaub, Phillip Rivers and Matt Stafford. 
Anybody I didn't name, obviously doesn't belong in the discussion. I can already tell which QBs I'm going to be criticized for not taking over Jay Cutler. I'll break down my reason for each of them.
Let's start with Joe Flacco, who I think isn't even trusted by his own teammates to make the right plays when it counts. (Ed Reed called him out in the playoffs last year for not performing well).
The Ravens offense goes as RB Ray Rice goes, not as Joe Flacco does. Go back and look at the games in which Flacco threw 40-50 passes, and the Ravens lost the majority of the time.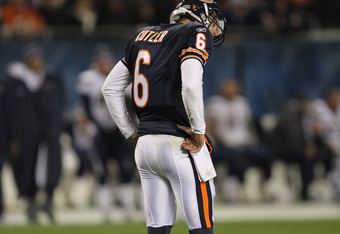 Jonathan Daniel/Getty Images
Mark Sanchez is another quarterback I believe is not trusted by his own team, and you could see that when the Jets brought in polarizing QB Tim Tebow. So it's pretty much a foregone conclusion: Sanchez will lose his job at some point next season.
Matt Ryan and Matt Schaub, to me, seem about the same type of quarterback. Both are solid but nothing special.
Ryan and Schaub routinely get their teams to the playoffs but never further than that (obviously Schaub was injured last year). They've had more weapons than Cutler, but yet they do less, as Cutler took the Bears to the NFC Championship game with less talent. 
Next, we have Cam Newton and Michael Vick, who are both similar QBs in terms of style of play.
Neither has an arm like Cutler, though they both can run the heck out of the football. The Eagles vastly underachieved, and Vick was mediocre with just 18 touchdowns and 14 interceptions last season.
Cam Newton was just a rookie, so I have to give him a little break. But he still had a Pro Bowl WR in Steve Smith and two great TEs in Greg Olsen and Jeremy Shockey, and he only led the Panthers to a 6-10 record. 
Then we have Tony Romo and Matt Stafford.
Romo was spectacular last year but failed to make the playoffs. Over his career, he's only won just one playoff game. He's certainly had the talent but never makes the most of it.
Stafford, on the hand, came through last year after he was finally able to stay injury free. The Lions made the playoffs, but, of course, they were knocked out in the first round. Stafford was not shy about throwing the ball, as he racked up more than 5,000 passing yards. But let's not forget he has the best WR in the game in Megatron Calvin Johnson.
In fact, many NFL fans believe Stafford is a product of Johnson and not the other way around. 
Last, we have Phillip Rivers, a quarterback Cutler has personally said he hates, and they've had their battles back when Cutler was in the AFC West.
Rivers has certainly had the better career (he's a four-time Pro Bowler), but again, he's had some decent talent around him in Pro-Bowl TE Antonio Gates and Pro-Bowl WR Vincent Jackson (who's now with the Bucs).
Rivers, though, had a disappointing season last year, when he threw 20 interceptions and the Chargers failed to make the playoffs in a division Tim Tebow won. Does that sound like something a top five quarterback would let happen?
I thought so. 
Again, the operative word here is potential. I can't fault all these quarterbacks for having talent around them. I mean who wouldn't want to be supported by talent?
But it's about making a case for Cutler who is vastly underrated and under-appreciated in the NFL. He's got all the talent to become a top five quarterback, and now, he has the personnel to do it (though I still don't think the Bears weapons are as lethal as the Packers, Patriots, Giants, etc.).
Cutler will be expected to break out in a big way in 2012, and don't surprised if he joins the elite ranks of QBs. Just know one thing, you heard it here first.