NBA Free Agency 2012: Why Mavericks Must Spurn Deron Williams for Steve Nash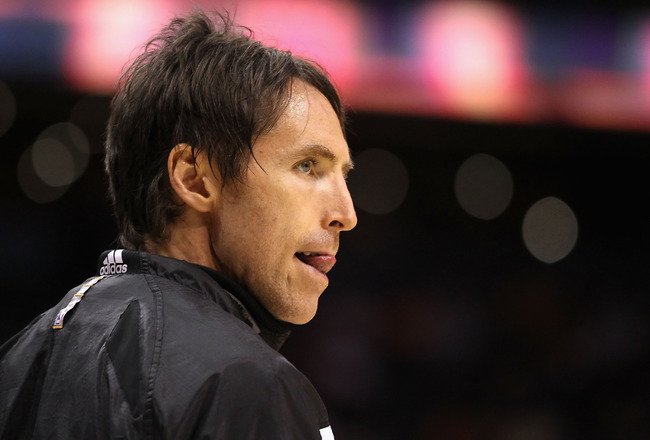 Christian Petersen/Getty Images
As the 2012 NBA free agency season heats up, the Dallas Mavericks have a few enticing options at point guard.
Deron Williams is interested in playing back at home in Texas, and he would provide plenty of production and help make the team a contender.
But cagey veteran Steve Nash is also a free agent, and the Mavericks have a chance to bring him back into the fold and recreate the old magic.
Nash is older, but he's cheaper and still playing at an extremely high level. His connection with Dirk Nowitzki could make him the prime candidate to take over the point in Dallas.
Here are eight reasons why the Mavericks must spurn Deron Williams for Steve Nash in free agency this summer.
The Nowitzki Connection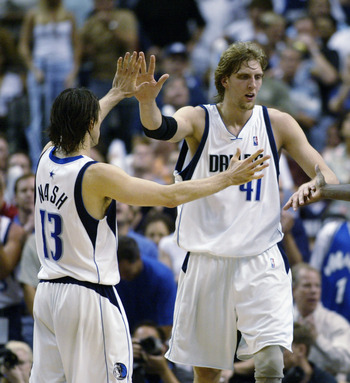 Ronald Martinez/Getty Images
Steve Nash and Dirk Nowitzki put the Dallas Mavericks on the map in the early 2000s. The international pair formed one of the NBA's most dangerous duos for six seasons and made Mark Cuban's club a fixture in the playoffs.
Nash and Nowitzki would love to play together again and pick up where they left off in 2004. Their pick-and-roll skills would be just as effective, and the whole team would benefit.
Yes, the pair is older and not nearly as athletically explosive (especially on Nash's part), but their efficiency and chemistry would be as strong as ever.
Working with Youth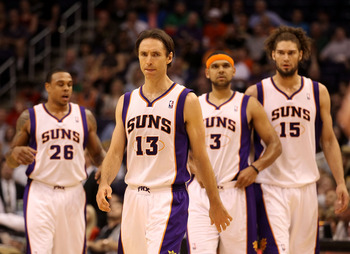 Christian Petersen/Getty Images
Dallas is in the gradual process of getting rid of some of its older pieces to bring in a younger crop of talent to surround Dirk Nowitzki, but they shouldn't get younger at every position.
Having a savvy veteran point guard to work with the youth would be invaluable.
Steve Nash's skills as a floor general and his knack for making his teammates better surpasses anything Deron Williams could accomplish.
Nash would help the younger players mature and quickly maximize their potential within Rick Carlisle's system.
Floor-General Efficiency
Jed Jacobsohn/Getty Images
Deron Williams is younger, stronger and more athletic than Steven Nash—by a long shot. But when it comes to dishing the rock, Nash is a safer bet.
Nash turns the ball over less than three times per game, while Williams turns it over more than three times per game.
The Mavericks can trust Nash to come into their system and play cleaner offense than Williams, who could take months to acclimate himself to his teammates and take great care of the ball.
Williams' court vision, experience and precision aren't quite at Nash's level.
Affordable Alternative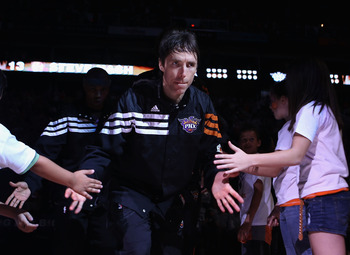 Christian Petersen/Getty Images
While signing a player like Deron Williams seems like an attractive opportunity, Mavericks fans should remember that he's going to command top dollar.
Williams' will be somewhere in the area of a max contract, which will limit Dallas' options to put the rest of the team together.
Nash wouldn't cost as much, and the excess cash could be used to build better pieces around Nash and Nowitzki.
Also, keep in mind that Nash won't be as much of a long-term commitment as Williams, who could keep the franchise financially strapped for years.
Shooting Superiority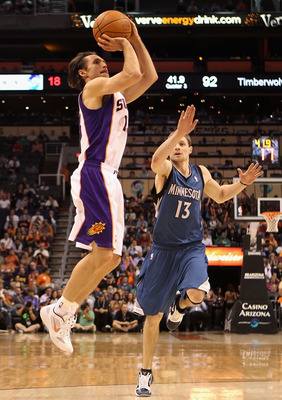 Christian Petersen/Getty Images
Deron Williams is an excellent shooter with a career field goal percentage of 45 percent and respectable true shooting percentage and effective field goal percentage numbers.
But Steve Nash is even better. His career field goal percentage is 49 percent and his true shooting and effective field goal percentages are both better than Williams'.
Nash won't be asked to take an absurd volume of shots, but when he gets favorable looks, his teammates know they can count on him like clockwork. His shooting efficiency per possession is distinctly better than D-Will's.
Leadership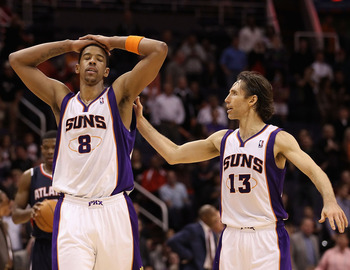 Christian Petersen/Getty Images
Even if teams have leaders at multiple positions, it's always an advantage to have a point guard who's a leader.
For example, the San Antonio Spurs have Tim Duncan, but Tony Parker's leadership as a floor general makes them special.
The Boston Celtics have plenty of veteran leadership, but it's Rajon Rondo's assertiveness and direction of the offense that makes the team elite.
Steve Nash is undoubtedly a better leader on and off the court, something the Mavericks should take into consideration when mulling over the decision between him and Deron Williams.
Wants a Ring ASAP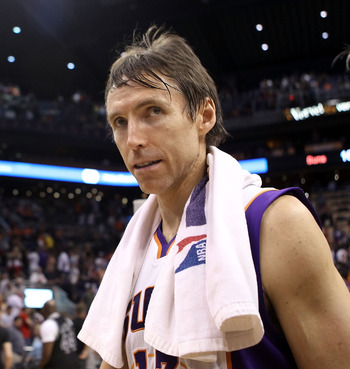 Christian Petersen/Getty Images
Steve Nash's career probably won't last past 2015, so he's looking at this next three-year stretch as his window to win an NBA title.
His competitiveness in the NBA playoffs has been remarkable throughout the years, but he's fallen short of the ultimate prize every time.
Mark Cuban knows that Nash would give him 110 percent in pursuit of a ring.
I'm not trying to diminish Deron Williams' drive and desire. Just think of how sweet it would be for Cuban, Nowitzki and Nash to contend for a title after reuniting.
D-Will Doesn't Want Dallas as Much as Nash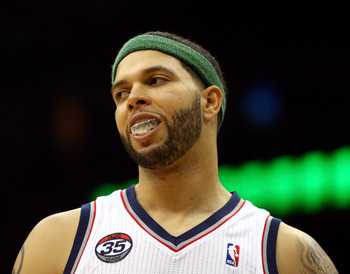 Chris Chambers/Getty Images
The Dallas Mavericks are one of Deron Williams' top destination choices, but he's equally interested in exploring other major-market options, including returning to the Nets franchise in Brooklyn.
It's not a stretch to assume that Nash wants to play in Dallas with Nowitzki more than Williams does.
Why bend over backwards trying to spend a boatload of money on Williams when Nash is more affordable and more willing to be a Maverick?
Keep Reading

Dallas Mavericks: Like this team?