LeBron James' 45 Points Provide One Message: Go Do It Again in Game 7
June 8, 2012

Jim Rogash/Getty Images
Boston Celtics head coach Doc Rivers made it very clear to his veteran team before Game 6 of the Eastern Conference finals that the Miami Heat have yet to see Boston's best game.
"They have not seen our best," Rivers said to his team before they took the court. "They're going to see our best tonight, I can feel it."
It appears that somebody forgot to tell Doc that the Celtics had yet to see LeBron James' best.
That came in Game 6 on Thursday.
Coming from someone who has averaged over 30 points and 10 rebounds in this series, you would think that LeBron's done everything he can to give Miami a fighting chance despite trailing 3-2, heading into their do-or-die situation on Thursday night.
When the box score reads that the three-time MVP scored 45 points, grabbed 15 rebounds and dished out five assists in a convincing 19-point win, one question stands out from this outstanding night:
Why doesn't LeBron do this more often?
Not necessarily putting up quality numbers that are worthy of being an MVP, but rather taking over a game the way he did in Game 6. This is considering that everyone wondered how the Heat, especially James, would respond to the devastating blow to the gut they suffered at the end of Game 5.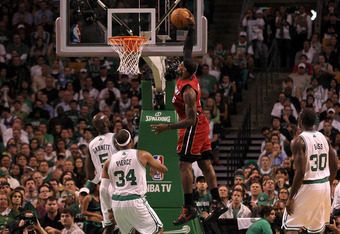 Jim Rogash/Getty Images
Well, we know how LeBron responded, and right now, that's all that matters in this current point in time. The man showed us that the Cleveland version of King James had to take a seat on his throne in order for Miami to survive another day.
And we got our wish: a Game 7 in Miami with a berth in the NBA Finals on the line. But it's safe to say that this was supposed to be Boston's Game 7, and it showed in large stretches of this game.
For the first time all postseason, the Celtics looked their age, and I know that's a very shocking realization to come to grips with, especially with how they've performed this year. But the truth has finally been revealed, and I'm not talking about Paul Pierce:
The Celtics are old, and this is officially Miami's series for the taking.
As for the Heat, they got what they wanted. Miami heads back to American Airlines Arena for Game 7 and get a chance to head back to the NBA Finals, with all momentum on their side once again.
Not to mention that they have a chance to possibly end the Big Three era in Boston, once and for all.
If the Heat want to do that and get back to the finals—where a hungry, young and confident Oklahoma City team awaits them—then the chance to do such is right in front of them. The Celtics' legs are getting the best of them, and playing a game every other day isn't helping their cause.
And if the Heat want to put the final nail in the coffin and possibly end this era in Celtics basketball, then it hinges on LeBron's performance yet again.
How funny is it to know that once this game ended, everyone thought the Heat finished the series? There's no question that people looking at anything relating to this game think that the series is done as of Thursday.
But there's one more game to play, and the only question that we need answered for the next 48 hours is simply this:
Can LeBron do it again?
He may not put up numbers again like he did on Thursday. Keep in mind, the only other player to ever tally at least 45 points, 15 rebounds and five assists in a playoff game was Wilt Chamberlain. So there's a high degree of doubt that that kind of performance can happen again.
However, make no mistake about it: LeBron can score 30 points in the first half if he wants to, and if Eric Spoelstra run the same type of game plan that worked so effectively on Thursday, then we'll witness LeBron score 45 points yet again—and maybe more than that.
Saturday night in Miami will showcase a spectacle of such magnitude that an article can't do it justice. It's been a long time since a Conference final series went to a seventh game, and one can only wonder what will happen.
And one can only wonder if LeBron James can do what he does best in close-out games one more time:
Dominate.