Previewing the 2009 Minnesota Twins: Outfield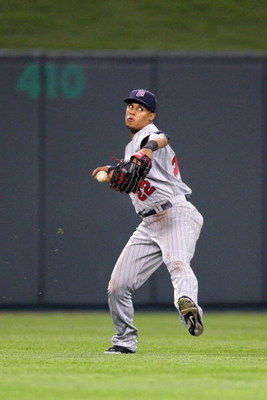 To say that the outfield for the Minnesota Twins coming into the '09 season is a 'logjam' would be an understatement.
With no definite starter, and a plethora of varied talents, manager Ron Gardenhire, who has a preferred outfield, will still have to define the roles of five or six qualified outfielders.
DH/OF - Jason Kubel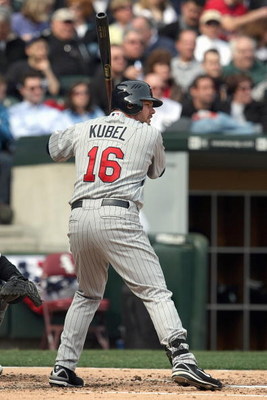 http://bleacherreport.com/articles/119239-living-up-to-the-hype-jason-kubel-will-break-out-in-09
I won't oogle over how well I think Kubel will do again, but where he fits into the outfield is debatable.
It appears that his days primarily as an outfielder are over with. However, he enters Spring Training with the designated hitter spot virtually to his self.
Mike Redmond may platoon with him every once in a while. Morneau may take a breather from the field every once in a while.
Otherwise, Kubel will be given every opportunity to make good on my prediction, while keeping a bothersome knee from the field in '09.
Prediction: .290/.355/.503/ 88RBI
RF - Michael Cuddyer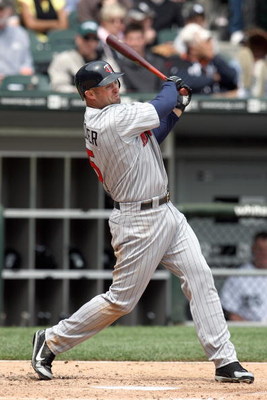 The eldest of the outfield and leader of the clubhouse, Michael Cuddyer staying healthy throughout the bulk of the season would be quite the boost.
Riddled by injuries in '07 and '08, Cuddyer's last healthy season was his best. During the season, he hit .282 while boasting a .504 slugging percentage.
Getting back to his '06 form would almost ensure Cuddyer a spot in right field, where his arm has thrived the last several years.
It would also likely earn him a spot in the heart of the batting order, where he often hit in between the M&M boys.
And we all know how prolific the group was in '06.
Prediction: .272/.353/.461/89RBI
CF - Carlos Gomez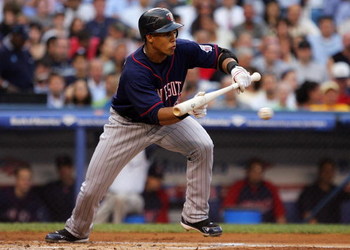 Physical tools aside, Carlos Gomez still has plenty of things to work on.
Atop the list is plate discipline. Gomez struck out about once every four AB last season, while walking about once every 23.
Compare that to Joe Mauer, who struck out about once every 11 AB and walked about once every six AB.
Now, I'm not saying that Gomez needs to be Mauer when it comes to plate discipline, but he's got a long way to go before he's in the upper tier of leadoff hitters.

Granted, he would have to win the spot back from Span, who appears to determined to prove everybody wrong and then some.
That said, if Gomez can cut down his K/AB ratio to 1:6 and bring his BB:AB ratio up to about 1:17 (boosting his OBP about 20 points), I'll be satisfied with his progression this season.
He figures to have an outfield spot in hand, or at least according to Ron Gardenhire's preferred outfield.
Prediction: .269/.317/.368/44 SB
OF - Denard Span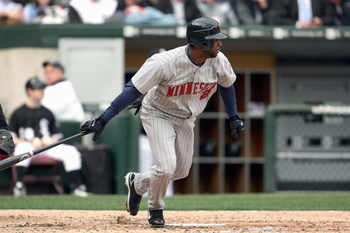 When I say that Denard Span is determined to prove everybody wrong, I'm not joking. http://bleacherreport.com/articles/117237-twins-denard-span-finds-success-after-setbacks
That said, Span still carries that chip on his shoulder this year. And after a stellar debut in '08, all signs point to Denard enjoying more success in his sophomore campaign.
Span appears most qualified to bat leadoff, a position he prospered in last season. He exemplified great patience at the plate, walking 50 times in just 347 AB. He also scored 70 runs, nine less than Carlos Gomez, but also in 230 fewer AB.
He will almost certainly earn a spot in the outfield, but as to where is questionable. Cuddyer wouldn't really fit anywhere but right field, and Gomez hasn't played at any other position than CF with the Twins.
Span may have to adapt again to a different spot in the outfield, left field, where Delmon Young looked helpless.
Prediction: .288/.376/.416/98R
Odd Man Out? - Delmon Young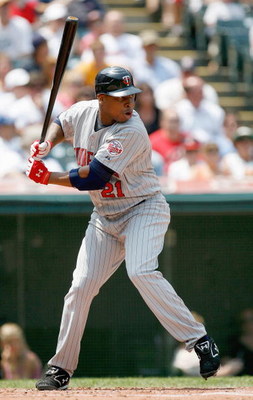 In reality, Delmon Young's statistics weren't that different last season as they were in '07, when he finished 2nd in NL ROY voting.
The only noticeable disparities were his OBP, which increased twenty points, and his RBI total, which dropped twenty-four runs, a product of batting behind the RBI vacuum, Justin Morneau.
Regardless, his fielding was beyond poor, and his stubbornness rubbed many the wrong way.
Because he is content with his inside-out swing, he racks up singles instead of attempting to pull the ball (and apparently, he goes on a HR derby in batting practice)
That stopped him from becoming more of an impact bat in the Twins lineup.
Assuming he becomes more of a power hitter this year, his spot in the lineup is still unresolved.
If Cuddyer makes a full-fledged comeback (which I expect he will), then a spot in the outfield won't likely be available.
DH may be a spot where he could platoon, unless Kubel proves he can consistently hit left-handed pitching. Either way, I think he'll find his niche somewhere, wherever that may be.
Prediction: .298/.352/.468/18 HR
Summary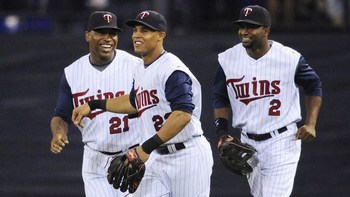 These five players all carry loads of talent.
These five players will have roles in the Twins lineup that could make or break the season.
No pressure, guys.
Keep Reading

Minnesota Twins: Like this team?