What Not to Buy: The Worst Merchandise in Pro Wrestling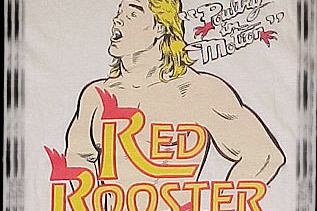 http://www.wrestlecrap.com/sbt%20files/sbt-roostershirt/roostershirt.jpg
Like buying a jersey of your favorite football player, pro wrestling fans have their own way of showing support for their favorite wrestlers. From t-shirts to action figures and video games, there are things that fans will shell out hundreds or even thousands of dollars over.
Yet there are those pieces of merchandise that make fans tilt their heads and wonder what the promotion was thinking. Whether it's a horrible design, high price or just a plain bad idea, there are those pieces of merchandise, like the Red Rooster shirt above, that just should have never been made.
I'm going to spend the next slides listing a handful of them.
Begin Slideshow

»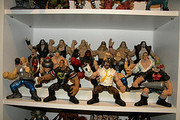 http://farm6.staticflickr.com/5093/5540461760_9eb134a2ed_m.jpg
When toy maker Jakks Pacific went through their checklist of what else to do with their awesome toy line of WWF wrestling figures, what do you think was on that list? Figures with more points of articulation? Maybe more realistic figures?How about if the figures looked like roided-out cartoon characters that would sweat as if they were escaping from a jungle POW camp?
If you guessed the last one, you are on the same page as Jakks was when they debuted the Maximum Sweat action figure line. Throughout the three series the line ran, the figures ran the gamut from main eventers like Undertaker and Stone Cold to mid-carders like Ken Shamrock and Gangrel.
Yet what separated these figures from the rest was a compartment in their backs that could be filled with water to create the look of sweating.
And not a little bit of sweat, mind you, but what would equal out to an unhealthy amount of sweat.
Add to the fact that the figures were so outlandish in how they looked, it didn't just help the stigma that wrestlers may use steroids, it made you think that's all they did.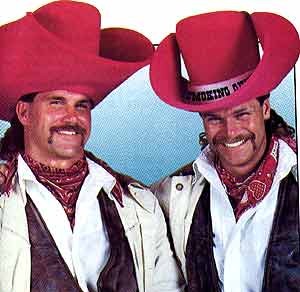 http://www.wrestlecrap.com/sbt%20files/smoking%20gunns%20hat/gunnsfoamhat.jpg
This one is quite obvious why it's on the list. Nothing says "Cowboy Up" more than a giant, maroon, foam cowboy hat.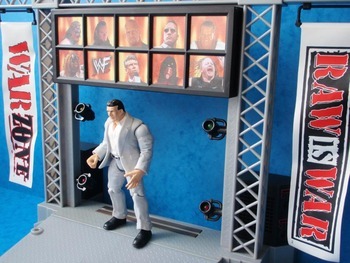 http://cdn.bleacherreport.net/images_root/slides/photos/002/007/560/titantron_display_image.jpg?1331268572
This is the first of a couple things on this list that I actually owned. The Titantron playset was a replica of the Attitude Era, complete with ramp and banners. The cool thing about this set was that certain figures with metal plates on their feet could interact with the arena. When these wrestling figures touched the ramp, that wrestler's entrance music would play for about 10 seconds.
The problem was twofold, first the sound quality of the playset was terrible with all of the songs sounding like they were coming from the bottom of a fishbowl. Second, the figures that were used for the set were more expensive than other Jakks figures due to the music ability.
But most importantly was their lack of mobility. You couldn't really play with them like the figures with more flexible plastic. So for the money that you were spending on these things, you were basically buying pricey paper-weights. It didn't help that only a few figures were made for the playset.
What I came to realize was that if I wanted to make it seem real with wrestlers coming to the ring with the entrance music playing, I would just get one of the WWE music CDs and play them on my boombox.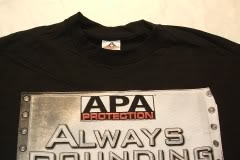 http://scarless1.tripod.com/images/badmerch2/apa.JPG
Known for their blue collar demeanor and willingness to fight anyone and everyone, the APA may go down as one of the biggest fan favorite teams of the WWE. Yet when the WWE released this shirt with a play on the teams name which stood for Acolyte Protection Agency, many were left scratching their heads or quietly laughing to themselves.
Changing the acronym to Always Pounding Ass for some reason doesn't have the same amount of toughness that the original name does.
And look at that picture, does that look like Bradshaw is ready to kick the hell out of someone or maybe ask them out? The come hither look in his eyes is kind of uncomfortable, and the shirt itself really pushes the innuendo barrier, even by WWE standards.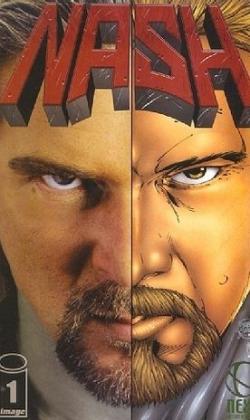 http://2.bp.blogspot.com/_6VPzVlB8N28/TOvWq6hlRCI/AAAAAAAACxo/ZauVj9Op1hA/s1600/nash1.jpg
In the world of comics, it takes a lot to make a story completely unreadable. Yet for some reason, the world of pro wrestling has never had a successful transition into the medium. One of the more notorious series was created and co-written by Kevin Nash. Now if you ever wondered if a comic book character could reflect its writer's personality, this comic does it to the nines.
The gist of the story is that the world is now a dystopian wasteland where food is the only commodity. The titular Nash character is a tower of a man who not only destroys all that challenge him but the ladies love him.
In fact, in the first couple of pages you see Nash is when he is laying pipe to a buxom female before going out and beating the hell out of more bad guys.
I'm almost amazed that the bad guys weren't drawn to look like guys who may have challenged Captain American, Superman, or the Incredible Hulk. Fortunately, the series only lasted for a couple of issues and it's become quite the guilty pleasure for many comic fans and masochists.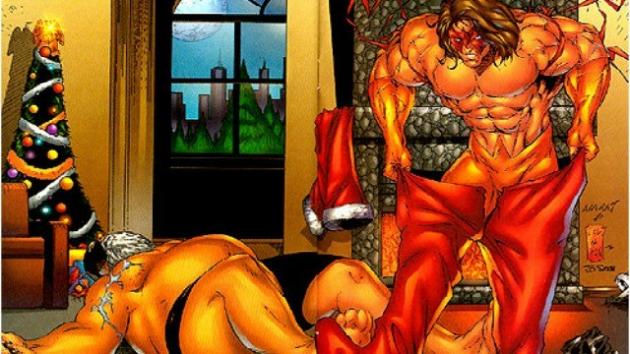 http://www.i-mockery.com/minimocks/warrior-xmas/14.jpg
If Kevin Nash's comic was meant to reflect his egotistical personality, the Ultimate Warrior's comic book really goes well with how batcrap crazy the man is. The comic series, simply titled Warrior, is so insane that the minds of normal people cannot even come close to understanding what the hell is going on in the five issues of the series.
The issues start out with a definition to the word "Destruncity," which I won't even try to explain. I'll let the Warrior do it for me.
"In its design, Destruncity represents a constellation existing in the heavens which symbolizes the 'Eight Disciplines' by which Warriors chose to live their lives. Brought to existence by the destinies of those willing to die for their Beliefs, brought to exist as a place where people live by Belief in the evolution of their Higher Selves—constantly evolving toward a completion of their chosen destiny—all with strength in the denial of 'System Beliefs'—the very Beliefs that amplify differences in and create rights, wrongs, judgments, and opinions in people, places and things."
Confused yet? Don't worry, because you're not alone. The art of the comic actually isn't that bad and closely resembles that of the Spawn comic books.
The series is crazy enough thanks to its most infamous issue, "the Christmas issue." In it, Santa joins in the hijinks with the Warrior until apparently being roofied and undressed by Warrior, leaving an image that will scar any comic book reader or wrestling fan for the rest of their lives.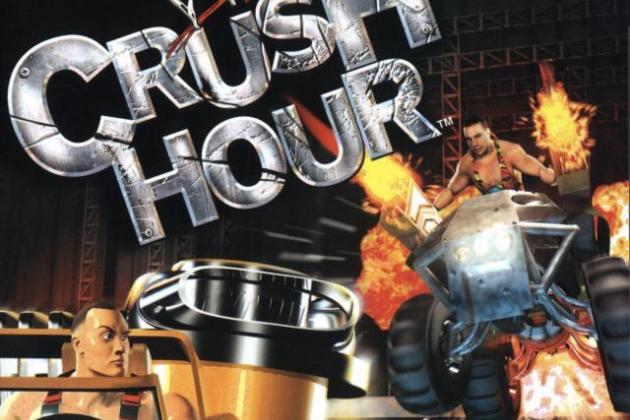 http://upload.wikimedia.org/wikipedia/en/d/d4/WWE_Crush_Hour_Coverart.png
For the most part the WWE has had a very good track record with video games. Yet for every No Mercy and Here Comes the Pain, there is a game so terrible that it almost ruins the credibility of those good ones; case in point, WWE Crush Hour for the PlayStation 2 and Nintendo Gamecube.
The game follows the premise of Vince McMahon gaining ownership over every TV network, and in an attempt to fill them with programming, creates "Crush Hour" which is a demolition derby featuring then-current WWE stars.
The game itself is atrocious, being nothing more than a cheap Twisted Metal ripoff. It never got any positive reviews, and the best critics rated it as an average game. So if you're looking to completely remove yourself from the life of a wrestling fan, give them the gift of Crush Hour.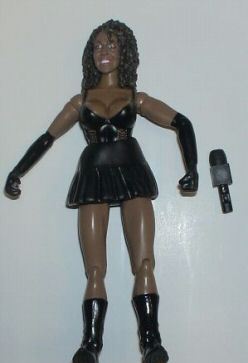 http://www.wrestlecrap.com/sbt%20files/sbt-laylafigure/laylafigure.jpg
Now I will always have a special place in my heart for the wrestling action figures that I played with as a kid; I even still have them all in a box in my closet. Yet one thing I always hated was when figures weren't good to play with because they couldn't move like I wanted them to or if they looked incredibly unlike the person that they were meant to portray.
If you want to see probably the worst example of this, look no further than the Layla action figure from the WWECW series. Instead of her tan complexion and straight long hair, Jakks decided to go in another direction by making it look like Layla was in blackface.
Even worse is the fact that her hair looks like Jheri curls. By looking at it, the only thing that might have made it more racist would be to have a white outline around her mouth.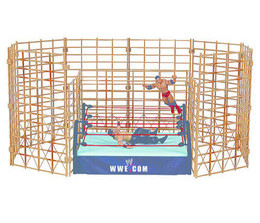 http://www.thetoyshop.com/media/toyshop/products/Vivid/zoom/389916.jpg
Many, including myself, consider the Kennel from Hell match between Al Snow and the Big Boss Man one of the worst gimmick matches of all time. The WWE obviously never learned their lesson when a few years later, they decided to slightly alter the match and add a bit of racism to it by having the Punjabi Prison match.
The match replaced the traditional cage and cell for two cages made out of bamboo, and the "vicious dogs" between the cages were replaced by tables with weapons on them. Yet for how different the two match types were, they were very similar in that they were terrible. This led to only a couple matches using this gimmick.
So of course the WWE decided that the fans liked the match enough to make a playset of it, so that they could relive the magic whenever they wanted. While the design of the playset isn't that bad, it's the idea that fans would be flocking to buy it. What's next, a playset for the Viagra on a pole match from WCW?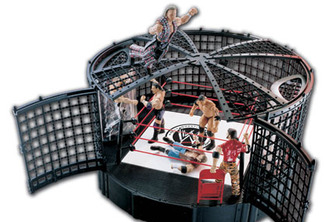 http://www.toymania.com/news/images/0703_elimcham.jpg
Now while the elimination chamber match isn't a horrible match—in fact it's one of the better gimmick ideas in the past couple of years—that doesn't mean it translates well into toy form. The playset fits snug around your wrestling ring and features the four chambers as it would in the real match.
Where the problem lies, though, is that the set is too small for most older fans to comfortably play with, making it more of a showpiece rather than something for playing.
Yet the most damning thing about this playset was that, up until recently, it cost $99, an outrageous price for most toys, especially one that isn't electronic.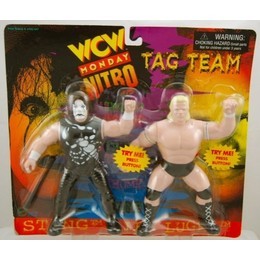 http://di1-4.shoppingshadow.com/images/pi/8f/cb/57/90216700-260x260-0-0_Toymakers+WCW+Monday+Nitro+Tag+Team+1997+Sting+Lex.jpg
If you can't tell by now that I love wrestling figures, I suggest you reread some of the earlier slides to see how passionate I am about them.
They allowed me to live out my dreams of being a wrestler as a kid along with being able to have dream matches for the title or having my own King of the Ring tournaments. Yet, if there was one thing I hated more than anything about wrestling figures, it was if they had little or no mobility.
With the WWF figures made by Jakks, the plastic was flexible enough to where I could pull off the moves that I wanted, and that allowed me to suspend my disbelief when playing. But with WCW, they went a completely different direction for quite some time. The figures, made by Toymakers had very little motion outside of moving the arms a little bit.
It wasn't until a couple years later that WCW would start having more realistic looking figures that could do more than look like they were doing the Monkey.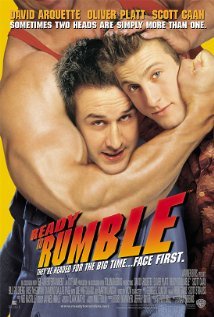 http://upload.wikimedia.org/wikipedia/en/thumb/a/af/Ready_to_rumble_poster.jpg/220px-Ready_to_rumble_poster.jpg
This one should be another no-brainer. While the movie itself can be considered a guilty pleasure for how stupidly goofy it is, it would almost be an insult to give it to a wrestling fan.
The movie portrays wrestling fans as the stupidest people on earth, so much so that the main characters almost violently believe wrestling to be real and that it is their goal in life to help their favorite wrestler become champion again.
Yet what is more insulting is the fallout that occurred after the movie came out when David Arquette was awarded the WCW Heavyweight Title as part of promotion for the movie. For many, the title win signified the final nail in WCW's coffin, to which almost all the blame was placed upon rather than Arquette who—to his credit—fought to not be given the title.
The only real positive thing that came out of the whole debacle was that Arquette donated all of the money he earned working for WCW to the families of Owen Hart and Brian Pillman, who died around the time of the movie, as well as to Darren Drozdov who had been paralyzed after an in-ring accident.
In the end, Ready to Rumble DVDs will always be a reminder of one of the worst decisions ever made by a wrestling promotion, and the only way to rid the world of them would be to throw them in the landfill where you can find copies of E.T: The Extra-Terrestrial video game and Shaq-Fu.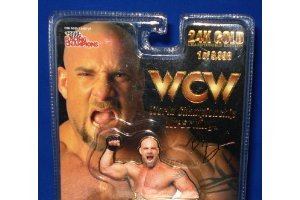 http://ecx.images-amazon.com/images/I/51b0vt01DAL._SL500_AA300_.jpg
Another one of the few things that I own that made the list includes this collectible die-cast car. The car itself isn't so bad if you just wanted a collectible, but if you wanted something to play with, you were in a catch 22.
If you opened the package and played with the car, you had no way of knowing that it was supposed to represent Goldberg since the gold covering the car didn't have too much detail to it. Yet if you didn't open it, then all you had was a toy car in its packaging that you can sell online now for about $12.
Plus, I never understood the connection between pro wrestling and cars/monster trucks. It's sort of like in the case of Crush Hour; I want my wrestlers to wrestle, not drive cars.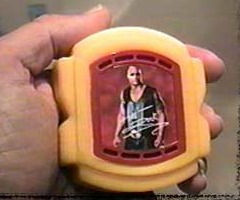 http://www.wrestlecrap.com/sbt%20files/sbt-talkingsoap/soap0.jpg
If there is a barometer of when something has attained pop culture infamy of any sort, you need look no further than to see if it has bath supplies made of it. Everything from Saved by the Bell to Sonic the Hedgehog has some sort of toothpaste or hairbrush made after them.
The WWE was no different, and had a line of talking soap was made. Yes, talking soap.
The soaps were packed to look like they were part of the WWE title with a wrestlers' image plastered on the bar.
Yet the worst part of these things is that they were water activated, so even if you wanted to stop the inane catchphrases telling you to "wash your ass," you couldn't do anything outside of just throwing the bar away, which isn't that bad of an idea.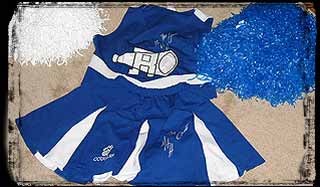 http://www.wrestlecrap.com/sbt%20files/sbt-katievickoutfit/katievickoutfit0.jpg
The Attitude Era of the WWE was a time of outlandish characters along with over-the-top story-lines. Yet even the Attitude Era has it's line of decency.
During a feud between Kane and Triple H, Triple H began to allude to a dark secret of Kane's concerning a woman named Katie Vick. It was then revealed that Kane had a girlfriend named Katie Vick who had died during a car accident in which Kane was driving.
Mind you, Kane's character started as the long thought dead brother of the Undertaker, but apparently the underworld has access to eharmony.com.
What sent the angle over the edge was when Triple H claimed to have a video of Kane's last moments with Katie, which ended up being Triple H wearing a Kane mask and having sex with a mannequin that was in a coffin.
Well leave it to the WWE to try and make some money off of this by auctioning off the cheerleader outfit that the dummy wore. The auction would end up being won by the guys from wrestlecrap.com, and they themselves wrote an article detailing what they got for their $200.