Michael Bourn, Atlanta Braves Who Deserve Long-Term Extensions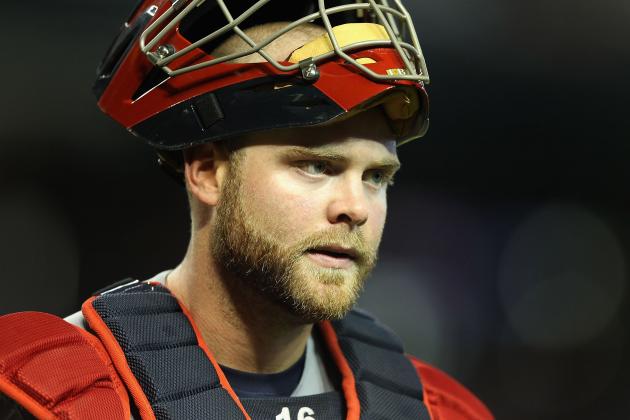 Christian Petersen/Getty Images

The salary constraints that currently handcuff the Atlanta Braves as middle of the road spenders in Major League Baseball are not going to be taken off any time soon.
If Rick Pitino were running the front office in Atlanta, he would be quoted as saying Ted Turner and his deep pockets are not walking through that door.
According to Braves' team chairman and CEO Terry McGuirk in a January interview with The Atlanta Journal-Constitution, ownership has set the player payroll budget at $94 million this season.
Even more damaging than Liberty Media's reluctance to spend money is the 25-year local TV contract that previous ownership, Turner Broadcasting/Time Warner, negotiated over four years ago.
With this emergence of large revenue telecast rights sweeping across MLB, clubs like the Los Angeles Angels can sign players such as Albert Pujols and CJ Wilson to long-term, big-money deals knowing that television money is just around the corner.
A luxury the Braves will not have in the foreseeable future.
Those contracts also affected the recent sale of the Los Angeles Dodgers, with Guggenheim Baseball purchasing the team for a record $2.15-billion.
Mark Cuban, owner of the NBA franchise Dallas Mavericks, summed it up nicely when he told Access Hollywood why his bid to purchase the Dodgers wasn't enough, "It just didn't work out. I wanted to buy a baseball team; they were selling a media rights deal."
With Liberty Media's strict budget a primary concern moving forward, Atlanta's front office might have to join the trending approach to solving the problem of a lack of team revenue and extend their young players beyond some of their free agent years.
Begin Slideshow

»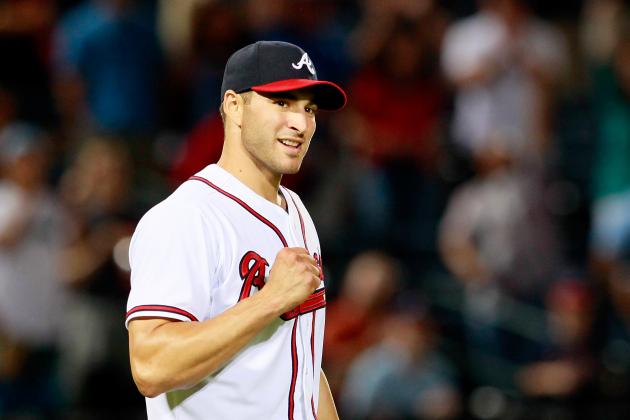 Kevin C. Cox/Getty Images

It might seem hard to imagine signing a player with only 229 career innings in the major leagues to a contract extension, but precedent has been set recently to do just that.
The Tampa Bay Rays signed their top pitching prospect, Matt Moore, to an eight-year contract extension this offseason worth up to $40 million after he pitched a total of 19.1 innings at the big league level.
As MLBTradeRumors pointed out in a column earlier this year, Beachy's numbers are similar to pitchers that have signed four-year contracts of late in the $10-13 million range.
If Atlanta were to sign Beachy to a four-year deal, it would only buy him out of his arbitration years and not any of the prized free agent seasons.
Beachy's 5-4 record is not at all indicative of how he's pitched and is just another example of why the win-loss stat is useless when measuring a pitchers value.
If he continues to pitch to his league-leading 1.87 ERA, Beachy would make for a perfect contract extension candidate after the season.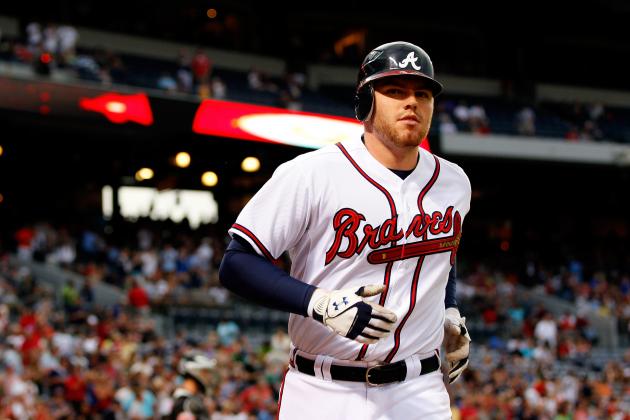 Kevin C. Cox/Getty Images

Although it's unlikely Atlanta would consider extending Freddie Freeman after this season, he is someone to keep an eye on for the near future.
Freeman established himself as a regular contributor to the lineup last season by hitting 21 home runs and driving in 76 runs during his rookie campaign.
He added to that momentum early this season by being the Braves best hitter and, for a period of time, manager Fredi Gonzalez entrusted him with the three-hole spot in the lineup.
Becoming one of the main run producers for a team that ranks sixth in MLB in runs scored is not the end of his accomplishments as a sophomore in the big leagues.
He has established himself as a security blanket at first base defensively for the other infielders. There is little doubt Freeman will win multiple Gold Glove awards during his career.
If the Braves decide to go down the path of extending their young players, they will most likely stagger those contracts.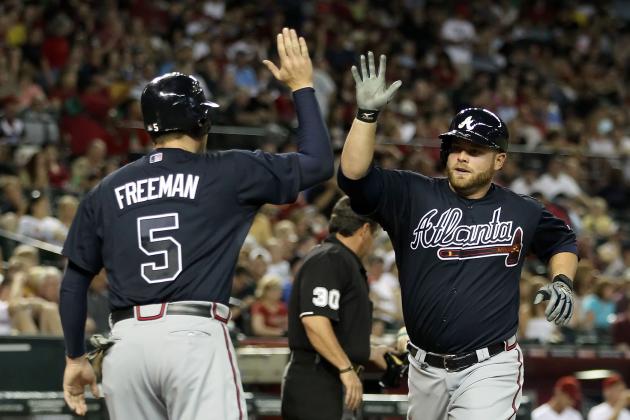 Christian Petersen/Getty Images

Brian McCann's potential contract extension has garnered the most attention thus far this season.
Even though there seems to be a sense of urgency among some, Atlanta has a club option for $12 million to keep him under contract for at least 2013.
While signing McCann to an extension would appear on the surface to be a no-brainer, there is a scenario where resigning the 28 year-old catcher wouldn't be what's best for the team's future.
It's doubtful general manager Frank Wren is going to pay the market value set by the St. Louis Cardinals when they signed Yadier Molina to a five-year, $75 million extension, especially when the Braves have a potential All-Star caliber player in Christian Bethancourt waiting his turn in the minors.
There's even less chance that Atlanta would consider moving Freeman off first base in favor of McCann.
McCann deserves a contract extension and very well could be on his way to a Hall of Fame candidacy if he is able to maintain his production for the next few years.
With all that said, he also might not be the best fit for Atlanta's future plans financially.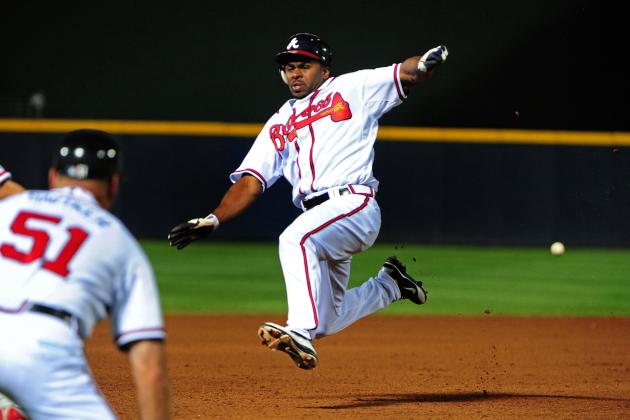 Scott Cunningham/Getty Images

Prior to the season, there were hopes that Atlanta would be able to afford Michael Bourn's asking price as a free agent this winter with the contracts of Derek Lowe ($10 million) and Chipper Jones ($7 million club option) coming off the books.
Now that he has gotten off to a .305/.357/.444 start that includes 15 stolen bases and six home runs, the roadblock that is Scott Boras has become even more formidable.
When asked on twitter how much Bourn will be asking for in free agency, David O'Brien of the Atlanta Journal-Constitution responded that the likely asking price would be five to six years with an annual average salary of $15 million per season.
That's a reasonable number considering the value he brings to a team as one of the best leadoff hitters in the game to go along with playing a premium up-the-middle position defensively.
If the Braves are able to find the money to re-sign Bourn, it will be the first hint that McCann's tenure in Atlanta is coming to an end.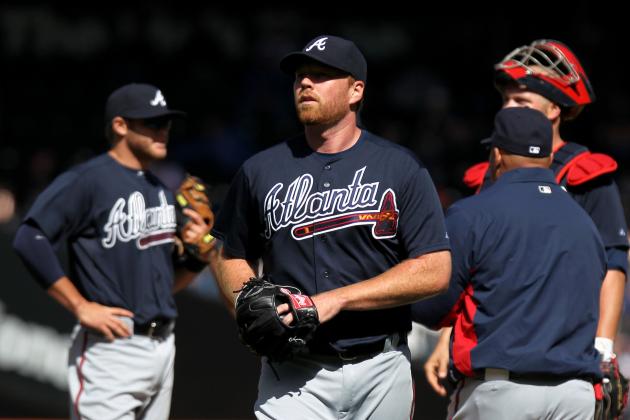 Nick Laham/Getty Images

Both Hanson and Kimbrel are deserving candidates to be considered for contract extensions though neither of them is likely to receive offers from the Braves front office anytime soon.
Hanson has injury concerns in his throwing shoulder, and his performance to date this season has been inconsistent.
Not to mention his agent is Scott Boras, whom the Braves have been reluctant to negotiate contract extensions with in the past.
As for Kimbrel, being a relief pitcher by nature doesn't warrant contract extensions while still under team control due to their lack of shelf life at the position.
Mariano Rivera is the exception, not the rule, when it comes to longevity in a relief pitcher.
According to Cot's Contracts, the Braves only have $14.7 million officially spoken for next season, which could allow them the flexibility needed to buy out some of the free agent years of their younger players.
There are also the decisions regarding Bourn and McCann that Liberty Media's salary structure will make difficult regardless of the available money they possibly will have.
Jim Pratt is Founder/Writer for Big Leagues Monthly | The Magazine and is also a Featured Columnist here at Bleacher Report. Follow him on twitter @BigLeaguesMthly.