Tottenham Transfers: Why Not Pick Up Pavel Pogrebnyak?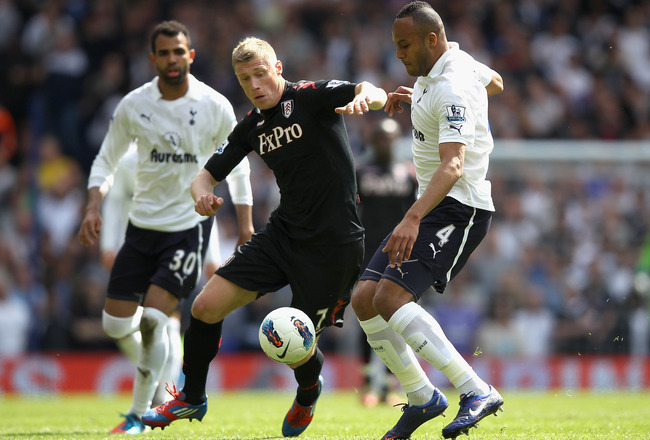 Clive Rose/Getty Images
So, Pavel Pogr...er, Porebg.....um, Pogrebnyak! Yeah, that's it!
He's available on a free now that Fulham and the big Russian haven't come to terms on a new deal.
Though Reading have been linked with the in-limbo Fulham hitman, as well as Russian squads that Pogrebnyak denies he wants to return to, it presents the opportunity for a squad to pick up a player who scored six times in twelve appearances for the Cottagers.
This, of course, begs the question: wouldn't Tottenham like an additional frontman that holds up play, has decent technical ability and can come crashing down on the defense like a giant tree in a forest?
While the deal for Emmanuel Adebayor remains a bit of an unknown at this time, Spurs could put pressure on the City player to take a deal more favorable to Tottenham.
In any case, here's a few reasons Spurs could stand to have the big man in lilly-white during the 2012-2013 season.
Hold-Up Play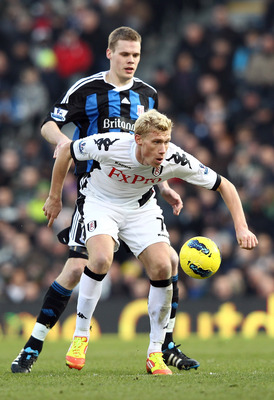 Ian Walton/Getty Images
Much like Adebayor, Pogrebnyak is willing to roam from side to side to get on the ball and is able to hold up the play until the rest of the squad is able to arrive.
His contributions in the attack are often early enough that he is not given credit for many assists, but in watching some of the goals scored by Fulham, he is one of the early focal points of the offense.
However, also like Adebayor, he can go missing sometimes in the air when trying to win the downfield hoofs. For a man of his stature, that's an area that needs improving.
Set Pieces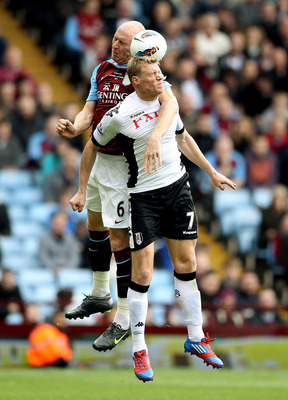 Scott Heavey/Getty Images
With the exception of Peter Crouch, Spurs haven't had many aerial threats in recent seasons. Pogrebnyak, while maybe not the best in fighting for the open-play ball, is a different animal in the penalty box.
Able to convert with the feet just as well as with his head, Pogrebnyak falls into the "battering ram" category with his ability to jump and get on the end of crosses and corners, something Spurs desperately lack.
As many short corners as they used in the 2011-2012 season, any sort of heading ability would be a bonus.
Passing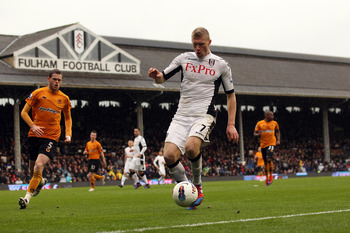 Scott Heavey/Getty Images
Much like Adebayor again, Pogrebnyak is a skilled passer, especially in close quarters.
In the game against Tottenham to close the season, Pogrebnyak was often moving towards the back-line, then peeling off and passing to the flanks, moving back into position afterwards to wait on a cross that rarely seemed to find the mark.
With surprisingly nimble feet, the Russian could be an asset when trying to help break squads down if they should allow Spurs to set up a siege.
Finishing
He's not as nimble as Jermain Defoe by any stretch of the imagination, but Pogrebnyak does know his way to goal, as demonstrated during his brief Fulham stint.
His goals against Stoke and the third against Wolves were predatory hits. He showed off his quick feet when rounding Paddy Kenny against QPR and has shown predatory instinct wherever he has been playing.
He might, in fact, kill two birds with one stone by being the cross of Adebayor and Defoe.
Physicality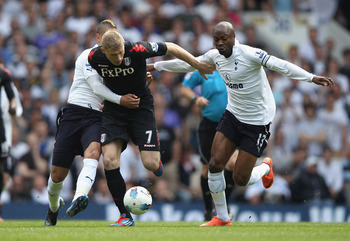 Clive Rose/Getty Images
If there is one thing that Adebayor might have shied away from, it would be the more physical defenders of the EPL.
If there is one thing that Pogrebnyak is not going to be shying away from, it's physical contact.
Practically a disciple of the Kevin Davies method, Pogrebnyak is known to give and take some punishment in equal measure, something that would come in handy when trying to break down the likes of Stoke City, Aston Villa, and other squads that prefer to bang rather than finesse.
Considering the struggles Spurs had against teams of that nature, it might be worth having a mule to kick back at the ones trying to land hammer blows against the "flashier" parts of the squad.
Keep Reading

Tottenham Hotspur: Like this team?