WWE Superstars Review: Quicknotes, Predictions, & Questions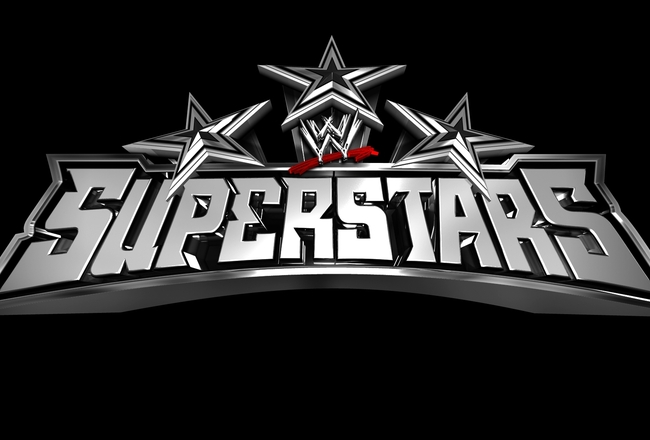 (Image courtesy of QuickWrestlingNews.com)

The QuickNotes version of my review is immediately below. If you wish to read a full recap, complete with predictions and questions, please view the Slideshow.
Quicknotes: Yoshi Tatsu and Hunico put on a great match, and Hunico wins (almost cleanly).
Jinder Mahal's new aggression is too much for Alex Riley to handle, Mahal gets another clean victory.
WWE still wastes our time with unnecessary recaps, and they close Superstars with a match that should be seen by all wrestling fans. Swagger, without Vickie at his side, gets a clean win over the Broski.
For a segment-by-segment break-down, please Begin Slideshow.
Segment 1: Yoshi Tatsu vs. Hunico (w/ Camacho)
Image courtesy of TheState.com.
The show opens with the announcement that the main event will be Jack Swagger vs. Zack Ryder.
Josh Matthews and Matt Striker are at the announce booth.
The opening match is Yoshi Tatsu vs. Hunico. It has the potential to be a really good match. Like WCW-Cruiserweight-Division-good.
Hunico is playing the nationality card, telling the audience that he is better than them because of his cultural background (those weren't his exact words).
The first few minutes of the match are good, and the momentum has shifted back and forth. Yoshi is on the floor and Camacho is lurking as we go to commercial break.
They play a commercial for The Best of WCW Clash of the Champions. I never watched WCW, but that DVD looks phenomenal.
Prediction: Although it won't happen right away, the WWE will start filling their extra hour of Raw with the cruiserweights and the high-flyers. They have the means to create something as good as WCW Cruiserweight Division or TNA's X-Division. These guys need more exposure.
Question: If Hunico begins to stand out because of his in-ring ability, how long will they allow Camacho to tag along?
Segment 2: Yoshi Tatsu vs. Hunico Continued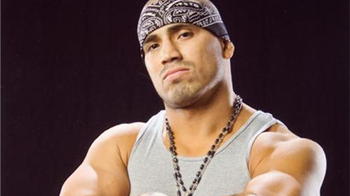 How far will Hunico get pushed? (Image courtesy of LuchaWorld.com)
Yoshi is in control a few minutes after we return from commercial, but both men look hurt.
This match really deserves to be on SmackDown at least, if not Raw. Yoshi gets several near-falls, but you can feel a turn in the match approaching.
Hunico hits a beautiful senton bomb to take the win with Camacho making the illegal save only once.
We get a reminder about the main event before we go to commercial.
Prediction: By the end of the year, Hunico will be a SmackDown regular, and he'll get a mid-card title feud in 2013.

Question: Is there some way that WWE could better use Yoshi Tatsu?

Segment 3: Alex Riley vs. Jinder Mahal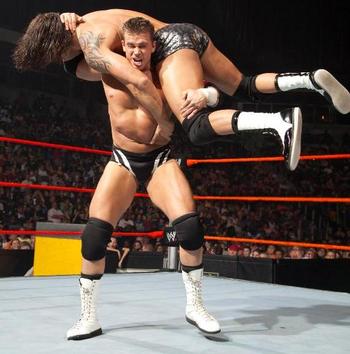 A-Ry needs to add more moves like this. (Image courtesy of AllWrestlingSuperstars.com)
When we get back from commercial break, Scott Stanford has replaced Matt Stricker on the mic, and Alex Riley is making his way to the ring.
I like A-Ry's intro theme music, but not for A-Ry.
His opponent is Jinder Mahal, complete with holding case for his high-class headgear.
Mahal dominates most of the match, but Riley is getting a good pop from the crowd every time he attempts a comeback—a surprisingly good pop.
I really like Jinder Mahal's aggressive style, but like I've said before, if he eventually wants to evolve into a great main-eventer, he's going to have to put on muscle the way Triple H did or become a better wrestler like Shawn Michaels, Daniel Bryan or CM Punk.
Jinder wins with his extra-spiteful camel clutch.
We get one more reminder about the main event, and are also reminded that Ryder still holds a grudge with Swagger from when he took the US title.
We are then told we get a recap of John Cena and Michael Cole from Monday Night Raw after the commercial break.
Prediction: Jinder will continue to slowly grow on Superstars before jumping to SmackDown and making a huge impact.
Question: Do you think Alex Riley would benefit from being aligned with someone like Vickie Guerrero or AW?
Segment 4: John Cena vs. Michael Cole Recap; Zack Ryder's Entrance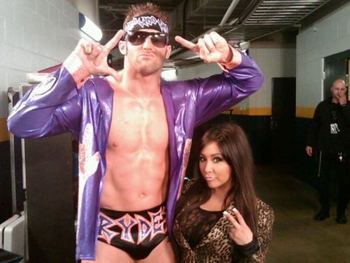 Shore friends. (Image courtesy of FanPop.com)
If you read my articles, then you probably know I have very little tolerance for WWE's waste of our time with recaps. Anyone who is watching Superstars is already familiar with how things on Raw and SmackDown are. We have no need for a recap; we can find those online if we need them.
They wasted exactly three and a half minutes on the recap, plus a promo for the No Way Out theme song and a post-recap graphic and brief spiel about Cena vs. Show at NWO.
You should give someone who could really use the airtime and the quick win a two-minute squash match. Tensai, The Miz, Dolph Ziggler. Let them come out and beat someone from the FCW or even NXT roster. We don't need a recap.
Zack Ryder makes his way to the ring and there is almost 17 minutes left before the show is over (commercial time taken into consideration).
Prediction: Ryder and Swagger make this the second match of the show that belongs on a show like Raw.
Question: How long before either of these guys get back to where they were when their career was at its peak?
Segment 5: Zack Ryder vs. Jack Swagger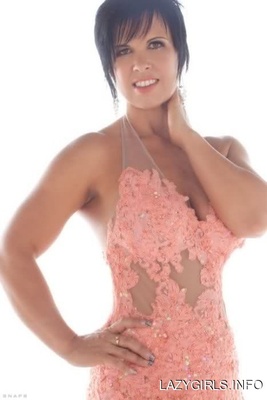 Why no Vickie? (Image courtesy of LazyGirls.info)
Jack Swagger makes his way to the ring sans-Vickie when we return from commercial break. Too bad, I think Vickie does a great job as ringside manager.
This match has a lot of potential, but it starts out a little slow. The pace picks up a little as Swagger dominates the offense in the early part of this match.
The pace picks up a little more as Ryder starts to take control. Both men are outside the ring, Swagger on the ground and Ryder on his feet, as we go to commercial break.
Prediction: Along with The Miz, Swagger will eventually get back to the top of the mountain, but it won't be anytime soon.
Question: How far can Zack Ryder go with his current gimmick?
Segment 6: Jack Swagger vs. Zack Ryder Continued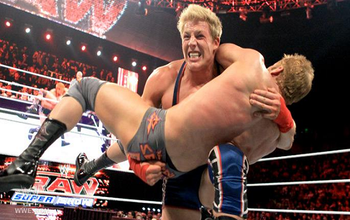 From a previous match-up on Raw. (Image courtesy of Examiner.com)
Ryder is still in control as we return from commercial break, but Swagger quickly turns things around again.
The pace remains quick and the action goes back and forth. This match is at least SmackDown quality, but they would never allow these two to go this long on one of the big two shows. If it had a good storyline still, this would make a good match for pre-PPV.
The Broski Boot leaves Swagger bloody, but it's not enough to end the match, and Swagger reverses Ryder's finisher and gets the clean pin.
Luckily for Ryder, the majority of his fanbase will love him regardless of whether he's winning.
And that's the end of the show. Once again, Superstars utilizes the otherwise underused guys to give us some quality wrestling. But that much quality wrestling doesn't leave a lot of room for storylines, so you just have to settle for character development.
Prediction: Although it will be less official, superstars will begin to "graduate" from this show to Raw or SmackDown much like NXT used to do.
Question: How will the content for the additional hour of Raw impact the lineup for Superstars every week?
Keep Reading