Cain Pitches Through Sloppy Defense, Giants Roll Padres 8-3
June 7, 2012
Denis Poroy/Getty Images
In an afternoon rubber match in San Diego, the Giants beat the Padres to win their 12th series of the year, improving to 15-14 on the road and 6-1 in the month of June.  They also move to a season-high eight games over 500, but they failed to pick up a game in the division standings as the Los Angeles Dodgers rallied from behind against Cole Hamels (8-3) to sweep the Phillies in a four game series in Philadelphia. 
Still, San Francisco should feel fortunate it was able to keep pace, as the Giants defense made four errors, including two in the third inning, that allowed the Padres to score three runs, all unearned.    
Matt Cain (7-2) was forced to pitch through errors in three of the seven innings he pitched, including a key leadoff error by the Joaquin Arias in the bottom of the sixth.  After John Baker hit a check swing grounder down the third base line that Arias couldn't handle, the Padres loaded the bases with back-to-back singles. 
With nobody out, Cain was able to get pinch hitter Mark Kotsay to fly out to shallow left field and then induce Cameron Maybin to ground into an inning ending double play, stranding all three runners while preserving a 4-3 Giants lead. 
Cain ended up pitching seven strong to win his seventh game, striking out nine while only walking one and lowering his ERA to 2.41.   
After Theriot and Crawford turned the double play to get out of the sixth, Cain displayed an uncharacteristic show of emotion, pumping his fist in the air multiple times. Cain's 116-pitch outing was a gutty performance, especially with a hobbled bullpen, but he was also the benefactor of a Giants offense that exploded for eight runs on 15 hits.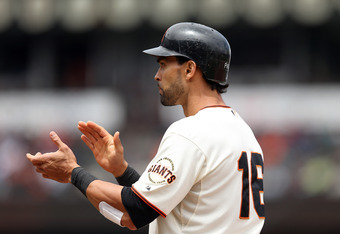 Ezra Shaw/Getty Images
The Giants received long ball contributions from Buster Posey, Angel Pagan and Gregor Blanco, and Ryan Theriot stayed hot, going 4-5 with a double, an RBI and a run scored. Brandon Belt added two hits of his own, an RBI double in the first and an RBI single in the ninth.
Jeremy Affeldt labored in the eighth, loading the bases and forcing Bruce Bochy to go to Santiago Casilla earlier than he planned. Casilla got out of the inning and made it through the ninth to earn his 15th save. 
Melky Cabrera, who went 1-4 and scored two runs, left the game after the seventh inning due to tightness in his hamstring, it was deemed a precautionary measure.
Pagan's two hits increased his average to .321 and extended his hitting streak to 15 games. Pagan has also hit safely in 46 of 48 games this year.  
The Giants return home to open up a weekend series against the first place Texas Rangers in a rematch of the 2010 World Series. The game is a 7:15 p.m. start, matching Barry Zito (5-2) versus Matt Harrison (7-3).