French Open Tennis 2012 Semifinals: Why Rafael Nadal Is Unbeatable on Clay
June 8, 2012

Matthew Stockman/Getty Images
There are four men remaining in the French Open, but Rafael Nadal is the one who will leave with the title.
With the exception of David Ferrer, the semifinal offers very little surprise. The top three players in the world are still participating and there is plenty of Grand Slam experience between them.
However, No. 2-ranked Nadal will not allow the seeds to play a role in determining the final.
Not only has the Spanish native won every set leading up to this point, but he has won six French Opens in his career. He has only lost one match in seven years at the event.
The advantage comes from the iconic clay courts, which allows Nadal to play further back and simply outlast his opponents.
Ferrer will be the next person to try to knock off the favorite in the first semifinal. The fellow Spanish native has had a very impressive tournament so far, only losing one set. He upset No. 4 seed Andy Murray in convincing fashion in the quarterfinals. 
Unfortunately, there is a large gap between Murray, who has never won a Grand Slam title, to Nadal, who has won 10.
Ferrer will be overmatched as his run comes to an end.
On the other side of the bracket are two men who have defeated Nadal.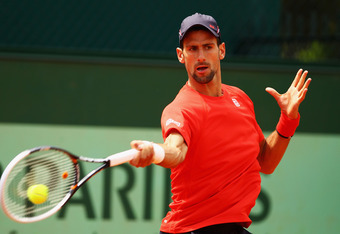 Clive Brunskill/Getty Images
Roger Federer used to have the upper hand in the rivalry, but time has certainly slowed down the Swiss athlete. He is still one of the best in the world, but he has not taken home a Grand Slam title in over two years.
This leaves only No. 1 in the world, Novak Djokovic.The Serbian has easily been the most dominant player in the sport over the past year, but the French Open has consistently eluded him.
Nadal has gotten the better of Djokovic in the past two matchups, but the Djoker won in the final of the Australian Open, US Open and Wimbledon. 
There is plenty of talent between the two men, but at the end of the day it will come down to experience. Only one knows the perfect way to win on this type of surface and leave the tournament with a victory.
It would be a tremendous upset if anyone but Rafael Nadal leaves with the title.