The 10 Biggest Weak Links in the NFL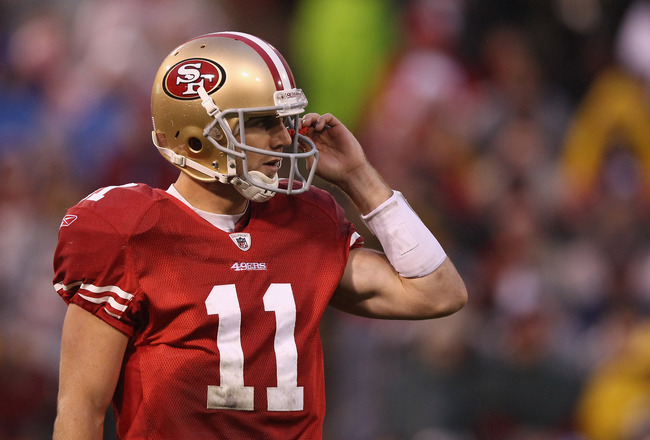 Ezra Shaw/Getty Images
No team is perfect in the NFL. Every team has that one player or position that is clearly lacking.
These glaring weaknesses lead a team's front office and its fanbase to wonder, what if? This leads to forming hypotheticals of plugging in players from other teams or drafting certain players to instantly fix the problem to make their team complete.
Last season, the Dallas Cowboys were severely weak in their secondary. In the draft, they moved up to select the top-rated defensive back, Morris Claiborne. They also threw $50 million with $25.5 million guaranteed at Brandon Carr.
While it remains to be seen if they succeeded in turning a weakness into a strength, they were active, which is more than can be said for other teams.
Here are 10 of the biggest weak links in the NFL.
Kevin Smith/RBs
Ezra Shaw/Getty Images
Behind Matthew Stafford's 5,038 passing yards and Calvin Johnson's 1,681 receiving yards, the Detroit Lions ranked fourth in the NFL in passing offense last season.
In comparison, their rushing offense ranked 29th.
Detroit's leading rusher was Jahvid Best, who finished the season with just 390 yards. Kevin Smith, its second-leading rusher, had just 356 yards.
Rounding out the running back unit was 32-year-old Maurice Morris.
It looks like the Lions' plan is to head into next season with the same group. Besides re-signing Smith to a one-year deal, they did not draft a running back or sign one in free agency.
In fact, they drafted wide receiver Ryan Broyles in the second round while running backs like LaMichael James, Lamar Miller and Ronnie Hillman were still there for the taking.
Detroit must believe that abandoning a running game altogether is a winning formula.
Davone Bess/WRs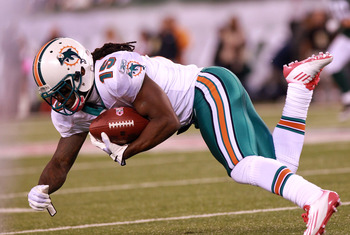 Nick Laham/Getty Images
After trading away their No. 1 receiver, Brandon Marshall, to the Chicago Bears, the Miami Dolphins' depth chart at the position looks very weak.
Davone Bess, who had 51 receptions last season, moves into their top spot with Brian Hartline moving into the No. 2 spot.
Even with Marshall, the Dolphins ranked 23rd in passing in the NFL. Without him, they will be very close to ranking last, especially with first-round pick Ryan Tannehill coming in to land the starting quarterback job.
In the draft, Miami selected pass-catching tight end Michael Egnew in the third round, wide receiver B.J. Cunningham in the sixth round and another wide receiver, Rishard Matthews, in the seventh round.
While all may help out a little, not one is the sure thing that the very productive Marshall proved to be.
Wayne Hunter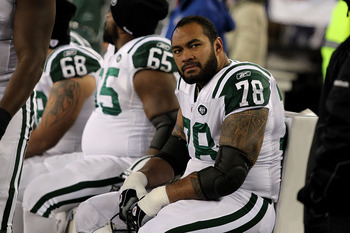 Chris Chambers/Getty Images
Starting New York Jets right tackle Wayne Hunter was a liability last season. He was a revolving door. He couldn't block a little girl. He stunk.
According to ProFootballFocus.com, Hunter gave up 11 sacks, which was third-worst for all offensive linemen.
However, his job at right tackle appears safe because no high draft pick was used on a right tackle and no free agents were pursued.
With no upgrade at right tackle, and with the Jets looking to get back to an offense featuring the run more, they are setting up for failure.
New York's new offensive line coach, Dave DeGuglielmo, endorsed Hunter, according to The Star-Ledger, complicating their problem even more.
Tampa Bay Buccaneers Defensive Line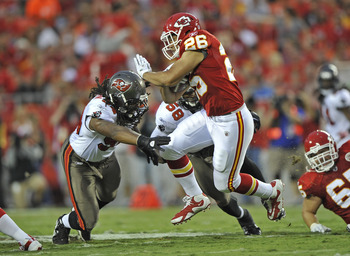 Peter Aiken/Getty Images
The Tampa Bay Buccaneers' overall defense ranked 30th in the NFL last season; their defensive line was a major factor that contributed to this.
The young defensive line composed of Da'Quan Bowers, Brian Price and Adrian Clayborn and rounded out by veteran letdown Albert Haynesworth only managed to come away with a league-worst 23 sacks as a total unit.
Opposing running backs also busted through the line easily, as the Bucs were dead last in stopping the run, allowing 156.1 yards per game.
After the season, Tampa Bay released Haynesworth and signed defensive tackle Amobi Okoye to a one-year deal.
Last season, with the Chicago Bears, Okoye had four sacks. He should provide at least an upgrade over Haynesworth.
New Orleans Saints Coaching Staff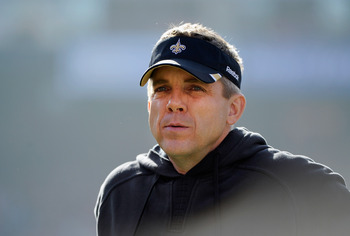 Thearon W. Henderson/Getty Images
A select few had to go and ruin it for everybody. While nobody knows how much of an effect all of the "Bountygate" suspensions will have on the New Orleans Saints, it's at least going to be a negative one.
With starting defensive end Will Smith suspended for the first four games and starting middle linebacker Jonathan Vilma and head coach Sean Payton suspended for the season, the Saints are bound to take a step back and will need some time to adjust.
It is a shame because this team is only two seasons removed from winning a Super Bowl, while also leading the league in total offense and passing yards just last season.
The great chemistry between quarterback Drew Brees and Payton is now on hold. What was once a strength is now a weakness.
Graham Gano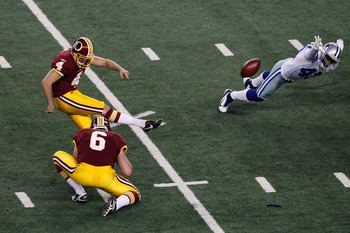 Tom Pennington/Getty Images
Washington Redskins placekicker Graham Gano was horrible last season yet still remains on the roster.
Gano made only 76 percent of his field goals, missing 10 in total. One miss came against the Dallas Cowboys in overtime.
He also had five of his kicks blocked.
Gano did not only miss from deep either—he missed from everywhere. He missed one field goal from between 20-29 yards, four from between 30-39 yards, three from 40-49 yards and two from beyond 50 yards.
BenJarvus Green-Ellis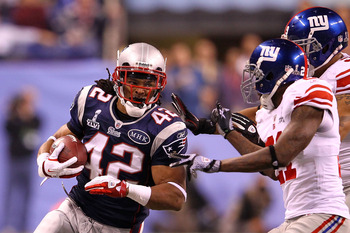 Al Bello/Getty Images
The Cincinnati Bengals have a bright future thanks to last year's two rookies, quarterback Andy Dalton and wide receiver A.J. Green.
But after parting ways with last season's leading rusher, Cedric Benson, they are lacking in the running game to complement their passing game.
The Bengals' answer to replace Benson? Sign former New England Patriots running back BenJarvus Green-Ellis to a three-year deal to make him their main back.
After five seasons, Green-Ellis still remains unproven since he has been used so sparingly in New England's pass-heavy offense.
Green-Ellis' most productive year came in 2010, when he rushed for 1,008 yards on 229 carries. Last season he rushed for 667 yards on 181 carries.
Norv Turner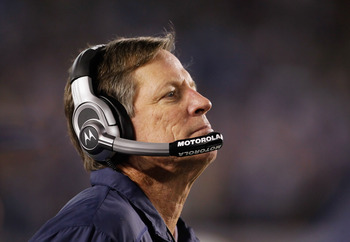 Jeff Gross/Getty Images
Despite missing out on the playoffs in each of the last two years, the San Diego Chargers surprisingly retained head coach Norv Turner.
In 2007, Turner took over an absolutely loaded San Diego Chargers team that finished the previous season with a 14-2 record.
Turner took this team and lost three out of his first four games. He did, however, lead the team to a 10-6 record. He lost the AFC championship game in his first season to the New England Patriots; this was the furthest he got in the playoffs with the Chargers.
In 2008, 2009 and 2010, Turner and the Chargers continued their slow starts to the season, going 2-3 each time.
In 2008, the Chargers got to the playoffs and won one game. In 2009, after claiming a first-round bye in the playoffs, San Diego was upset in its first game by the New York Jets.
While the roster has been depleted since Turner took over—with the departure of running back LaDainian Tomlinson and wide receiver Vincent Jackson—there is still plenty of talent with quarterback Philip Rivers and running back Ryan Mathews.
The weakness, however, remains at the top with Turner.
Blaine Gabbert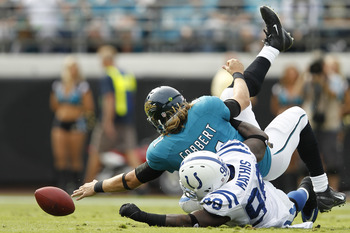 Joe Robbins/Getty Images
Blaine Gabbert did very little last season to show that he could be the Jacksonville Jaguars' starting quarterback for years to come.
Gabbert looked unprepared to play in the NFL and his stats showed it. For the season, he completed just 50.8 percent of his passes. He passed for a total of 2,214 yards, 12 touchdowns and 11 interceptions.
Gabbert's 65.4 quarterback rating ranked him as the worst passer in the NFL.
To help him out, the Jaguars selected Justin Blackmon, the top receiver in this year's draft, with the fifth overall pick.
Already Blackmon has been a problem, getting arrested for aggravated DUI.
Alex Smith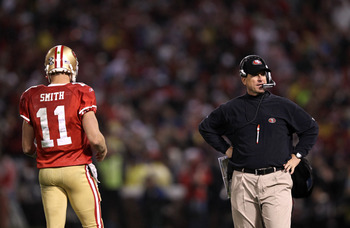 Ezra Shaw/Getty Images
The San Francisco 49ers ranked fourth in overall defense, eighth in rushing and 29th in passing in 2011. They made it to the NFC championship game not because of quarterback Alex Smith, but rather in spite of him.
Even though he had a career year, his stats remained average. For the season, Smith passed for just 3,144 yards. He does deserve credit, though, for being a game manager and limiting turnovers, as he threw just five interceptions and lost only two fumbles.
In the NFC championship game, however, Smith showed that he was lacking, as he was unable to move the offense down the field for most of the game. Ten out of 14 total drives resulted in punts.
For the game, Smith was 12-of-26 for 196 yards and two touchdowns. In comparison, New York Giants quarterback Eli Manning passed for 316 yards and two touchdowns.
These stats were not deceiving either. Even though the 49ers relied more on the run than the Giants did during the season, both teams ran the ball evenly in the game, with New York running the ball 26 times to the 49ers' 28 times.
If the 49ers were not thinking to upgrade at quarterback, they wouldn't have at least entertained the idea of Peyton Manning.
For now, San Francisco's remaining weak link is Alex Smith. It did give him more weapons to throw to after signing Randy Moss and former New York Giants receiver Mario Manningham.
Let's see how long he lasts.
Keep Reading