Toronto Maple Leafs: Was Jake Gardiner's Strong Play Bad Timing?
June 7, 2012

Jim McIsaac/Getty Images
Jake Gardiner is a former 17th overall draft pick. This past season was his first in the NHL. The young defender broke into the league with a bang, as he picked up 30 points in 75 games—second behind Dion Phaneuf among Toronto defenders and first among the league's rookie defenders. 
Of course, to have a 21-year-old defenseman have a rookie campaign like this would be a blessing for any team. It appears that the Toronto Maple Leafs will feed off Gardiner's success for many years to come. 
But one man can't do everything. Last season, we witnessed the Maple Leafs get off to a strong start. The strong start slowly fizzled, turning into complete self destruction at the end of the season. It's clear that there are still major pieces to be added for this team to make the playoffs. 
With eight years passed since the last time the Leafs made the postseason, fans are getting impatient and demanding big moves this summer, with a No. 1 goaltender the priority. 
Now, just about every trade partner the Leafs could think of is fully aware of how desperate this team really is, putting the Leafs at a disadvantage at the negotiating table. 
Right about now, you're probably thinking: "So what?". 
Well, this is where Jake Gardiner comes into the mix. 
Imagine you're the GM of a team in the NHL, and you've got a No. 1 goaltender that you're willing to part with. Now imagine that Brian Burke is interested in that goalie. You know how desperate he and the fans are, so you get to call the shots.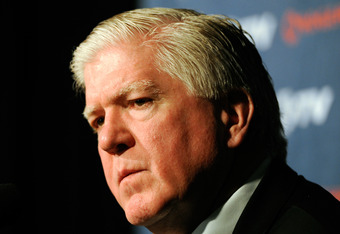 Richard Wolowicz/Getty Images
Who do you demand in return? Jake Gardiner. 
Now, I'm not going to sit here and tell you that having Jake Gardiner is a bad thing for Toronto, because that's absurd. But I do believe that he will hold them back from going after who they want over the summer, as Gardiner's services will be a popular demand and it's highly unlikely that Burke will part with him. 
So, where does this leave Toronto? The Maple Leafs are left with the following options (assuming going after a goaltender is priority):
They could trade Gardiner.
They could keep Gardiner and offer as much as they can to compensate (which they may not be able to afford).
They could trade for the only available goaltender whose home team needs to get rid of him just as badly as Toronto needs him—Roberto Luongo. 
With Cory Schneider the preferred goaltender of the future, the Vancouver Canucks will be looking to trade Luongo this summer. Unlike the rest of the teams in the league, the Canucks don't have the leverage to demand Gardiner. 
There have already been rumors swirling about Luongo getting traded to the Maple Leafs, and the situation presented by Gardiner's earlier success only increases that possibility.