NBA Playoffs 2012: The Eastern Conference Final Is a Tale of Two Coaches
June 7, 2012

Jim Rogash/Getty Images
Today, the Miami Heat will play the Boston Celtics at the TD Garden in Game 6 of the Eastern Conference Finals. This game will include another interesting matchup of Boston Celtics' big four against the Miami Heat's big three.
There have been numerous interesting story lines surrounding this series:
The well-documented late-game troubles of LeBron James: Despite LBJ averaging 31.8 points and 10 rebounds in this series, his critics have jumped on his late-game troubles. His inability to drain a 20-footer to end regulation in Game 3 and his decision to dribble into the heart of the Celtics' defense and then dish off to Udonis Haslem at the end of Game 4 were well-documented. Oh, that proverbial "clutch gene."
Dwayne Wade has not risen to the occasion: D-Wade has averaged 22 points and 5 boards a game during the series, but it seems as if he has disappeared at certain points during the series. 
Rajon Rondo has been big: Rondo has been the MVP of this series for the C's on both sides of the ball. Rondo has been the facilitator as usual, but he has also been able to hit those mid-range jump shots that have been identified as his main weakness at point guard. Along with his offensive production, he has been all over the place defensively.
Boston overcoming injuries: With the 76ers taking the Celtics to seven games in the Conference Semi-Finals and with Boston looking sluggish in Game 1 against the Heat, it seemed as if the injuries of Paul Pierce and Ray Allen were taking their toll. It seems as if these injuries are no longer a problem after three straight wins.
Although these have obviously been extremely important issues in the series, arguably the most important storyline is the differences in leadership: Doc Rivers vs. Erik Spoelstra.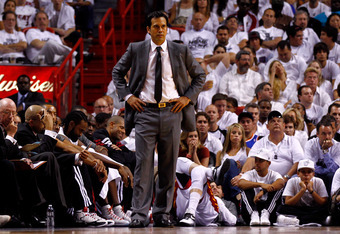 Mike Ehrmann/Getty Images
There is absolutely no comparison between these two coaches. Rivers is a veteran coach and has a championship under his belt. Spoelstra is in his fourth year as coach of the Miami Heat, and despite an appearance in the NBA Finals last year, is still fairly inexperienced. 
Along with the obvious differences in age and experience, the biggest disparity is in demeanor. Doc demands respect and is (along with Gregg Popovich) one of the greatest coaches since Phil Jackson.
Spoelstra, on the other hand, has been questioned by many and has been disrespected on numerous occasions by LeBron James and most recently by Dwayne Wade in Game 3 against the Indiana Pacers.
That has happened very few times, if any, in the five years since the Big Three came together in Boston. Doc is a true leader and has inspired his team.
Regardless of the fact that these two coaches cannot directly influence the play on the court, the shift in momentum in this series started with them.
Erick Fernandez is the creator of I Want to Thank My Hood & My Psychiatrist
Follow Erick Fernandez on Twitter