Pacquiao vs. Bradley Odds: Smart Bets for Every Matchup
June 8, 2012

David Becker/Getty Images
On Saturday night, Manny Pacquiao and Timothy Bradley will step into the ring and do battle. The four fights on the card should all prove entertaining, but there are definitely smart bets to make. 
Here is a breakdown of each fight and which guys you should put your money on.
Manny Pacquiao (54-3-2, 38 KO) vs. Timothy Bradley (28-0, 12 KO)
According to sportsbet.com, Pacquiao enters the bout as the favorite (minus-450) over Bradley (plus-360) in the battle for the Filipino southpaw's WBO welterweight title. Pac-Man is the smart bet in this one because of his track record and the fact that he has rededicated himself to boxing for this matchup.
On HBO's 24/7 program hyping the fight, Pacquiao has repeatedly claimed he took Juan Manuel Marquez lightly in their November bout. In that fight, the world's best pound-for-pound fighter looked human for the first time in years. He has also sworn he won't underestimate Bradley.
For his part, "Desert Storm" is one of the hardest workers in the sport. He will not let up on Pacquiao at any point during the fight. He is a heavily offensive fighter who pushes the pace and throws a lot of punches. Frankly, he's a perfect guy for Pacquiao to face, since it should be a very fan friendly fight with a ton of offense. 
The smart money is on Pacquiao winning a crowd-pleasing decision.
Mike Jones (26-0, 19 KO) vs. Randall Bailey (42-7, 36 KO)
Ethan Miller/Getty Images
The 29-year-old Jones will take on Randall Bailey in what will be his first shot at a world title, as the IBF's vacant welterweight crown will be on the line. Jones is a solid but unspectacular fighter who has rarely been challenged. He went 3-0 last year with two good wins, including a dominant win over Jesus Soto Karass in a rematch of their close 2010 fight. 
Meanwhile, Bailey is 37 and is probably getting his final chance to win a title. He has only fought three times since 2009 and it would appear he is just a stepping-stone for Jones in this fight. 
The smart money will be on Jones to win his first world title in dominant fashion with a lopsided decision.
Jorge Arce (60-6-2, 46 KO) vs. Jesus Rojas (18-1-1, 13 KO)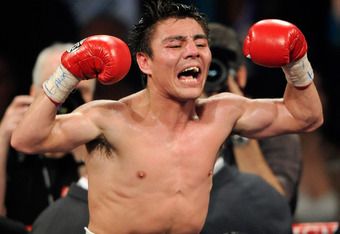 Ethan Miller/Getty Images
Rojas was once thought of as a top prospect, but hasn't fought many big names lately. His last fight was an eight-round draw against Jose Luis Araiza. A victory over Arce would be a big upset.
Arce seemed washed up just a few years ago, but has jumped back up and hasn't lost in his last eight fights, with seven wins and a draw against Lorenzo Parra. He made up for that draw by knocking Parra out in February. 
After losses to Vic Darchinyan and Simphiwe Nongqayi in 2009, Arce looked done, but credit the 32-year-old for righting the ship and turning his career around. His biggest surprise was a 12-round destruction of Wilfredo Vazquez Jr. to take the WBO super bantamweight title that will be on the line Saturday night.
Expect Arce to continue his roll this weekend. The smart money will be on Arce to win by TKO. 
Guillermo Rigondeaux (9-0, 7 KO) vs. Teon Kennedy (17-1-2, 7 KO)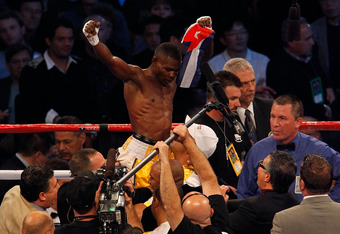 Tom Pennington/Getty Images
The opening fight of the night will be a clash between Rigondeaux and Teon Kennedy for the WBA super bantamweight championship. Rigondeaux destroyed Rico Ramos to earn his title in January, but after just nine professional fights, I'm not ready to crown him the next big thing quite yet.
Despite his short time as a professional, Rigondeaux is 31 years old and won gold medals at both the Sydney and Athens Olympics representing Cuba. He has a successful track record, I'm just not convinced he's good enough to have earned a matchup with Nonito Donaire, like some are clamoring for.
Kennedy is a lightly-regarded 25-year-old southpaw out of Philadelphia. He's tough and certainly a decent fighter, but he is 0-1-1 in his last two fights and doesn't look like the kind of guy who could step up and shock the world against Rigondeaux. 
Rigondeaux is currently a heavy favorite (minus-1475) over Kennedy (plus-800) and he is likely to end this one early by TKO. I'll be shocked if it lasts past six rounds.