The 17 Most Annoying Players in College Football 2012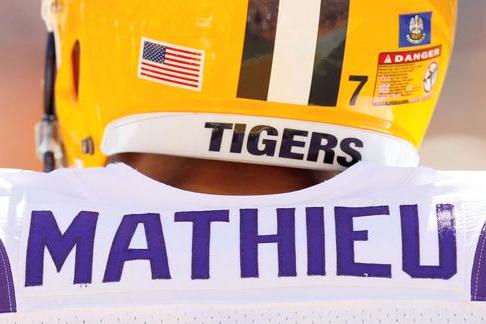 College football has always had some annoying players but 2012 looks to provide some top ten picks.
The sport is home to some of the most passionate fans anywhere. Rivalries are personal, recruiting is relentless and Saturdays are war.
A win over a rival, and it's bragging rights for a year. A loss, and well, it's best to just quietly wait for next year.
While the weeks in fall may center around every Saturday, the passion and hate flow much deeper.
You may not like the other team, but there is always that one player that you just find pure annoying.
Whether it was Cam Newton's charismatic denial or Tim Tebow's seemingly endless media coverage, even the game's greatest players can rub a particular fan the wrong way.
So clinch your fists and grind your teeth, we're taking a look at which college football players will have you seeing red when things get kicked off this fall.
Begin Slideshow

»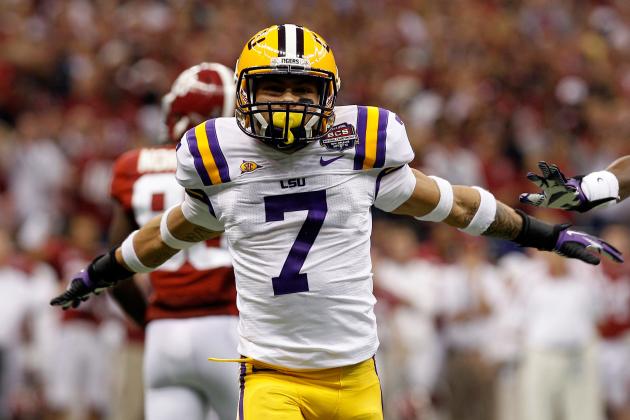 Chris Graythen/Getty Images

Ah yes, the "Honey Badger," one of the best defensive backs to ever play the game.
Please.
Honestly, yes, Mathieu is a heck of a ballplayer and he made some amazing plays in 2011. He is the best defender for LSU and one of the best defenders in the country.
But, Heisman worthy?
Absolutely not. The only reason he got there last year was because of how much media coverage was directed his way.
He even got his own ESPN interview with Erin Andrews, which he sounded absolutely ridiculous in by the way.
"Even when your with girls, you have to think about making those big time plays" Mathieu told Andrews in his interview.
Really?
Some of Mathieu's "big plays" include a failed drug test last year along with nude photos posted to the internet by several different ex-girlfriends after a Twitter spat.
A real class act, to say the least.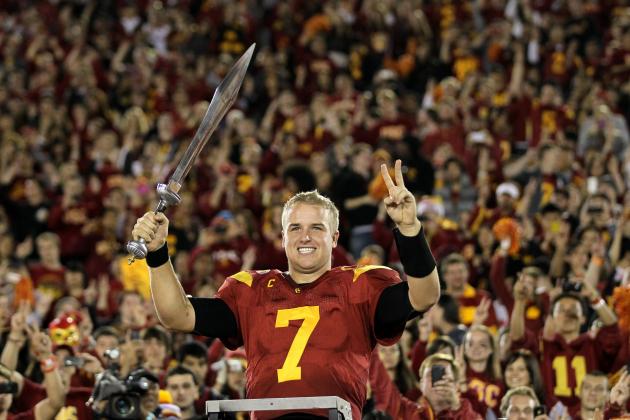 Stephen Dunn/Getty Images

Just about everyone outside of Los Angeles became extremely annoyed with Matt Barkley as soon as he announced his return to USC for his senior season.
Barkley is a great quarterback and will likely be a top pick in next year's NFL draft.
But he looks like he's a better fit on the beach than a football field.
The blond haired "pretty boy" could always fall back on his career as a beach bum if the NFL doesn't pan out. He just better plan on something better than his B average as a Communications major, voted one of the top ten college majors for women by Forbes.
While Barkley is working his flat-billed California look, it's a good thing he is poised to do great things in the NFL, because acting definitely isn't in his future.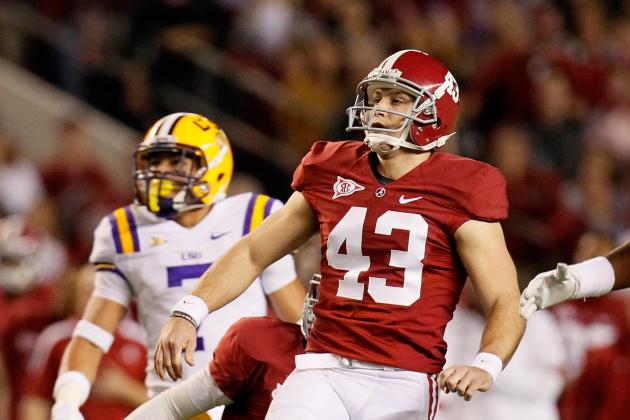 Kevin C. Cox/Getty Images

Cade Foster.
Alabama fans grit their teeth just at the mention of his name.
Foster was 2 for 9 during 2011, including a 1 for 4 performance in the regular season loss to LSU. You can already guess, Foster didn't see the field during the 2012 BCS National Championship game.
After his abysmal 2011 campaign, Foster's career field goal percentage rests at an even 50 percent.
Stick Foster in the game for a 30-yard field goal to win the game and your chances of winning are just as good as your chances of losing.
I don't care that it may just not have been "his year," it's going to annoy me to no end if any team, let alone the Crimson Tide, has him kicking field goals in 2012.
Foster better begin focusing more on his studies and less on his plans for the NFL.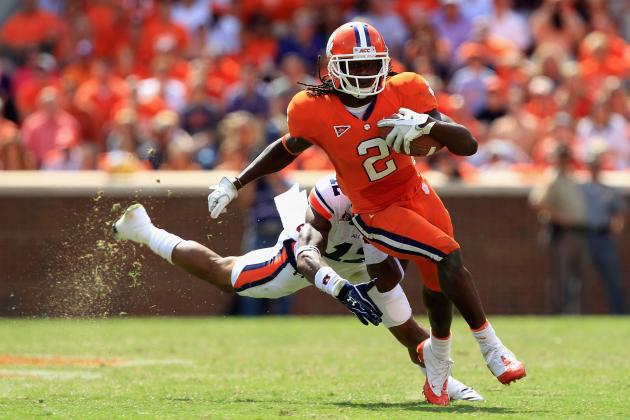 Streeter Lecka/Getty Images

Calling Sammy Watkins "annoying" is as close to a compliment as possible.
Watkins is a huge nuisance to any ACC fan outside of Clemson, South Carolina. This year, Watkins might creep up on fans across the country.
No. 2 was fantastic during his freshman season, mainly due to the fact that he is faster than greased lightning, and is poised to take a stab at the Heisman in 2012.
If Watkins wasn't on your radar in 2011, be prepared for a media frenzy. With his quarterback, Tajh Boyd, returning, Watkins will surely be putting up big numbers on just about everybody.
For Clemson fans that's an exciting possibility, but for everyone else...it's going to be annoying.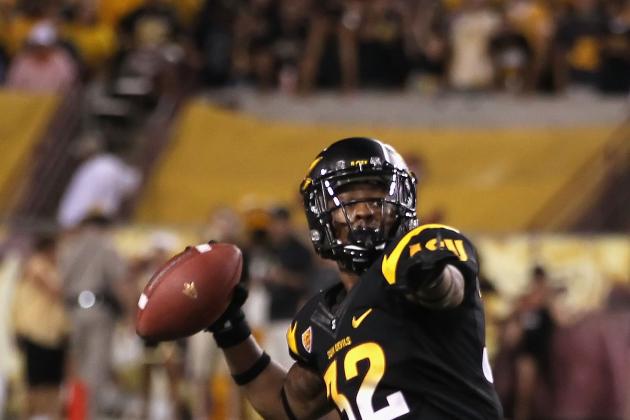 Christian Petersen/Getty Images

Jamal Miles is a wide receiver for Arizona State.
And a running back.
And a quarterback.
And a return specialist.
The truth is, I don't think Miles or ASU coaches can decide where he best fits.
In 2011, Miles caught 60 passes for 361 yards, rushed 29 times for 237 yards, passed one time for 35 yards and returned 23 punts for 232 yards.
Miles has not proven to be excellent in any one area, probably due to the fact that his is never at one position for long. After notching only a 6.0 yards per catch average, it looks like he should just stick to running the ball where he averaged 8.2 yards per carry.
Or better yet, become a return specialist.
Miles had three touchdown returns in 2011, half as many as he had receiving and rushing combined.
It will be his senior season in 2012 and it's time for Miles to step up, unless of course he plans to fall back on his college degree which is focused in sociology and education.
Who knows? Maybe Miles is a teacher in the making.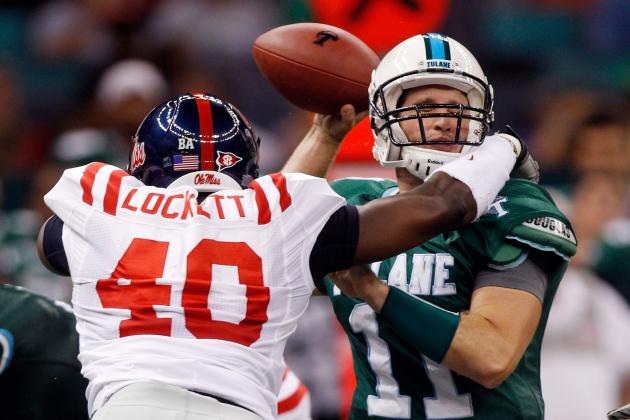 Chris Graythen/Getty Images

Ryan Griffin, quarterback of Tulane, was sacked 23 times in 2011. He also rushed the ball 27 times.
In his 50 attempts to move the ball with his feet, Griffin ended with negative 10 yards rushing.
Now this wouldn't be a big deal if Griffin was solely a pocket quarterback that excelled in the pass game, but that's not the case either.
Griffin threw the ball 408 times last year, completing just over half of them for 2502 yards. He had three more touchdowns (13) than interceptions (10) while posting a 47.9 percent completion rate and 4.22 yards per attempt in the month of November.
Ouch.
Good thing the Green Wave wasn't televised very often. It would be annoying to watch a team finish 2-11 and in dead last in the prestigious Conference USA.
Meet Johnathan Gray, the headliner for the Texas Longhorn's recruiting class of 2012.
As a running back at Aledo HS, Gray broke numerous records and led his team to three straight state championships.
'Horns fans are already excited and some have already compared him to Earl Campbell.
While his high school years are certainly impressive, let's let him earn a little respect before naming him one of the best running backs in college football.
As a resident of Texas, you wouldn't believe how much Longhorn fans are already talking about him.
I have a feeling it's just the beginning, whether or not Gray lives up to expectations.
After all, do you remember the last highly touted player that Longhorn fans were drooling over?
Garrett Gilbert, and we all know how that one turned out.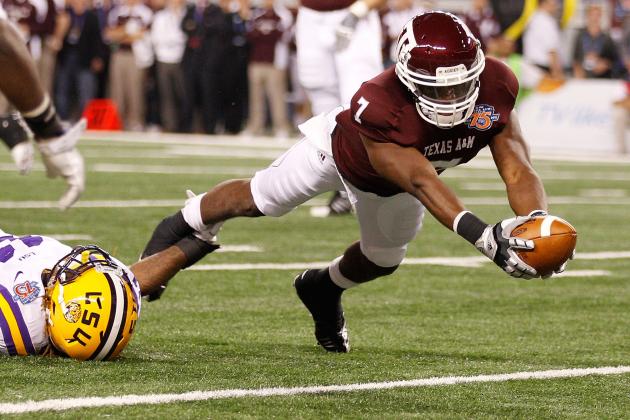 Chris Graythen/Getty Images

His name is a mouthful isn't it?
Aggies have found a way around this and just call him EZ.
Probably sarcastically referring to how easy it is to catch a pass.
Nwachukwu has been notorious at dropping the EZ pass during his time in College Station.
With Jeff Fuller departed to the NFL and Kevin Sumlin taking over for the Ags, Nwachukwu is going to have the opportunity to redeem himself.
Nothing would be more annoying than to watch EZ squander his opportunity to have a breakout year by continuing to drop it like it's hot
Didn't catch the Snoop Dogg reference? See this Miami fan's thoughts on Tedd Ginn Jr. dropping passes.
That's how Texas A&M fans have been feeling over the last couple years.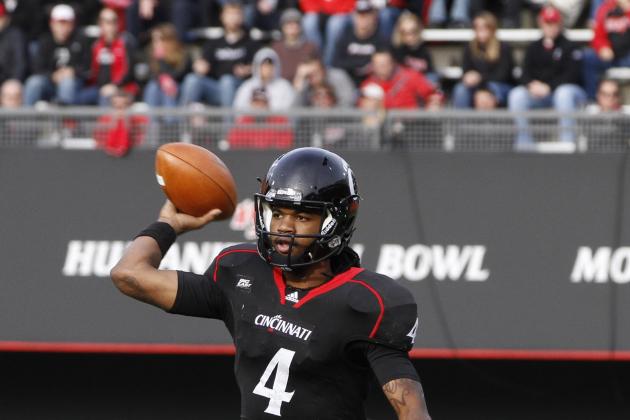 Tyler Barrick/Getty Images

Depending on your preference, you could award Munchie Legaux either the award for the best name or worst name in college football.
The fact is that Mr. Legaux needs to legaux (sorry) of the football with a bit more accuracy.
Munchie notched a very unimpressive 47.4 percent completion rate during the four games to end the 2011 season while starting quarterback, Zach Collaros, was down with an injury.
With Collaros graduated, the quarterback job is wide open in Cincinnati.
Let's hope Munchie Legaux doesn't step in, so we don't have to hear his name or see his atrocious passing game.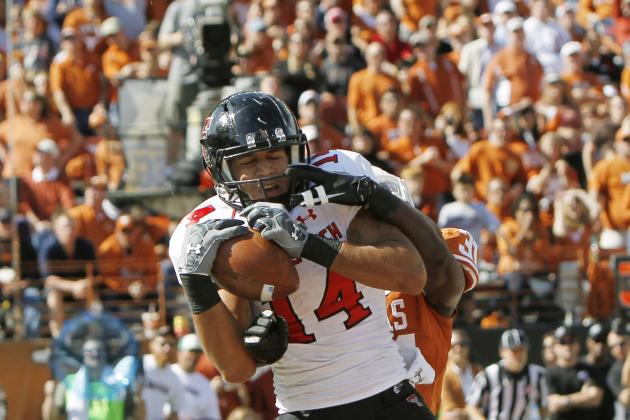 Erich Schlegel/Getty Images

Darrin Moore makes the list not because he is obnoxious, dangerously fast, or misnamed (poor Munchie).
Moore has been infected with the injury bug. Nothing rubs me the wrong way more than seeing a talented athlete see his time on the field limited because of an untimely injury.
Moore enters his senior season with one final opportunity to shake the injuries and have a breakout season.
With the size and ability to enter the NFL, it would be terrible to see Moore's NFL dreams dashed simply because he is forced to spectate.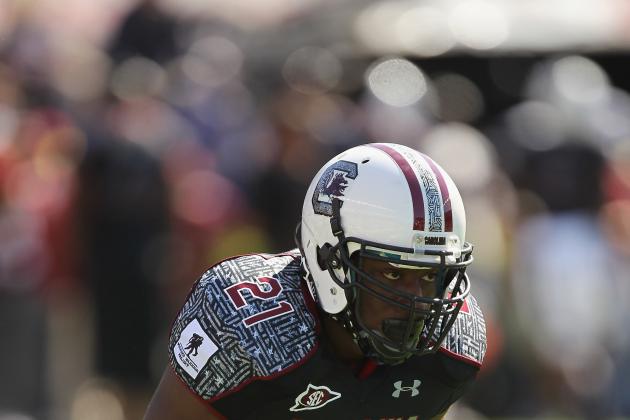 Streeter Lecka/Getty Images

Marcus Lattimore ran into the first defender that could slow him down in 2011.
The injury bug strikes again.
As a Gator fan, I was relieved that South Carolina would not have Lattimore in the lineup.
But to no avail, the Gamecocks still managed to outscore us (goodbye Charlie Weis).
Now with Lattimore set to return in 2012, SEC fans are wishing him the best of luck. Good luck in 2012, and good luck leaving early for the NFL.
Fans outside of Columbia only want to deal with the "annoying" Marcus Lattimore for one more year.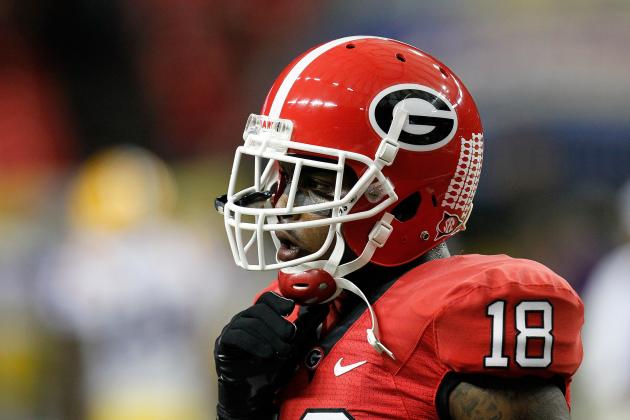 Kevin C. Cox/Getty Images

If you give the award to the worst named college football player to Munchie Legaux, then Bacarri Rambo gets the award for being the best named.
Any player with "Rambo" on the back of his jersey has got to be one tough football player.
Bacarri is exactly that, which is why he is one of the most annoying defenders in the SEC.
After nabbing eight interceptions last year, Rambo is poised to become one of the best defenders in the country in 2012; annoying every opposing quarterback and fan along the way.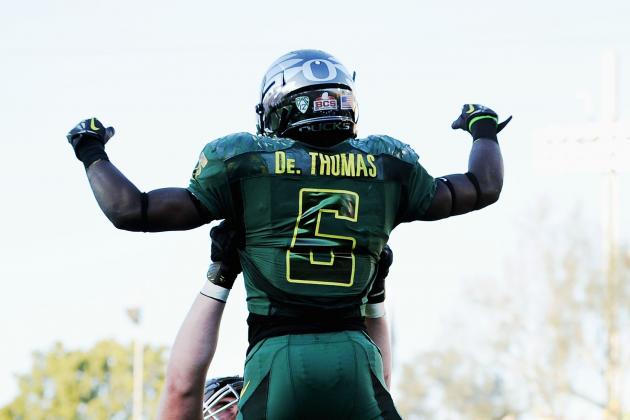 Harry How/Getty Images

De'Anthony Thomas comes across as a DeSean Jackson type.
Quick, electrifying, and full of themselves.
While Thomas was certainly a nice addition to the Oregon Ducks spread offense accounting for 18 total touchdowns in 2011, he also fumbled the ball on consecutive touches against LSU in what was the Ducks' biggest game of the year.
Maybe Thomas just needs to grow up a little.
Otherwise he might find himself making a DeSean Jackson type of mistake.
Don't grow up to be like him De'Anthony, please.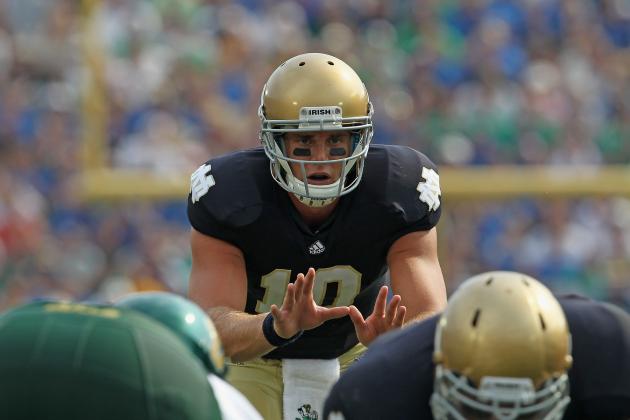 Jonathan Daniel/Getty Images

Dayne Crist didn't like South Bend.
In fact, Crist just wasn't the quarterback for Notre Dame.
After competing with freshman quarterback Tommy Rees in 2010, Crist lost the starting job altogether in 2011. Now he plans to follow former Golden Dome flop, Charlie Weis, to Kansas.
The Jayhawks certainly could use a new quarterback after being ranked ninth in the Big XII last year.
But it seems like running from the competition is the easy way out for Crist, even though it's just more playing time that he's after.
It's more than just a little annoying that he isn't holding himself to his original commitment.
Steve Dykes/Getty Images

Ryan Katz is in a very similar situation to Dayne Crist.
After a somewhat breakout sophomore season in which Katz posted over 2,400 yards with a 60 percent completion rating, he was benched early in the 2011 season.
Instead of competing for the starting job, Katz has chosen the easy way out, transferring to San Diego State.
Sure, Katz will get playing time with the Aztecs, but he and Dayne Crist have lost a lot of respect from fans of the game.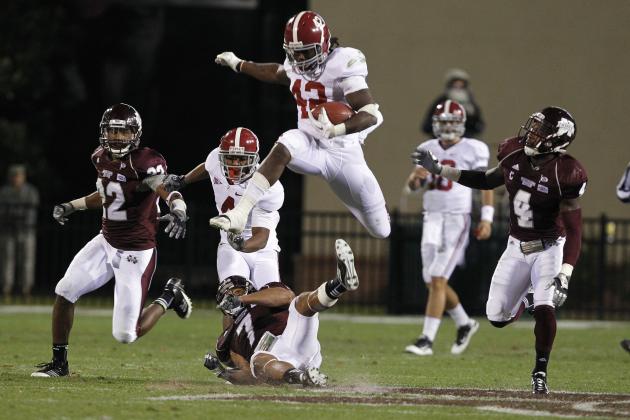 Butch Dill/Getty Images

Is Alabama ever going to run out of stud running backs?
Eddie Lacy may not quite be Trent Richardson material, but he will nevertheless be one of the best backs in the SEC.
A strong, fast and powerful runner. Where have we seen that before?
That has basically been the Alabama offense for decades.
As a Gators fan, it's annoying to see Nick Saban have another great running back in the fold.
But we aren't the only ones.
With Alabama consistently in the national spotlight for the last 4-5 years, the whole nation is getting annoyed with anything "Alabama-n".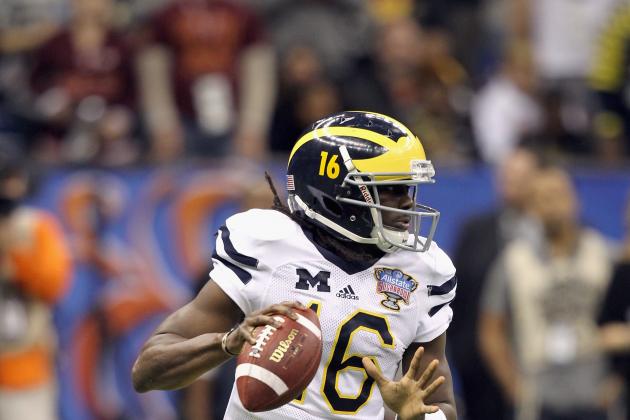 Matthew Stockman/Getty Images

Denard Robinson is a heck of an athlete and he and head coach Brady Hoke are the main reasons why Michigan is rising back to national prominence.
But there is only so much Shoelace I can take.
He is just another name to add to the list of way-to-early Heisman favorites.
While he led Michigan to a Sugar Bowl victory last year, he also only threw single digit completions in seven games last year!
That doesn't sound anywhere near a Heisman player to me. In fact, with all the favorable attention Shoelace gets, he sounds more like an overrated player.
Especially with the 15 interceptions to his name last year.
While America respects Shoelace and his decision not to tie his own shoes, talks of him being a Heisman front runner have gotten out of hand.
Follow Cole Dolan on Twitter @ColeDolan