Euro 2012 Schedule: Upsets Waiting to Happen in Group Play
June 8, 2012

Scott Heavey/Getty Images
Anything can happen in the beautiful game. Greece won Euro 2004 and nobody saw it coming. Upsets happen every year, and this tournament won't be any different. 
Nobody will see these three upsets happen in group play at Euro 2012. 
Sweden over France - June 19
France was a disaster at the 2010 World Cup. They haven't able to regain their form since that embarrassing effort.
Awful defending, poor man-marking and stars who were invisible, France was a mess.
Sweden, if they can capitalize on playing Ukraine in the opener, should be in a great position to make it to the knockout stages with a victory.
Zlatan Ibrahimovic is due for a breakout tournament for his national side. Since 2001, he has only scored 31 goals in 77. 
Unacceptable from one of the best strikers in the world.
Ibrahimovic will finally take the next step into superstar level status with a dominating performance in a crucial Swedish victory.
Prediction
Sweden 2, France 1
Ibrahimovic proves that he is one of the best in the world with two world-class goals. 
Denmark over Portugal - June 13
Portugal will be coming off a game against Germany when these two square off. A positive performance could spell a downfall, and a negative performance could spell a downfall.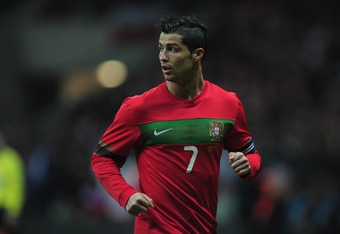 Jamie McDonald/Getty Images
Portugal is still Cristiano Ronaldo, a few other talented players and others who are average. They go as Ronaldo goes, and he wouldn't want it any other way.
They are, and will always be, one of those teams that are on upset alert because of how they play. 
Portugal isn't exactly coming into Euro 2012 on a high note, either. They tied 0-0 with Poland and Macedonia before losing to Turkey 3-1 in three International Friendlies. 
Denmark is led by Nicklas Bendtner, a striker who has played for English Premier League's Arsenal and Sunderland. He has tallied 18 goals since 2006 and he's only 24 years old.
Portugal's offense and defense aren't on form right now, and Bendtner has the talents to take advantage. 
Prediction
Denmark 2, Portugal 1 
Bendtner scores the game-winning goal in the second half. 
Croatia over Italy - June 14 
Italy has the liberty of starting out with Spain in the group opener. Good luck. It's going to be difficult finding a result from that game, but they will have a chance against Croatia in its second game.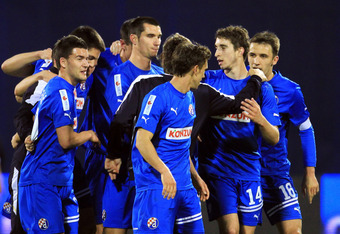 EuroFootball/Getty Images
It's a trap game. 
Italy will realize that they need to get three points from this game to stay in contention for the knockout stages. They will push more often than they are accustomed and Croatia will capitalize on the counter attack.
Prediction
Croatia 1, Italy 0
Luka Modric plays up to his capabilities and leads Croatia to the one goal victory. 
Check out BBC.co.uk for the complete group stage schedule.