Belmont Stakes 2012 Post Positions: Horses Who Benefit from Track
June 8, 2012

Al Bello/Getty Images
The Belmont isn't going to be a race that is won by an excellent sprinter.
At one-and-a-half miles, it is the longest of the three Triple Crown stops, and for horses who have participated in one or both of the first legs, it will be the most challenging. Those horses are going to be the ones who are the most fatigued, while those who skipped the Preakness or the Derby—or both—have the benefits of fresh legs and decreased pressure. When I'll Have Another charged out to victory in the Derby, it certainly helped that nobody was expecting anything from him. 
Speaking of I'll Have Another, he might have the toughest time of all at the Belmont because it will be his third race in five weeks, and seeing as he's starting out of Gate No. 10, avoiding traffic will be no easy feat.
As of Thursday, the conditions of the track in Elmont, N.Y., were favorable, according to Equibase.com. It was running fast and firm, but that could all change as a stormy forecast brings the possibility of rain to the area over the next couple of days.
Here's a look at the horses who will be able to contend at the Belmont on Saturday.

Dullahan (Gate No. 5)
If his performance at Churchill Downs in May was any indication, Dullahan has a lot of the same plusses as I'll Have Another—plus almost a month of rest. Dale Roman's horse entered the Derby with 8-1 odds and finished third, and like I'll Have Another, he specializes in coming from behind at the end of races. Doug O'Neill's colt better watch his back.
In eight starts prior to the Derby, Dullhan had two wins, including one in the Blue Grass Stakes, two places and two shows. He'll be starting out of Gate No. 5, which is exactly where he started in the Derby. He's in a much better position than I'll Have Another, so for this horse, it'll come down to showcasing his speed, relying on his stamina and hoping that the extended rest did him some good.

Union Rags (Gate No. 3)
There are several factors working for and against Union Rags here. First and foremost, there's the fact that of the three front-runners—meaning him, I'll Have Another and Dullahan—he has the best post position. That should truly do wonders for his performance because he's a horse who has a tendency to get bumped and pushed wide on turns when he doesn't get off to a good start.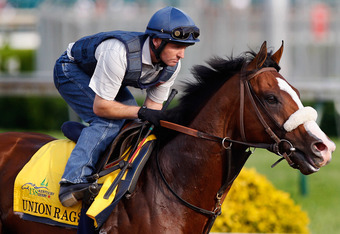 Rob Carr/Getty Images
According to DRF.com, Michael Matz's colt looked as good as ever physically during training on Thursday. The biggest concern for this horse is whether he can withstand the grueling one-and-a-half miles, but that's precisely why he opted out of the Preakness a few weeks ago. He wanted to rest up to be prepared for this race, according to owner Phyllis Wyeth. She told the Associated Press, "We feel that Union Rags hasn't been able to really run his race. We think he can do the mile and a half. He's training really, really well."
Matz told the AP that the "real" Union Rags will be the horse that shows up for the Belmont, not the one who keeps failing in the midst of enormous expectations. Soon, we'll see whether he can live up to all that hype. 

Paynter (Gate No. 9)
With 8-1 odds, Bodemeister's stablemate has the fourth-best shot of winning it all on Saturday.
Though Bob Baffert's other horse didn't participate in the Preakness or in the Derby—instead, he ran in the Preakness undercard, where he won by 5 3/4 lengths—he has the same trainer and the same jockey as Bodemeister, who has been the only horse close to beating I'll Have Another.
Clearly, it takes more than being Bodemeister's stablemate to be a contender, but this horse might actually have what it takes. He's a wild card because he only raced once as a two-year-old and three times this year, but he has speed, which is something all of the horses—aside from I'll Have Another and Bodemeister, who's not racing—have been lacking in all three legs of the Triple Crown.
According to The Baltimore Sun's Chris Korman, Paynter could be on the lead, like Bodemeister was in both the Derby and the Preakness, so if he can do what his stablemate couldn't and hold off I'll Have Another in the final furlong, this could be our Triple Crown spoiler. 

2012 Belmont Stakes Post Positions

1. Street Life—12-1

2. Unstoppable U—30-1

3. Union Rags—6-1

4. Atigun—30-1

5. Dullahan—5-1

6. Ravelo's Boy—50-1

7. Five Sixteen—50-1

8. Guyana Star Dweej—50-1

9. Paynter—8-1

10. Optimizer—20-1

11. I'll Have Another—4-5

12. My Adonis— 20-1

*Odds courtesy of CBSNews.com