Belmont Stakes 2012 Odds: Latest News and Updates on Race's Favorites
June 8, 2012

Rob Carr/Getty Images
With the Belmont Stakes just a day away, anticipation is mounting as horse racing fans are eager to see if I'll Have Another has what it takes to win the Triple Crown. Many horses before him have tried and failed, but I'll Have Another has a chance to capture all three gems for the first time since Affirmed did it in 1978.
The odds have remained somewhat stationary as of late, according to Bovada, as I'll Have Another remains a heavy favorite. There has been some love for Kentucky Derby horses Dullahan and Union Rags as well. Most of the money thus far has gone towards I'll Have Another, but Dullahan and Union Rags are quickly becoming intriguing picks.
Here is everything you need to know regarding the latest betting info for the Belmont Stakes' main contenders who hope to come out on top this Saturday.
I'll Have Another
As previously mentioned, I'll Have Another is a big-time favorite after his scintillating wins in the Kentucky Derby and Preakness Stakes; he is currently installed at 6/5.
The longer distance of the Belmont seems tailor made for him because he specializes in coming from behind and will be able to pace himself well. He will be starting on the outside, but there should be plenty of time for jockey Oscar Gutierrez to pick a lane.
All reports have been good regarding I'll Have Another to this point, and there is nothing that would suggest that he shouldn't win on Saturday. You truly never know what will happen on race day, though, as he could end up with a bad trip or bump into another horse and miss his chance. All things being equal, though, I'll Have Another is clearly the horse to beat.
Dullahan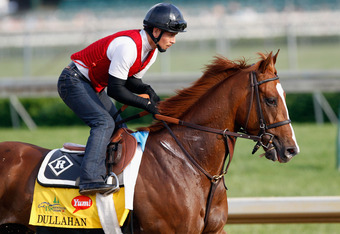 Rob Carr/Getty Images
Dullahan is considered by most to be I'll Have Another's toughest competitor as he runs a very similar style. Dullahan looked excellent in the Kentucky Derby as he finished third, and he took the Preakness off in order to be fresh for the Belmont.
Dullahan is being listed at 4/1, so while he isn't a long shot in the traditional sense, his odds are pretty favorable to the bettors, considering he is the No. 2 favorite.
One difference for Dullahan is that he will be saddled by Javier Castellano rather than Kent Desormeaux, so that may take some adjustment for him. I'm sure Castellano is well aware of Dullahan's strengths and will use them to his advantage, though. Had the Kentucky Derby been the same distance as the Belmont, Dullahan may have caught I'll Have Another, so he will be a dangerous threat on Saturday.
Union Rags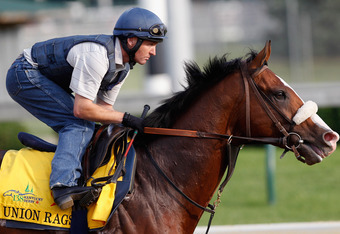 Rob Carr/Getty Images
Union Rags entered the Kentucky Derby with very high expectations, but he failed to live up to them as he finished a disappointing seventh after being caught in traffic. Jockey Julien Leparoux caught some of the blame for Union Rags' poor run, but John Velazquez will be aboard Union Rags at the Belmont.
At 5/1 Union Rags is the No. 3 favorite currently and is a very popular upset pick.
Union Rags hadn't finished worse than third in a race prior to the Kentucky Derby, so many believe that his poor performance was an aberration. He figures to be one of the pacesetters along with Paynter, so there is a good chance that he will be near the front at the end.
The big question is whether or not he can hold off I'll Have Another or Dullahan, and I'm not sure he'll be able to.
Follow @MikeChiari on Twitter