Handicapping How Long It Will Take Spurs To Return to Western Conference Finals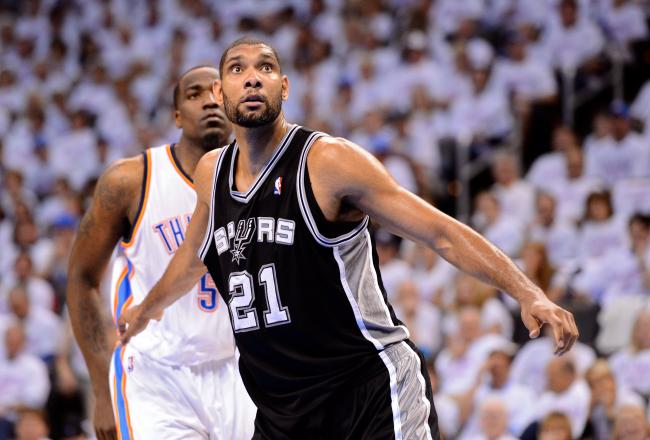 Ronald Martinez/Getty Images
The San Antonio Spurs have seen better days, but that doesn't mean there aren't more to come.
Yes, the media at large might like you to believe this is the dawn of a new era, and in some ways it is—the Oklahoma City Thunder have indeed replaced at least one contender in the Western Conference, but it isn't the Spurs.
While the Dallas Mavericks and Los Angeles Lakers struggled to even put up a fight against those Thunder, the Spurs had them on their heels before the unthinkable happened.
How long will it take SA to return to the WCF?
And though the Spurs seemingly collapsed at all the wrong times, it wasn't entirely their fault.
Nor was it because OKC was younger, better or any other clichéd adjective aimed at turning four games into a grand narrative about sea changes, passed torches or some such drivel.
Game 6 was San Antonio's to win. They were by far the better team in the first half, outscoring the Thunder by 15 and taking that Oklahoma City crowd out of a game for perhaps the first time in the postseason.
Tony Parker certainly deserves some raised eyebrows for his tale of two halves, but Tim Duncan was absolutely correct about the other culprit—and for once, Skip Bayless is right too:
Tim Duncan: "For a stretch there, it seemed like they got every whistle." EVERY STINKIN' WHISTLE. Changed game. Refs swept up by crowd.

— Skip Bayless (@RealSkipBayless) June 7, 2012
There were obvious blown calls to be sure, like the one putting Russell Westbrook on the line for a potential and-one opportunity despite not so much as brushing up against Tony Parker before his crash to the floor.
Westbrook missed the free throw, of course, but the Thunder got the rebound and took precious time off the clock.
Then, there was the moving screen called on Manu Ginobili, a call that might have actually made some sense in a postseason where officials gave a darn about moving screens.
But the real problem was that the officials simply weren't consistent in this series. They alternated between letting teams play and then—without any rhyme or reason—putting Kevin Durant on the line for even the slightest contact.
And when's the last time a guy got a technical for taunting the opposing bench in an elimination game of the conference finals?
This is about more than sour grapes.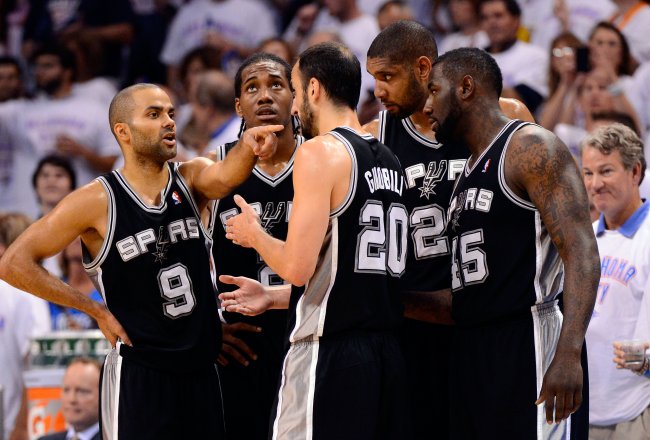 Ronald Martinez/Getty Images
It's a reason the Spurs will be back next year and nastier than ever.
It's the difference between losing fair and square on the one hand and suffering through an obvious injustice on the other. If Tim Duncan had only his squad to blame, the Spurs just might spend this summer moping.
Who's most to blame for the playoff exit?
With a legitimate scapegoat at hand, though, they'll spend the summer angry and motivated more than ever to restore order in a universe all too eager to see the young guns enjoy their time in the sun.
Notice to the Thunder: Enjoy that sunshine while it lasts.
For those convinced this is the end of the line for a team with more silver in its hair than on its uniforms, consider the facts.
This old team won 20 games in a row before these conference finals, sweeping a young team with a talented interior rotation, and then sweeping another team with one of the best one-two combinations in the league.
Say what you will about the Jazz being an eighth seed or the Clippers being young and/or hobbled; these were very good teams that weren't easy to sweep by any metric.
There's no question San Antonio was better this season than when it fell to Memphis in 2011, and no reason to think they won't be still better next time around.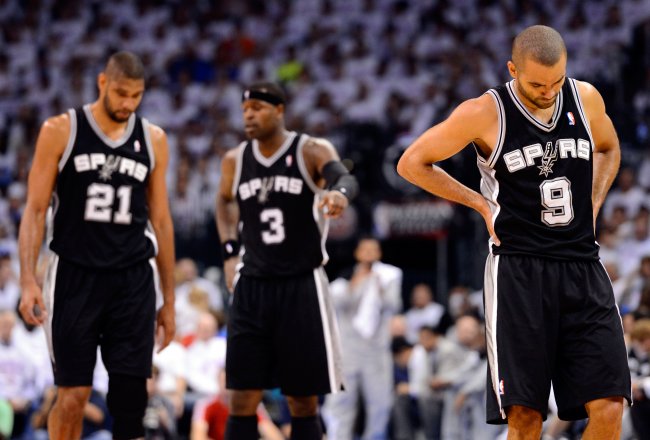 Ronald Martinez/Getty Images
If there are any doubts about how much the Spurs have left in the tank, consider Ginobili's Game 5 performance that included 34 points, seven assists and six rebounds. Or ask Stephen Jackson if he's ready to stop draining treys any time soon.
Tim Duncan may no longer be MVP material, but how many bigs can do what he did over the course of this postseason—17.4 points, 9.4 rebounds and 2.1 blocks per game, including several blowouts that limited playing time.
It also goes without saying that youngsters like Kawhi Leonard will be even more prepared to make an impact.
The Spurs will be back and quite possibly better than ever.
Fans shouldn't lament the end of a dynasty so much as a missed opportunity. The Spurs were the best team in the NBA this season, and it's an absolute shame they won't have the chance to prove as much in the NBA Finals.
This roster will remain a contender so long as Duncan is in uniform. After that, let the rebuilding begin—just not a moment too soon.
This article is
What is the duplicate article?
Why is this article offensive?
Where is this article plagiarized from?
Why is this article poorly edited?

San Antonio Spurs: Like this team?