Thomas Robinson NBA Combine 2012: Measurements, Video Highlights & Analysis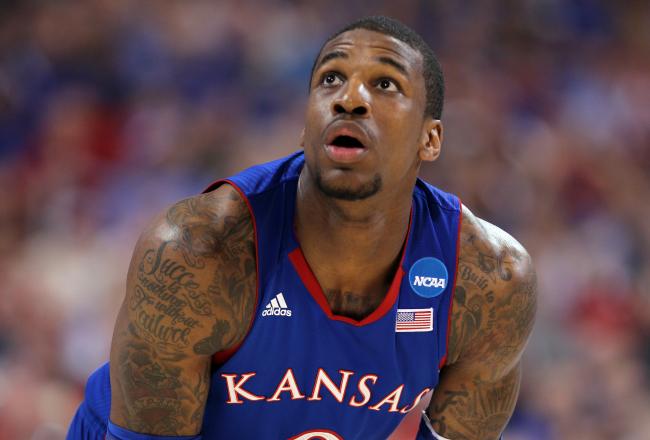 Andy Lyons/Getty Images
Although Kentucky forward Anthony Davis is the consensus No. 1 pick in the 2012 NBA draft, there are several players vying to go second to the Charlotte Bobcats. One of those players is Kansas power forward Thomas Robinson.
The skilled big man was a key cog in the Jayhawks' run to the national championship game this past season, and there is a lot to like about him. He led Kansas with 17.7 points and 11.9 rebounds per game as a junior and is considered one of the most polished all-around players in the draft.
Even so, Robinson entered the scouting combine with some question marks surrounding him. Chief among them was his height. That was answered on Thursday, and although he didn't even have to perform in drills, Robinson may very well have solidified his draft status.
Measurements
Robinson had been listed at 6'10", but there was a suspicion that the billing was inaccurate. That proved to be true at the combine, as he measured in at just under 6'9", according to Jeff Goodman of CBS Sports.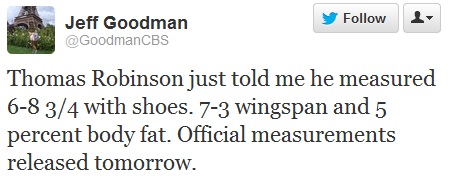 At first glance, it may seem like that should hurt Robinson's value since he will likely be facing some taller competition at the NBA level, but the fact that his wingspan is 7'3" should probably negate that. It doesn't really matter how tall Robinson is, as long as he can get his arms up high enough to defend the basket.
It appears as though he should have absolutely no problem doing that, so the Bobcats may be very interested in him at No. 2. If he doesn't get taken at that spot, then the Washington Wizards and Cleveland Cavaliers are very real possibilities as well.
Video Highlights
Perhaps Robinson isn't as versatile of a player as Davis at power forward, but Robinson may be the next-best utilitarian player in the draft. He is a Swiss army knife of sorts in that he can hurt opposing defenses in so many ways and he is also a force defensively.
All of that is on display in this highlight video from Swish Scout:
Obviously a highlight reel is meant to make a player look good, but this one shows you just about everything you would want to see out of a power forward. He is very strong and explosive, which allows to get to the basket. He can flush it down and finish with both hands, so it is extremely tough for defenders to stop him.
Additionally, Robinson is a great post-up player with a wide array of moves. He doesn't have to be in the paint to score, though, as he is very adept at hitting baseline jumpers as well as shots from the top of the key. Furthermore, Robinson gets to the charity stripe and hit at a decent clip of over 68 percent last season.
On defense, Robinson has long arms and a powerful frame that allow him to go up and get rebounds as well as boxing out opponents. He isn't a big-time shot-blocker, but that is certainly a part of his arsenal too.
Robinson can do a lot on the floor, and that makes him a very valuable commodity.
Analysis
Which team will select Thomas Robinson?
I'm not sure that the combine has told us much about Robinson that we don't already know, but I do know that his measurements shouldn't be a big concern. Robinson faced some big, physical players in the Big 12 and his height was never an issue.
He has so much power, athleticism and desire that being an inch shorter than he is listed shouldn't be an issue.
Robinson isn't a supposed can't-miss prospect like Davis, but I would be surprised if he busted. He would immediately be the Bobcats' best player if they were to draft him, and I could see him beating out Davis for Rookie of the Year honors if that were to happen.
Robinson is the total package and I believe most talent evaluators realize that.
Follow @MikeChiari on Twitter
This article is
What is the duplicate article?
Why is this article offensive?
Where is this article plagiarized from?
Why is this article poorly edited?