NBA Draft 2012: Defensive Studs Who Will Help Teams Immediately
June 7, 2012

Chris Graythen/Getty Images
Offense sells tickets, defense wins championships. The best NBA teams understand this theory, and the 2012 draft is full of players to put it into practice. 
It often takes time for rookies to understand how to play within an offense or create their own shot against top players. However, great defenders can help their teams win right away.
These prospects could eventually be quality offensive forces, but there is no question they will have an impact on the defensive side of the ball.
Anthony Davis, Kentucky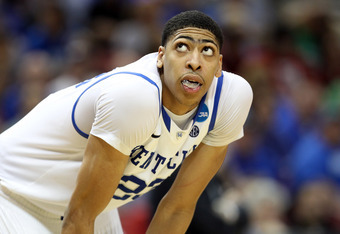 Andy Lyons/Getty Images
The man expected to be the first overall pick of the draft could be the best defensive player to enter the draft in a number of years. 
Davis finished his only collegiate season with 10.4 rebounds per game and an NCAA-leading 4.6 blocks per game. This number does not include the extra shots that were altered by the center's presence in the lane.
New Orleans finished last season with the worst record in the Western Conference, but had a solid defense that held opponents to 93.4 points per game. With the addition of Davis, the Hornets could quickly become the best defensive team in the league. 
John Henson, North Carolina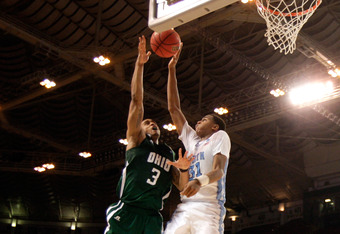 Andy Lyons/Getty Images
North Carolina was hurt this postseason by the injury to point guard Kendall Marshall, but a left wrist sprain to Henson was almost as damaging. 
The power forward was the key to the team's defense with his ability to alter shots around the basket. 
Henson has great timing and waits for the opponent to make his move, which is apparent by the fact that he only fouled out once in his three-year career. 
Whichever team selects the power forward will get a solid offensive player who could be a difference-maker on defense.
Michael Kidd-Gilchrist, Kentucky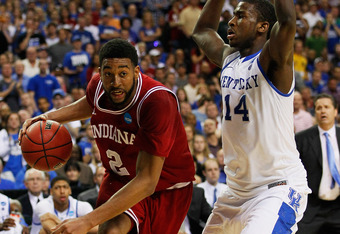 Kevin C. Cox/Getty Images
Kidd-Gilchrist might struggle in a half-court offense in the NBA, but his ability to shutdown opposing players will be invaluable at the next level.
He is very strong for his age, and his athleticism will allow him to stay with an player. With size and quickness, MKG has the ability to guard any spot from point guard to power forward.
The former Kentucky player has limited upside, but his intensity and other intangibles will force any coach to put him in the starting lineup.
Fab Melo, Syracuse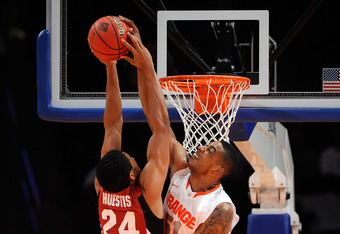 Patrick McDermott/Getty Images
It might take a few years for Melo to be a factor on offense, but as a defender he is ready for professional ball.
The Brazil native is legitimate seven-foot center that has plenty of athleticism to get rebounds and block shots.
Teams might be scared about the fact that Syracuse uses a 2-3 zone on defense, but not many players come around with this type of size. He allows teammates to make mistakes because opponents are deterred from coming too close to the basket. 
Melo's lack of offensive game will have him sliding down draft boards, but he will be worth the selection.