Pat Riley Should Let Phil Jackson Lead LeBron James to NBA Title
June 7, 2012

Kevork Djansezian/Getty Images
Just when you thought Phil Jackson was finished for good, it turns out he may have yet another itch to return to NBA action—at least in some capacity.
According to the Orlando Sentinel's Brian Schmitz, former NBA player Sam Vincent and Orlando Magic CEO Alex Martins somehow managed to get Jackson thinking about a front-office role in a presumptive attempt to restore Dwight Howard's faith:
Jackson is apparently headed back to the NBA in some capacity, but he pulled out here before Martins had a chance to run it by owner Rich DeVos. Martins learned of Jackson's exit Thursday, but would not comment.
As Schmitz explains it, Vincent also indicated that Jackson isn't especially interested in returning to the bench as a head coach.
Then again, things obviously change quickly in this league, especially when "retired" coaches start getting bored. Maybe something about watching an action-packed postseason brings out the competitor in guys ostensibly ready to call it quits.
Whether Jackson wants to coach or not, there's a team that needs him to give it a second thought.
Miami Heat President Pat Riley should do whatever he can to convince Phil it's not too late for one more stint shepherding superstars.
It's Jackson's specialty.
And, as good a coach as Erik Spoelstra may be, this may not be the best situation for him. Spoelstra needs a team of youngsters who will listen to him and an opportunity to grow into his skin as top-shelf coach with gravitas and history under his belt.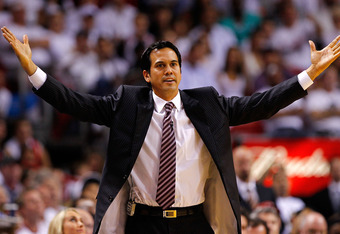 Mike Ehrmann/Getty Images
He'll get there, but there's no guarantee he'll do so before LeBron James is an old man by NBA standards.
Meanwhile, Jackson has coached his way to 11 titles, and he's done so with teams constructed much like the Heat—teams with elite talent and the egos to match.
When compared to the squabbles that typified Shaquille O'Neal's deteriorating relationship with Kobe Bryant, the Heat's locker room looks like a utopian paradise in comparison. It's not as if Miami is far from greatness–it's already proven to have unmatched talent and sometimes unstoppable drive.
It's yet to prove it can get over the championship hump, though, and that's where Jackson comes in. A brilliant tactician, sure, but Jackson's real value is his ability to get the most out of his players.
Though it doesn't seem possible to make guys like LeBron and Dwyane Wade any hungrier for success, the fact remains we've never seen Jackson try his hand with them.
If LeBron really wants to be the next MJ or Kobe, he might start by working with the coach who came along for the ride.