Argentina vs. Brazil: International Friendly Will Be a Benchmark for Each Team
June 7, 2012

Rob Carr/Getty Images
After competing in only a few matches this spring, Argentina and Brazil are looking for a true test as they face each other in an international friendly on June 9th. 
Brazil has been up and down this spring. After easily defeating Denmark and the United States, the team was held scoreless in a 2-0 loss to Mexico.
The loss has many fans concerned, despite the fact that the team took 10 more shots than Mexico and controlled the ball for twice as long.
Even former star Pele has some doubts over the current Brazilian squad. He believes the team has talent, but they are "not yet ready to overcome difficulties."
There would be few better ways to silence these doubts than a win over South American rival Argentina.
Argentina is coming off a convincing 4-0 victory over Ecuador, but the team still needs to prove they can get it done against a quality opponent.
With most of the world focusing on Euro 2012, this might be the only chance to beat a high-profile team without the pressure of a do-or-die contest.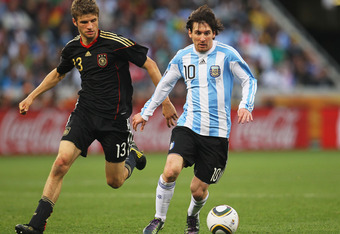 Chris McGrath/Getty Images
For the squad to succeed, they will need a boost in play from one of the best players in the world, Lionel Messi. After a dominating season with Barcelona in which he scored 50 goals in 37 games, the striker needs to keep that momentum going.
In his career, Messi has averaged more than twice as many goals per game for his club team than the national team. 
While this match is only a friendly, it would be a good time to silence critics as they prepare for the more important games ahead.
Statistically, the contest between Brazil and Argentina will not mean much. However, the winner of this match will gain a mental advantage that will last throughout the year.