French Open 2012 Women's Final: TV Schedule, Start Time and Live Stream Info
June 7, 2012

Matthew Stockman/Getty Images
Maria Sharapova and Sara Errani took care of business in the 2012 French Open Women's semifinals on Thursday. 
Sharapova defeated Petra Kvitova in straight sets 6-3, 6-3 while looking dominant. Errani defeated Samantha Stosur in three sets 7-5, 1-6, 6-3 while showcasing great fight and enthusiasm. 
Sharapova and Errani will lock horns on Saturday in the Women's final. Here is everything you need to know to get your ready for an intriguing match. 
Where: Stade Roland Garros, Paris, France
When: Saturday, June 9, at 9 a.m. ET
Watch: NBC
Live Stream: TennisTV.com
For complete TV schedule information, check out tennischannel.com 
Sharapova's elusive French Open title is one win away, and I can't see her letting this opportunity slip through the cracks. With no prime-time contender standing in her way, not winning the French Open would be a disaster.
What They're Saying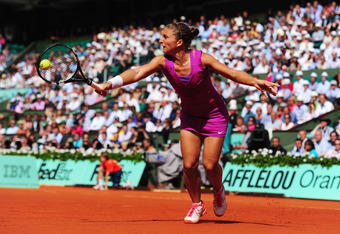 Mike Hewitt/Getty Images
Errani has played well to get to this point, but she's not on the level of Sharapova. Errani is just surprised to get to this point, according to CBSSports.com: "It's incredible for me," Errani said. "I didn't expect it, and I'm here. So, I don't know what to say."
It sounds like she's just happy to be in this situation.
When players and teams seem like they are surprised to be in a championship situation, they are. It generally doesn't end well, either.
Sharapova will look to her experience in hopes of winning her first Grand Slam since 2008 and her first ever French Open.
Prediction
Sharapova is playing fantastic tennis right now. She's now the No. 1 player in the world, and she is full of confidence.
Sharapova wins in straight sets 6-4, 6-4.