NFL Top 100 of 2012: Eli Manning Should Be Ranked No.1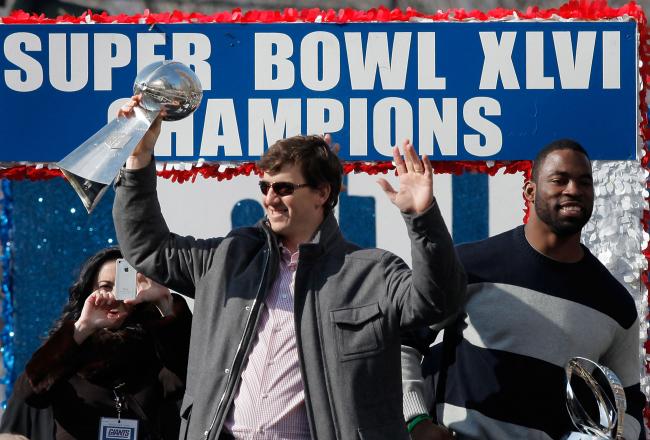 Andrew Burton/Getty Images
The NFL Network's Top 100 draws a ton of attention, perhaps undeservingly, but merely just because people love rankings and empirical evaluations of what each player means to their team. The casual fan wondering which interception-prone fantasy star is the better quarterback between Tony Romo and Philip Rivers is able to come to a conclusion because Rivers is ranked thirty spots ahead of Romo.
It's impossible for me to summarize in an opening paragraph how big of a joke I think this list is, and I understand the way they collect the votes might not do everyone justice; it's just mathematics. But the ranking of the last year's Super Bowl MVP, Eli Manning at just 31st on the list draws the line for me.
I was outraged, but could swallow back the fact that Romo was 91st, or Vonta Leach made the top 50, or that rookies like Patrick Peterson and Von Miller are already being anointed as significantly better than Nnamdi Asomugha and LaMarr Woodley or Justin Tuck.
Even Eli's ranking of his brother Peyton, being allowed to be on the list, didn't really make me lose faith in this list as much as Eli Manning being 31st.
We all know he has two Superbowl rings, both times beating Tom Brady. Some saw Super Bowl XLII as a complete fluke, between David Tyree's helmet catch, Asante Samuel's dropped pick and a lot of missed holding calls on the Giants O-line, among other accusations. Even more contend he wasn't worthy of the MVP award; many feel that award belonged to Justin Tuck and the rest of the Giants defensive line.
But what matters is what he accomplished last season. After all, this is a list for 2012. In the preseason, Eli famously proclaimed himself an elite QB in the class of Tom Brady, coming off a disappointing season in which he threw 25 interceptions.
Who is the beset QB in the NFL?
The value of the quarterback, as much as physical prowess with being able to make all the throws, lies in the intangibles such as leadership and being the 'glue guy.' For lack of a better description, a great quarterback is required to mask all the deficiencies of his team around him. Tom Brady and Aaron Rodgers won games with bottom-five defenses, and 2011 proved exactly how many deficiencies Peyton covered up for the Colts all these years.
Heading into 2011, the Giants were nobody's pick to win the Super Bowl. They were in flux, with Osi Umenyiora's contract disputes. Secondary issues remained when first-round pick Prince Amukamara got injured. Eli's always-solid offensive line was suddenly questionable; the Giants had let go veterans Rich Seubert and Shaun O'Hara. Eli's two safety valves on offense were gone; Steve Smith was with the Eagles and star tight end Kevin Boss was traded to the Oakland Raiders. Oh, and also there were questions with the health of their running backs.
So if you're keeping track, every relevant part of the Giants football team got worse in 2012. Eli dealt with having the league's worst rushing attack, weathered a four game losing streak, including a heartbreaking last minute loss to the undefeated Packers that could have easily cause the team's morale to go down and just fold. They rallied to beat the Cowboys twice, then crushed Atlanta and Matt Ryan in the Wild Card. Eli outplayed Aaron Rodgers in a virtuoso 330-yard, three touchdown performance, and dragged the Giants past the divisional round. By the way, this was a Packer team that was 15-1, hadn't lost at home all season or given up a lead by halftime.
Eli then proceeded to solve the San Francisco 49'ers, who were 13-3 and had the best defense in the league, before beating the Patriots themselves in the Super Bowl. Both of them were fourth quarter comebacks, too.
Speaking of fourth quarter comebacks, everyone agrees that a good quarterback is clutch. Nobody has more comebacks in the fourth than Eli with 21, to go along with 25 game-winning drives. We're talking countless third-down conversions and pressure situations.
Here's the most telling thing to me: of his 21 fourth quarter comebacks, six of them occurred in elimination games, playoff games, or the Super Bowl. Three occurred in the 2008 Super Bowl season, and three occurred last season. Those wins were against the same team in the same succession: the Cowboys, the Packers, and the Patriots. Eli led the game-winning drive in all of those wins.
Here's a scenario: you're an NFL coach and your team is down six, and you have one shot, one drive to win the game. And you can have one quarterback. Is anybody going to sit there and tell me they're not picking Eli, and they know anything about football?
Isn't this the essence of what the greatest quarterback needs to be? To know that as long as you have this guy on your team, you have a shot. You know he will make plays in the fourth quarter for you and gets better when everything is on the line. There is not a shadow of a doubt he will.
I can't say that about Aaron Rodgers, Drew Brees, or even Peyton himself. I'm not entirely sure I can say that about Tom Brady.
He will do it while having the league's worst rushing offense, a defense that gave up 255 yards a game through the air (29th) and mediocre at defending the run (121.3 yards, 19th). He will do it when everyone's talking about his coach possibly getting fired, and weathering an in-season meltdown (the four losses from Week 10-13).
He will still lead you to a Super Bowl win. Eli Manning should be the No.1 player on the NFL Players Top 100.
This article is
What is the duplicate article?
Why is this article offensive?
Where is this article plagiarized from?
Why is this article poorly edited?

New York Giants: Like this team?