Game Tape 101: What Traits, on Film, Define an Elite NFL RB?
June 8, 2012

Chris Trotman/Getty Images
What's in a running back?
That's the question that the Cleveland Browns asked themselves in the exhaustive process of evaluating Alabama running back Trent Richardson leading up to the 2012 NFL draft. The Browns ultimately decided on taking the Tuscaloosa ball-carrier and did so by trading up for him in a move that made the faces of the 31 other shot-callers furrow.
Cleveland made Richardson a top-three pick because of the talent and potential he possesses. His balance, vision, agility, speed, ball security and patience are all traits that make up an elite NFL running back. As a result, he could develop into an elite ball-carrier one day. 
However, in today's league, postmodern offenses are geared toward passing the ball with great spacing that stretches the defense the width of the field, and they typically feature a running-back-by-committee approach—a crucial change in philosophy that has made many wonder about the featured running back and the value of drafting the position high.
Despite the questions surrounding the position, there are still tailbacks in the NFL that can be deemed elite. They include, but are not limited to, Tennessee's Chris Johnson, Jacksonville's Maurice Jones-Drew and Houston's Arian Foster, all of whom possess the aforementioned traits.
Balance
Balance is one of the most fascinating traits in ball-carriers because not everyone has it, and when they do, it's still a daunting task to stay on their feet.
Think about it, a ball-carrier is running full speed at 190 to 230 pounds and is prepared for a head-on collision at any point. Typically, a full-on collision would result in the ball-carrier landing on his back, but that's not always the case.
The great ones stay on their feet despite bouncing off multiple defenders, as if they were a soccer ball slapping off the shoes of the Barcelona soccer team.
An exemplar is the previously mentioned and newly drafted Trent Richardson of the Browns. Richardson is by no means an elite NFL running back—he hasn't even set foot in a live game yet—but he has the balance that could help him become one. 
To the video on the right, Richardson catches a pass on a shoot route and immediately is contacted by the opposition. Despite being knocked back and nearly out of bounds, Richardson maintains his balance and stays in. But this is not the end of it.
Here comes a second defender, of whom he breaks the tackle, and as he looks up, he is contacted by a third defender.
Albeit it by the shoulder pads, the defender tries to drive Richardson back but to no avail; Richardson avoids being brought down by not only his strength, but also his balance—he stays on his feet.
A fourth defender now takes a shot at bringing down the beast but fails as well. The entire defense eventually tries to bring down Richardson, but the only one who is able to prevent him from going forward is the referee's whistle.
Some call it power, others call it determination, but I call it balance.
Vision
Ball-carriers can have exceptional balance, but if the only people they are making contact with are their own blockers, what good are they?
This is where vision comes in. It's an integral trait that all backs must possess. It can be described as the ability to find the running lane—or as they say in football parlance,  the "alley"—that the blockers and/or defenders have created through great execution, or in the defense's case, a blown assignment. 
As one of the NFL's best running backs, Arian Foster of the Houston Texans has always displayed quality vision when toting the rock, which is a big reason he's had a very successful career thus far. Foster flourished in Houston's zone scheme early in his career, making big runs by finding running lanes, particularly on the back side as can be seen below.
Foster and the Texans' offense come out in 21 (two backs, one tight end) personnel against the Indianapolis Colts' defense.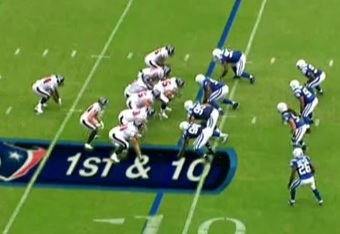 On the outside handoff, Foster takes a step to the left and secures the handoff from the quarterback.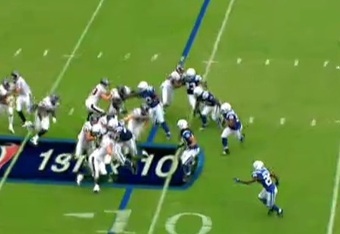 Once he gets the handoff, he reads his keys, analyzes how the defense has reacted to his movement and then plants his outside foot into the ground with his eyes on the back side of the defense.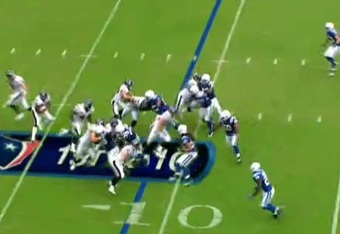 An alley has been created by the over-aggressive defense, and Foster spots it. He's taught to keep running outside if there's no cutback lane, but there is one, so as instructed he looks to it. This may seem like a simple task for him to execute, but not so; there's a plethora of running backs who are unable to do it with consistency (namely Foster's former teammate, Steve Slaton).
Foster drives off his outside foot and makes a beeline for the alley. He gets to the running lane quickly and goes through it with great speed, which enables him to gain yardage in chunks.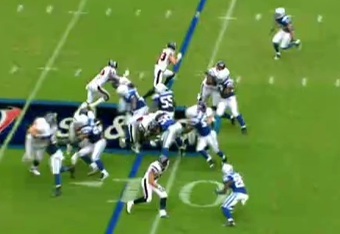 Agility
Equally important to a ball-carrier's game is his agility. Straight-line runners are not poor runners, but they don't have the ability to create something out of nothing, as opposed to ball-carriers that are able to make defenders miss by running laterally. 
One of the league's best, if not the best, is Philadelphia's LeSean McCoy. Drafted out of the University of Pittsburgh in 2009, McCoy has made a living weaving in and out of traffic because of his outstanding agility. 
At times, McCoy's ankles appear to be made out of rubber bands, bending every which way possible when he attempts to make defenders miss. He does an excellent job of making himself compact when going through running lanes, making him a smaller target for defenders, and is arguably the best at using his head and shoulders.
By using the head and shoulders, I mean that McCoy is exceptional at misleading defenders with his eyes and setting them up with his shoulder movement.
He's also very quick-footed and utilizes a stutter step that pins the defender on his heels and forces him to choose an angle to defend McCoy. He's done this numerous times throughout his football career with great success.
Speed
The old Mazda commercials and phrase "zoom, zoom" aptly describe Tennessee Titans running back Chris Johnson when he's got the ball.
It's as if he's gotten a head start to the play, blowing by would-be tacklers and running into the end zone effortlessly as defenders are only left to see the back of his jersey and long, flowing dreadlocks.
As you have seen, Johnson is arguably the league's fastest tailback with or without pads on. He first showed up on fans' radars when he ran a mind-bending 4.24 40-yard dash that left many asking, "How is that even possible?" And unlike many others, his speed translates to the football field, as witnessed by dozens of NFL defenses. 
Now, not every back is as fast as the Titans' ball-carrier, but they don't have to be; they can still pick up yards in chunks despite not having fast 40-times at the combine because they play with great profile. Profile is a term that can be used to describe an athlete that plays with his pads low and a low center of gravity. 
Ball Security
Ball security is a must, whether the back is elite or not. However, the best rarely expose the ball (unless you're LeSean McCoy, of course) so as to prevent giving the defense an opportunity to bat it away for a possible turnover.
Running backs are rendered useless if they put the ball on the ground because not only are they giving away possession, but they are also failing to succeed at the task they are out there to perform: minimize the chances of a turnover and grind clock. 
Perhaps the best in the league, former New England Patriot and new Cincinnati Bengal BenJarvus Green-Ellis has never fumbled. 
Not once.
What's the technique behind the great success? Green-Ellis explains in an article by Tom Perrotta of the Wall Street Journal: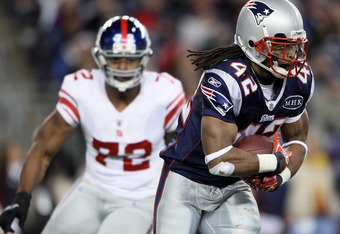 Elsa/Getty Images
"'Keep the ball up against your body—that way there isn't any air for anybody to try to punch it loose,' Green-Ellis said in an interview. 'And you should always have two hands on the ball in traffic.'"
The former Ole Miss rebel was not drafted during the 2008 NFL draft, but he got on the Patriots' roster shortly after and didn't leave it until he got a raise this offseason. A big reason why he got on the roster is because of his ball-handling. It's not difficult to do, but the art of it is often forgotten by ball-carriers; they are too busy dancing and reading the field in order to find a running lane to create a big play that they forget to protect the ball.
Unlike the previous traits, ball security can be easily taught through hundreds and thousands of repetitions, but what about patience? 
Not so easy.
Patience
Patience is another trait that not only Green-Ellis possesses, but so do the rest of the running backs mentioned. It's of great significance because it lets plays develop in a timely manner, consequently giving them a greater chance of success.
Ball-carriers must be patient when running the ball because they are the ones who set up the blocks and create the running lanes (in most cases), not the blockers.
Not to downgrade offensive linemen, but in most cases, the running back makes the offensive line because he's patient enough to stay in the backfield and take subtle steps that draw defenders in his direction, in turn leading them to be blocked by offensive linemen.
Overall
Chris Johnson. Maurice Jones-Drew. Arian Foster. Trent Richardson? 
Despite entering a new age of football philosophy that sees the value of the running back diminished, Cleveland Browns third overall pick Trent Richardson possesses many traits that could put him in the same elite group that the likes of Johnson, Jones-Drew and Foster are in. 
These traits that put them in the upper echelon of their position include balance, vision, agility, speed, ball security and patience. These traits are the most crucial when identifying (potentially) elite ball-carriers and are also the ones that NFL scouts look for when evaluating college prospects that are transitioning to the professional level.