NBA Draft 2012: Identifying Which Prospects the OKC Front Office Will Avoid
June 7, 2012

Jim McIsaac/Getty Images
The Oklahoma City Thunder have a lot more on their minds right now than who the Thunder will select with the No. 28 pick in the 2012 NBA Draft.
The OKC front office is very prudent, but also one of the best in the NBA.
They've laid out the blueprint to the rest of the NBA on how to build through the draft. Yet while they will be drafting just for depth, what the Thunder won't do is take a risk on a potential problem player. If there are any red flags at all, expect the Thunder to stay away.
With that being said, here's a quick look at a few prospects that the thunder won't be touching on draft night.
Royce White, Iowa State
There's a good chance that White gets selected before the Thunder pick, but if not I wouldn't expect them to roll the dice on him.
There's no doubting his potential talent, but White has some issues that include an anxiety disorder and a fear of flying. That will scare some teams away, one of them likely being Oklahoma City.
Fab Melo, Syracuse
You can never have too many productive big bodies, but the mere fact that Melo was suspended twice this season for Syracuse raises enough red flags that the Thunder would stay away from him.
While Melo could help the Thunder's interior defense as a shot-blocker (2.9 BPG), he's nowhere near ready offensively, as his game is extremely raw.
Tony Wroten, Washington
I'm a fan of Wroten's ability and high ceiling but he's also a very risky pick.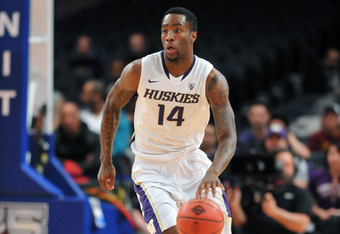 Jason Szenes/Getty Images
He has scoring potential (16.0 PPG), but there are too many other red flags surrounding his overall game.
Wroten doesn't take good care of the ball, as he averaged 3.8 turnovers to only 3.7 assists this season. And while he has a quick first step and can get to the rim, he can't shoot a lick, knocking down only 16 percent of his attempts from behind the arc on the season.
Those are traits that Scott Brooks will not like.
Marquis Teague, Kentucky
The Thunder won't really need point guard depth if Eric Maynor completely recovers from his torn ACL, but at No. 28 sometimes you take the best available player.
While Teague was very good in the NCAA Tournament, he wasn't very consistent during the season.
He got better throughout, but similar to Wroten, Teague is a player that has to value the ball more and develop a jumper.