Chelsea Transfer Rumours: Marouane Fellaini Would Complete Blues' Midfield
June 7, 2012

Alex Livesey/Getty Images
Roman Abromovich is likely to continue his massive spending spree, and Everton's Marouane Feillani is next on the list. 
The Belgian center midfielder is linked with a move to the London club. Everton is rumored to sell for around £20 million, according to John Cross of Mirror Football. 
Those who thought Chelsea's first European championship would cause Abromovich to be less aggressive in the transfer market have been proven very wrong. If the Blues sign Fellaini at Everton's asking price and are able to seal a rumored £38 million deal for Porto striker Hulk, the team will approach the £100 million plateau.
The team has already spent £32 million on Lille's Eden Hazard and £8 million Werder Bremen's Marko Marin, as noted in Cross' article.
Both players already bought are attacking midfielders, and now Chelsea needs a player who can play deeper and establish a defensive presence in the center of the pitch.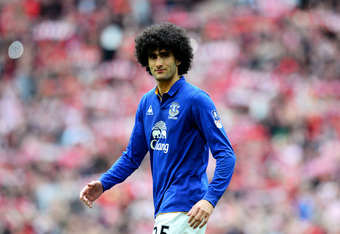 Shaun Botterill/Getty Images
The unmistakable Fellaini excels in this role. He is very tall at 6'4" (not counting his hair) and wins nearly every ball in the air. He is also a physical player who never shies away from a tackle.
His 2.9 tackles per match was the most of any Everton player this past season, according to Whoscored.com.
Although his hairdo would suggest that he likes to draw attention to himself, his style of play shows that he is an unselfish footballer. He is always willing to sacrifice glory in order to chip in and do the little things. 
A player like Fellaini, who focuses on winning balls in the midfield and maintaining the team's shape, is exactly what Chelsea needs.
Neither Michael Essien nor John Obi Mikel were reliable last season. Raul Meireles played well, but he is 29 years old and not the physically imposing presence that Fellaini is.
If Chelsea is able to close the deal and buy the Belgian midfielder, they will be adding a 24-year-old midfielder who is a perfect complement to their other summer signings because of his defensive contributions.
He will be the glue that holds their midfield together, and his presence will allow the attacking players to make the most of their creative talents.
Until now, Chelsea's strategy in the transfer market seemed to only involve attacking players, but it is clear that they truly have a complete plan. Fellaini is a perfect piece to give the Blues a balanced midfield.