6 Key Factors in the LPGA's Resurrection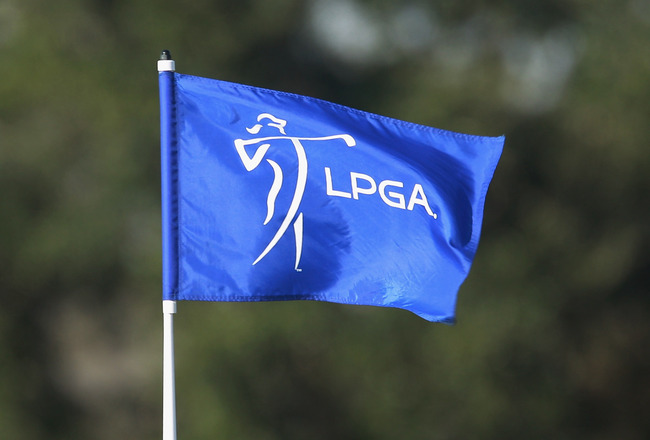 Scott Halleran/Getty Images
The LPGA went through a very dark period in the mid-2000s: a handful of sponsors left, players weren't happy and the schedule was reduced dramatically. The board of directors and the players decided to change the situation in order to enhance the tour.
It wasn't easy. The LPGA didn't have much of a marketing campaign; so the players were hardly ever recognized. TV coverage was very low and thinking of live coverage was ludicrous, as most of the tournaments were taped.
It's been four years since Carolyn Bivens was ousted as the tour's commissioner and the LPGA is finally back on track, but how did they make this happen? Let's find out…
Michael Whan Appointed as Commissioner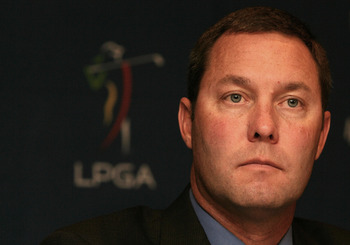 Chris Trotman/Getty Images
In October 2009 Michael Whan was named commissioner of the LPGA. There was a lot of ground to cover, so new strategies were in order.
The 2010 schedule was the tour's smallest in 40 years with 24 tournaments. It was a challenging scenario for a guy that had worked for Procter & Gamble, Mission-Itech Hockey, the Marketing Department of TaylorMade Adidas and Wilson golf.
During his presentation, Whan said: "I really look to three things when I think about the future and that's people, that's opportunity and that's passion".
Well, the commish has certainly stood by his words and has taken the tour to a whole new level.
For starters, he listens to ideas, from players, journalists and fans. He has managed to follow an inclusive path: thinking before talking, listening before creating and planning before deciding.
By the way, the 2012 schedule has 29 tournaments—two unofficial—including five additional events.
Expanded Coverage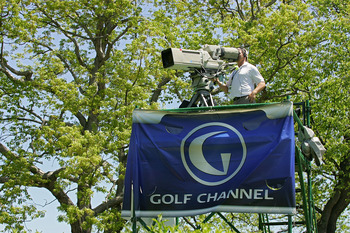 Michael Cohen/Getty Images
TV coverage has been one of the most complicated tasks for the tour, but they have managed to extend it little by little.
In 2012, the Golf Channel and the LPGA started the third year of a 10-year partnership and it's by far the best so far.
The tour has more coverage than in any other season, there are also more people on the team that covers the LPGA and this has given results: viewership has increased 18 percent versus 2011.
Marketing Campaign
"See Why It's Different Out Here" is the LPGA's marketing campaign. It's fun and portrays players as approachable athletes, which not every tour or league has.
The campaign was launched in 2011 and its purpose is to portray the aspects that make this tour unique.
It made such an impact that it was nominated for an award at 19th Annual ING Industry Honors.
Players Understand What's Happening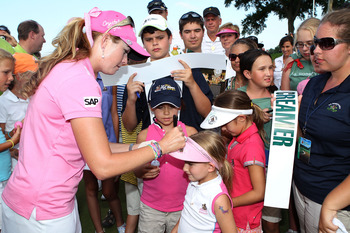 Scott Halleran/Getty Images
Different from other sports, LPGA players know that the tour needs as much help as possible and they are doing their best.
World No. 1, Yani Tseng was born in Taiwan and when she came to the tour in 2008 she barely spoke English, now she's fluent enough to joke and speak with journalists and sponsors for hours.
Paula Creamer is one of the biggest role models in women's golf, she's inspired kids all over the world to play and honor the game.
What about I.K. Kim? The South Korean became Special Olympics Ambassador for Golf and accepted the appointment with a donation of more than $100,000.
2011 Solheim Cup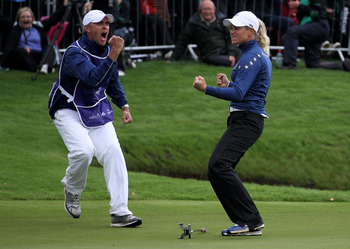 Andy Lyons/Getty Images
One word can describe last year's Solheim Cup: drama. The biannual tournament gathered the best players from the United States and Europe in one of the most exciting editions ever.
Four months earlier, Seve Ballesteros passed away, so it's no wonder why the European squad had a huge picture of the Spaniard with them just moments after hoisting the winner's trophy.
It also highlighted other interesting stories, like Paula Creamer losing her first singles match since her Solheim debut in 2005 and Suzann Pettersen's first victory since 2003, when the event was held in Sweden.
It also displayed low profile European players like Caroline Hedwall and Christel Boeljon; they both played key matches for Europe despite not being very well-known.
Social Media Strategies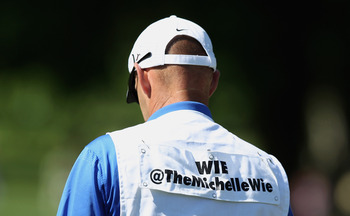 Scott Halleran/Getty Images
Facebook and Twitter have become powerful tools and the LPGA knows how to use them to attract fans.
The tour has 18,917 followers on Twitter and the official Facebook page has 24,300 likes. Knowing that social media is growing fast and that it's a great way to be in touch with fans, the tour came up with a new strategy: Twitter handles on the caddies' bibs.
So now, if you catch a tournament on-site or on TV and you're wondering how to get in touch with a player, well, just take a look at her caddies' back.
Currently, Natalie Gulbis has 116,744 followers, Paula Creamer, 91,174 and Michelle Wie, 83,281.
Keep Reading