Defensive Snap Review for the New York Jets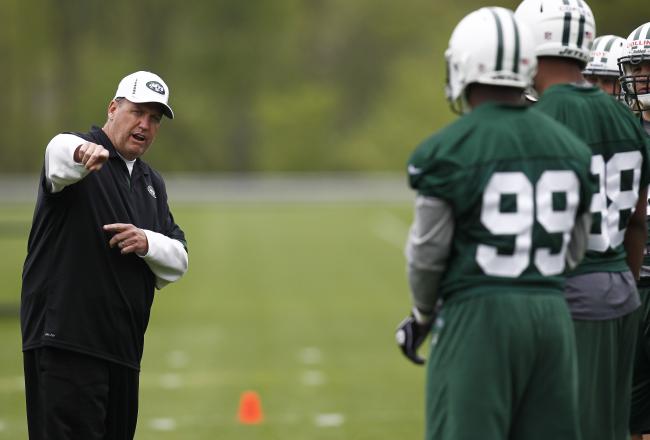 Which defenders will lead the charge for Rex Ryan's defense in 2012?
Jeff Zelevansky/Getty Images
The New York Jets defense struggled last year, and whatever the cause or circumstance, the snap counts for each player will be something to watch.
But you can never know where you're going until you know where you've been.
One thing no one knows, however, is which front the Jets will line up in more frequently. Will they feature their previously favored 3-4 front, or will they run more 4-3 and 46 alignments than they have been previously under new defensive line coach Karl Dunbar?
With help from stats website Pro Football Focus, we'll take a look at the Jets' defensive snap counts from 2011 and what they may (or may not) mean for the 2012 season and going forward.
Defensive Line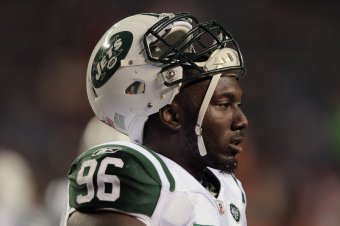 Doug Pensinger/Getty Images
Who's Going Up?
Defensive linemen Muhammad Wilkerson started all 16 games for the Jets, yet played just 606 snaps (57.7 percent of the team's total). While keeping him fresh will increase his effectiveness when he's on the field, the Jets should be looking to get a bit more out of him, as he was one of their top defenders last year.
That will also be the case if the Jets are running more 4-3 fronts in 2012, as is anticipated.
Nose tackle Sione Pouha signed a three-year, $15 million deal this offseason, and as such, could be expected to carry a heavier load than his 627 snaps (59.7 percent) from 2011.
Who's Going Down?
With the first-round selection of Quinton Coples, defensive linemen Mike Devito may see a dip in his snaps (456, 57.1 percent). Devito will still be utilized against the run, but he isn't quite the pass-rusher that Coples is.
Now that defensive linemen Kenrick Ellis (69 snaps in 2011) has put his legal troubles (mostly) behind him, he can focus on football, and that could allow him to see the field a lot more in 2012.
Other Takeaways
The alignment the Jets feature most predominantly could have an impact on how the snap counts break down. They could be in the 46 defense a lot, which has become the bread and butter of the Jets defense, but if they're in the 46 and 4-3 more frequently in 2012, that could pave the way for big changes in the snap counts.
Linebackers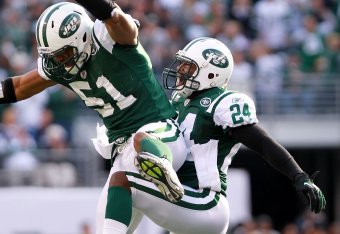 Nick Laham/Getty Images
Who's Going Up?
When you have a pass-rusher as talented as linebacker Aaron Maybin (239 snaps, 22.7 percent of the total), you need to get him on the field. Way more than the Jets did in 2011, if nothing else. He may not be an every-down player even if he bulks up, but surely the Jets can find a way to utilize his talents more frequently.
Other than Maybin, linebacker Bryan Thomas is one of the few who could see a significant increase in his playing time. He played just four games in 2011 before ending the season on injured reserve, and the Jets were unable to find someone to fill his role last season. They'll be eager to get him back in the lineup, even if he is closing in on the end of his career.
Who's Going Down?
Linebacker Bart Scott (677 snaps, 64.4 percent) was clearly unhappy about becoming a two-down player last season, but how much can he do to change that? He has clearly lost a step and has become a liability on passing downs. He may still be an emotional leader for the defense, but it seems he may actually be willing to accept a more limited role after a chat with Rex Ryan.
Other Takeaways
As mentioned above, the implementation of 46 and 4-3 fronts for the Jets could impact how this unit shakes out in terms of snap counts.
Defensive Backs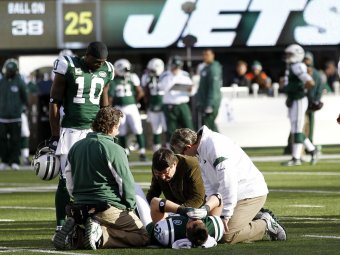 As the Jets try to replace their fallen hero, they've already called on reinforcements.
Jeff Zelevansky/Getty Images
Who's Going Up?
The Jets are already replacing the 561 snaps left behind by safety Brodney Pool. If the team doesn't re-sign safety Jim Leonhard, they'll be replacing his 798 snaps from 2011.
With all those open snaps, though, the team has seemed to already find their plug-ins.
Drafting safety Josh Bush in the sixth round gave the team their only "true" free safety, so look for him to earn snaps (and possibly a very high number of them) in his rookie season.
Who's Going Down?
Safety Eric Smith earned a heavy dose of playing time last year with the injury to Leonhard, and played 966 total snaps (91.9 percent of the team total). He was rather ineffective in that time, which could have played a role in the team's aggressive approach at safety this offseason.
Other Takeaways
On top of Bush, the team added free-agent safeties Yeremiah Bell and LaRon Landry, both of whom are better fits for the strong safety spot and also come with starting experience.
Bell played a whopping 1,126 snaps with the Miami Dolphins in 2011, so a heavy workload would be nothing new for him. Landry, on the other hand, hasn't played a full season since 2009 and has participated in a combined 1,174 snaps over the past two seasons (661 in 2010, 513 in 2011).
Erik Frenz is the AFC East lead blogger for Bleacher Report. Be sure to follow Erik on Twitter and "like" the AFC East blog on Facebook to keep up with all the updates.

This article is
What is the duplicate article?
Why is this article offensive?
Where is this article plagiarized from?
Why is this article poorly edited?