Sharapova vs. Kvitova: Scores, Highlights from French Open 2012 Semi Finals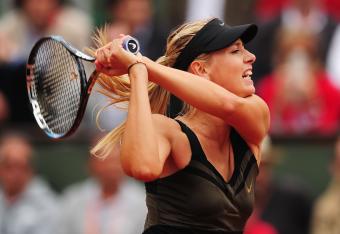 Mike Hewitt/Getty Images
In the second part of today's ladies doubleheader is the big matchup of the day: No. 2 Maria Sharapova against No. 4 Petra Kvitova. For Sharapova, she is playing for No. 1 in the world. For the two of them, they'll be battling it out for the right to play Sara Errani in the finals.
There is a lot at stake today for both players and it should be an exciting new chapter in a budding rivalry. It should be a tremendous match so stay with us for as close to up-to-the-second updates as humanly possible.
That wraps up today's live blog. It was my first day of tennis coverage and it was a lot of fun. Hopefully you guys enjoyed it and thank you to anyone who followed us today. I'll be back for the next three days covering every remaining match in real time. Hopefully I see you all here! Have a great Thursday!
It wasn't the most dramatic day of tennis but it sets up an interesting finals matchup on Saturday. Maria Sharapova against Sara Errani. Sharapova in her first final at Roland Garros and Errani in her first final at any Major.
Errani proved earlier she could handle power and she could keep Sharapova moving and away from her strengths.
It's hard to say how much this match was Sharapova dominating or Kvitova imploding but I think Errani has a good chance on Saturday against Maria.
Personally I've always been a fan of Serena, but it is nice to see another elite player with a chance at a big career milestone.
But she follows it with a second serve ace to close it out!! Sharapova has reached the French Open final against Sara Errani! With a win on Saturday she will have completed a career Grand Slam.
Sharapova serving for the match and a place in the finals! Hits it into the net.
After six straight points for Sharapova, Kvitova finally gets one. 30-15 for Sharapova.
If she can just hold serve one more time, Sharapova will be meeting Sara Errani in the final.
Kvitova wide again as she falls behind 30-40 and Sharapova breaks her serve! 5-3 lead for Sharapova!
She can't hold the momentum though, and hits long and then wide to let Sharapova tie it at 30-30.
She's off to a good start going up 15-0. Sharapova's shot is ruled long and Kvitova goes up 30-0.
Kvitova serves to try to even it back up.
Sharapova holds serve once again and goes up 4-3. She's just two sets away from the finals at Roland Garros.
Kvitova battles back to even it at 30-30. Then lets another errant shot fly.
Sharapova is incredibly strong on her first two serves, going up 30-0.
Kvitova's serve eats up Sharapova and Kvitova ties it three games apiece.
Sharapova takes her turn to hit long and Kvitova leads 30-15.
Another long shot from Kvitova. This is a big service game for her after breaking Sharapova's serve.
Sharapova hits just long and Kvitova wins her first break point in four tries. Sharapova still leads 3-2.
Double break point for Kvitova and Sharapova blasts one that can't be returned.
15-30 for Kvitova. Can she finally Sharapova's serve?
Wow and another double fault for Kvitova gives Sharapova a 3-1 lead.
Break point #2 for Sharapova and she hits it just long. Kvitova keeping her serve alive.
Sharapova just looks a little looser, lighter on feet and more imposing. I don't see where Kvitova can get the win here. And with that she hits another errant shot.
This article is
What is the duplicate article?
Why is this article offensive?
Where is this article plagiarized from?
Why is this article poorly edited?