Pacquiao vs. Bradley: 5 Reasons All Boxing Fans Must Watch Hyped Fight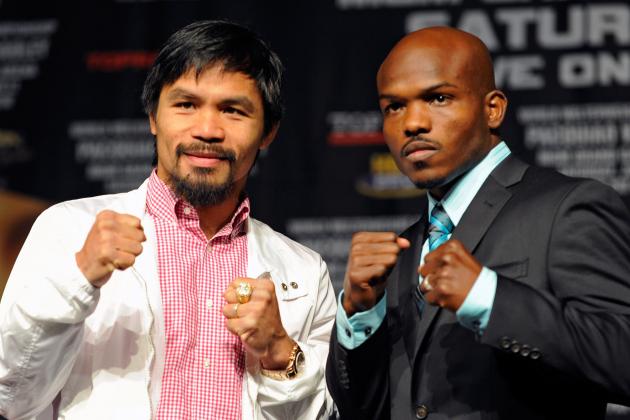 David Becker/Getty Images

Although there shouldn't be any reason why a boxing fan wouldn't watch the much-hyped fight between eight-division champ Manny Pacquiao (54-3-2, 38 KOs) and the undefeated Timothy Bradley (28-0, 12 KOs), there are several reasons why the bout is must-see TV.
From personal stories to overcoming the odds, there is no shortage of storylines that make this fight intriguing, which should help those who are 50/50 about ordering the bout.
Here are the top five reasons why any boxing fan must tune in Saturday night to watch Pacquiao and Bradley duke it out for the WBO welterweight title at the MGM Grand in Las Vegas.
Begin Slideshow

»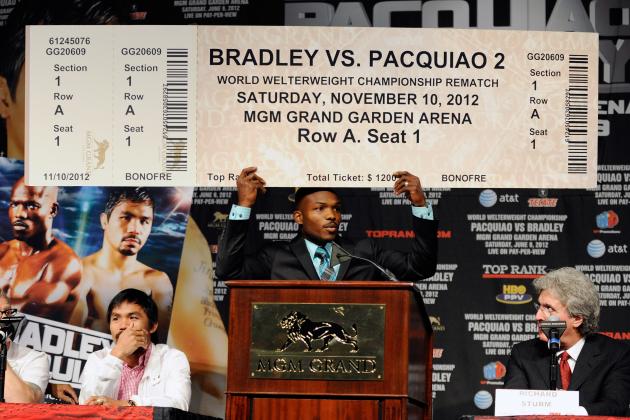 David Becker/Getty Images

Since 2005, Manny Pacquiao has not lost a fight, going 15-0 over the time span, beating some of the best fighters in the five different divisions he has fought in over the seven-year span.
Timothy Bradley will be as big a threat to take down the eight-division champ as anyone in the seven-year tear that Pac-Man is currently on.
Distractions are once again stirring up controversy before Pacquiao even takes the ring, and Bradley has the speed and the counter-punching ability to bother him. This gives Bradley more of a shot than the plus-325 odds that the Las Vegas Sports Betting currently is giving him.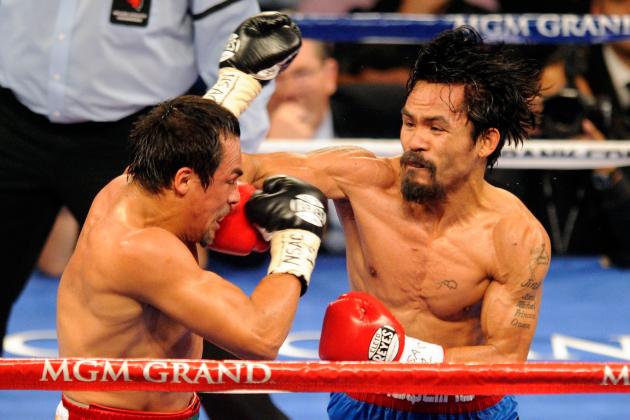 Ethan Miller/Getty Images

After Manny Pacquiao narrowly escaped his rubber match with Juan Manuel Marquez last November with a majority decision win, stories started to swirl about distractions that plagued Pac-Man before the fight.
Those problems included partying and chasing women, but Pacquiao has now said he has revamped his lifestyle, dropping any sort of partying and womanizing for his daily Bible studies, and generally looking like a more subdued person overall.
This dramatic change in his lifestyle have many people wondering if Pac-Man's killer instinct in the ring will be affected by his newfound religious self.
It will be interesting to see if Pacquiao still possess the killer instinct in the ring if the opportunity for a knockout victory presents itself.
If the killer instinct isn't there, look for Pacquiao to have yet another close fight as he did in his bout with Marquez last year, with the decision being another nail-bitter.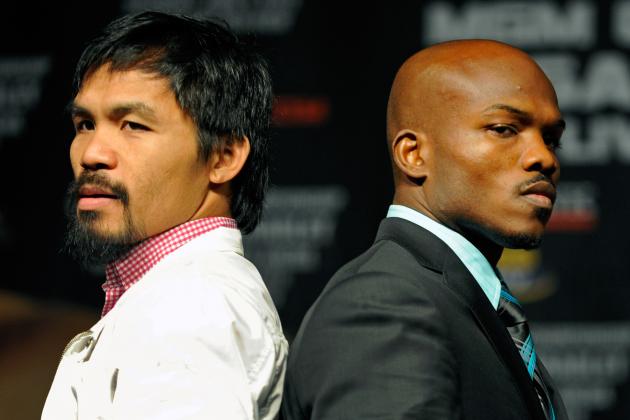 David Becker/Getty Images

Enjoying mega fights such as Mayweather-Miguel Cotto bout from last month and the Manny Pacquiao-Timothy Bradley this weekend is a must, as they will become less frequent over the next few years.
With top stars such as Pacquiao, Mayweather, Bernard Hopkins and the Klitschko brothers, among others, reaching the twilight of their careers, the mega fights in boxing will see a dip in occurrence until the new breed of superstars cement their spot among the top-tier fighters in the world.
Andre Ward, Amir Khan, Sergio Martinez, Saul "Canelo" Alvarez and Carl Froch are some of the bigger names that will be help keep big fights afloat until younger fighters such as Devon Alexander, Jessie Vargas and others can rear their heads as true contenders in the sport.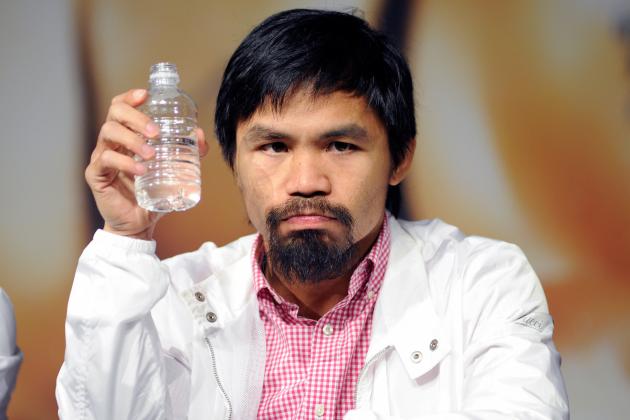 David Becker/Getty Images

If what Manny Pacquiao's longtime trainer, Freddie Roach says is true, Pacquiao could be asked to hang up his gloves if he struggles in the ring against Timothy Bradley tomorrow night.
No one is certain if Pac-Man will indeed take Roach's advice, but one thing is for sure, Pacquiao's career is nearing the end of the road.
With two fights that could take place after Bradley—one with fellow pound-for-pound great Floyd Mayweather and the other with longtime pain-in-the-neck Juan Manuel Marquez—there seems to be a good chance that Pacquiao calls it quits sometime by the end of 2013.
Catching any fights that one of the best fighters of our time has left shouldn't be missed by any boxing fan. Take each one in as if it will be his last.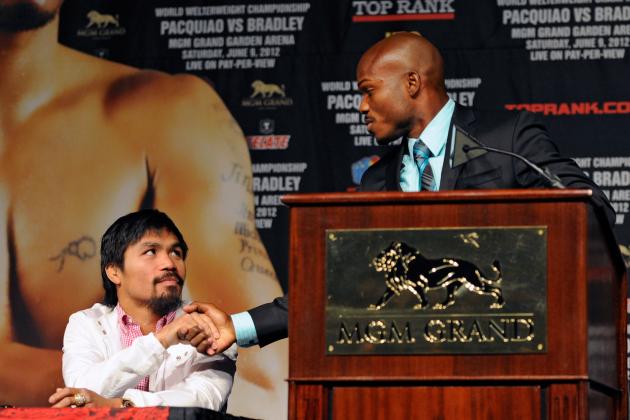 David Becker/Getty Images

If Timothy Bradley is able to pull off the upset over Manny Pacquiao, we could be see the emergence of a new superstar in the sport of boxing.
Bradley has a stellar record, with wins over some good fighters, but he hasn't been able to pull in as big of crowds as one might think for a top-10, pound-for-pound-ranked fighter.
Beating one of the two most polarizing figures in boxing will undoubtedly send Bradley's star into a whole new dimension and give the boxing world a new face to carry on the throne once Pacquiao and Floyd Mayweather Jr. are no longer lacing up their gloves.