Oklahoma City Thunder: 5 Lessons We Learned from the Western Conference Finals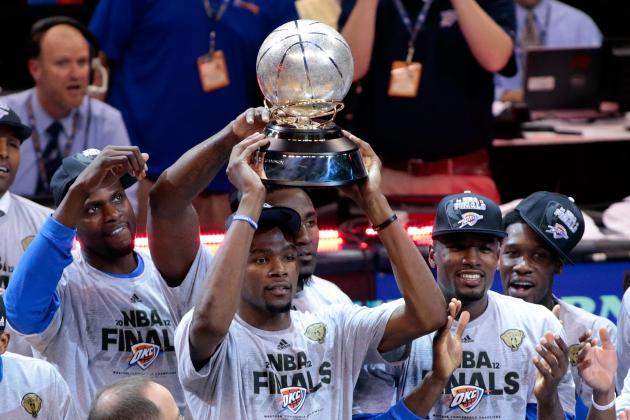 Brett Deering/Getty Images

Four years removed from the Thunder's inaugural season in Oklahoma City, they are Western Conference champions.
After coming back from a 2-0 hole to win the next three games, the Thunder put the final nail in the coffin Wednesday night, storming back from a 15-point halftime deficit to beat the San Antonio Spurs 107-99 in Oklahoma City.
But what did we learn other in the Western Conference Finals—other than Kevin Durant is really, really, really good, and James Harden's beard is really, really, really awesome?
Ponder deeply, make a few predictions, stick your tongue out of the side of your mouth and click through to find out...
Begin Slideshow

»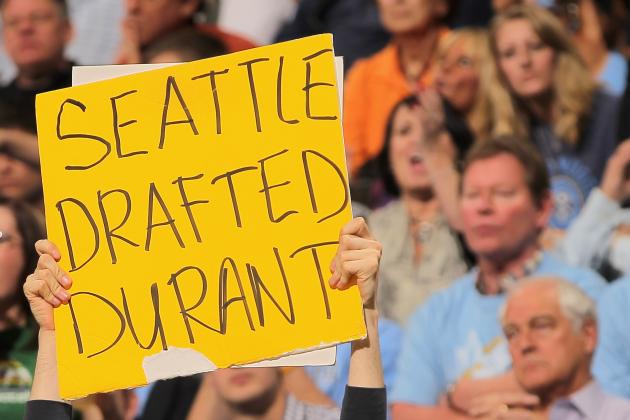 Doug Pensinger/Getty Images

With their former team sitting as prohibitive NBA title favorites, you cannot help but feel for America's most underrated city. Sonics fans were among the NBA's most knowledgeable and loyal fans.
And you see the home field advantage Seattle can provide with their unrequited love of the Sounders.
On the other hand, I think the whole "Clay Bennett stole our team; this should be us" narrative is a little overwrought. While it's true that Clay Bennett never had any intention of keeping the team in Seattle, the team wasn't going anywhere until Bennett took over.
It was Bennett who hired Sam Presti and took a hands-off, patient approach as his basketball guys built a juggernaut through the draft.
As much as Seattle fans want to hate Clay Bennett, he's one of the five best owners in the league. If you want to blame anyone, blame Howard Schultz.
If it seems like I don't feel feel bad for Seattle, it's because Oklahoma City's crowd proves itself as the best crowd in the NBA on a nightly basis.
It's impossible to not get goose bumps listening to the crowd in the final 30 seconds of last night's Game 6 victory. The crowd was so great last night, it led to this tweet from ESPN's Scott Van Pelt:
Just asked legit ? By @basken8 ...will okc fans rush the court?

— Scott Van Pelt (@notthefakeSVP) June 7, 2012
I don't see any other NBA crowd evoking this kind of reaction.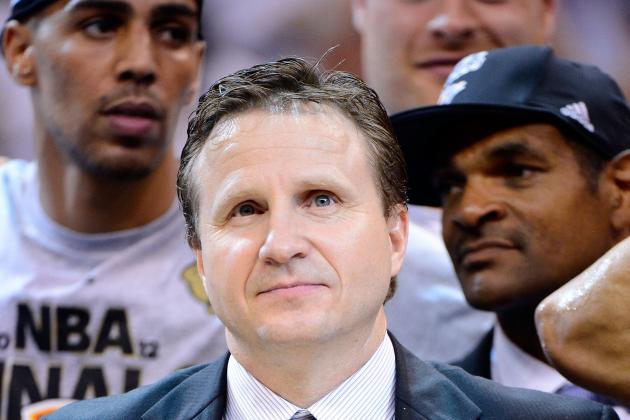 Ronald Martinez/Getty Images

Down 2-0 in the Western Conference finals, many started to wonder whether Scott Brooks was the right man to lead the Thunder to an NBA championship.
His substitution patterns were Del Negro-ish at times, and he seemed unable to make the necessary adjustments to stop San Antonio's barrage of well-timed passes and open shots.
Then came Thabo.
Brooks' decision to put Thabo Sefolosha on Tony Parker changed the entire series, as the Spurs' MVP was hindered through the final four games of the series. Even his first quarter barrage in Game 6 was followed by a 5-for-18 performance over the game's final three quarters.
With that decision, Brooks put his team in line to win the NBA championship and himself in line for a fat extension.
Not too bad for a guy whose head was on the chopping block a week-and-a-half ago.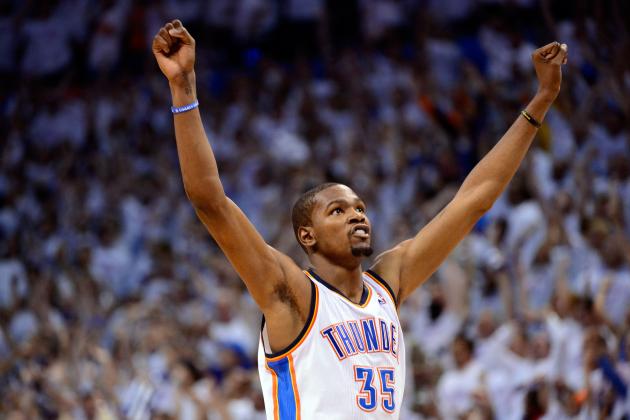 Ronald Martinez/Getty Images

While I'm still not ready to move off of my staunch position that LeBron James is the NBA's best player, I think it's safe to say we've found our next Kobe-like crunch-time killer in Durant.
With the Thunder down by 15 points at half, Durant put the team on his back, scoring 20 of his 34 points and nine of his 14 rebounds in the second half.
The best part? Durant played all 48 minutes for the first time in his playoff career. He wanted to finish off San Antonio in front of his crowd, under his terms. As the final seconds wound down with the ball in Durant's hands, we not only saw Durant advance to his first NBA Finals, but we witnessed his coronation of the new Clutch King.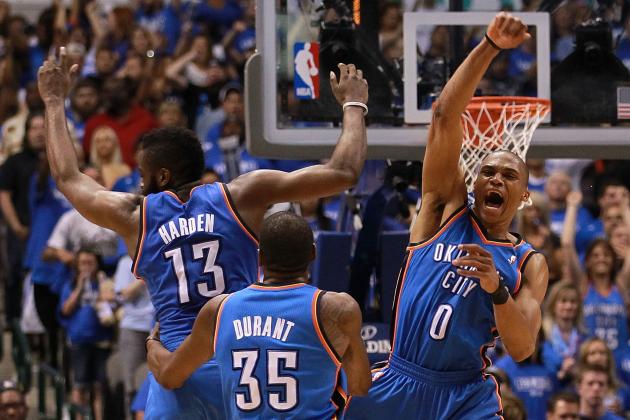 Ronald Martinez/Getty Images

For all of the rightful celebrating going on in Oklahoma City right now, there is a creeping dark cloud hovering over the franchise.
Are they too good to keep the team together?
With Kevin Durant and Russell Westbrook under contract to maximum salary deals, the team is going to have to choose between shooting guard James Harden and power forward Serge Ibaka, or face luxury tax hell.
Beginning with the 2013-14 season, the NBA's new collective bargaining agreement has the following stipulations for teams over the tax:
| | | |
| --- | --- | --- |
| Amount Over Tax | First-Time Offense | Repeat Offender Rate |
| $5 million or less | $1.50 to every $1 over | $2.50 to every $1 over |
| $5 million to $10 million | $1.75 to every $1 over | $2.75 to every $1 over |
| $10 million to $15 million | $2.50 to every $1 over | $3.50 to every $1 over |
| $15 million or more | $3.25 to every $1 over | $4.25 to every $1 over |
The upcoming tax hike is the reason you see the Los Angeles Lakers unloading the Lamar Odoms and Derek Fishers of the world for little to nothing in return.
For Oklahoma City, these figures are paramount as both Harden and Ibaka become extension eligible this summer. And, as it stands now, both are looking at figures in the $12-million-plus range if contracts stay consistent with recent trends.
If Clay Bennett decides he can stomach the luxury tax hit, he's looking at somewhere between $72 and $76 million in salary commitments for seven players (assuming players currently under contract stay with the team).
In total, Bennett would probably be looking at an overall team cost of $85-90 million before his luxury tax hit.
For reference, that figure would rank Oklahoma City somewhere in the top three in NBA team payrolls this season.
We've seen that Oklahoma City can support a winning basketball franchise, but can it support an empire? That's the question.