5 Reasons OKC Thunder Will Win the NBA Championship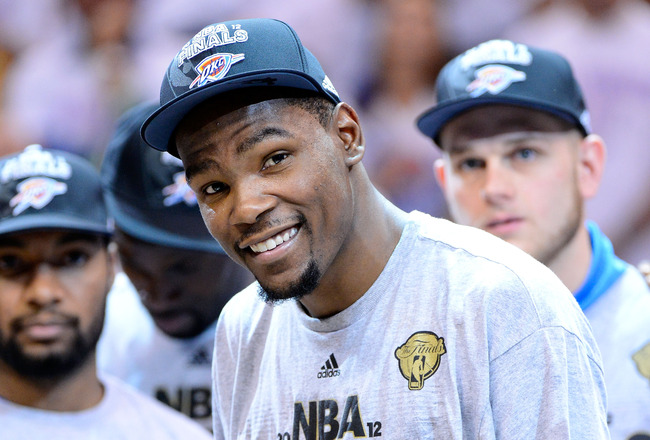 Ronald Martinez/Getty Images
The Oklahoma City Thunder are growing up before our eyes. A team whose talent has never been in question is maturing rapidly. Many thought the Spurs would have little trouble beating them in a seven-game series.
I have had the Thunder pegged as my pick for NBA champions since the beginning of the playoffs, and my main reason for this selection is summed up quite easily: Kevin Durant.
Durant is one of the most talented players the NBA has ever seen. Combine that with a Jordan-like work ethic, and you have the blueprint of an NBA champion.
The Thunder has showed the world they can play with the big boys, and are now in the NBA Finals.
Here are five reasons you should pick the Thunder to win the whole thing.
5. Youth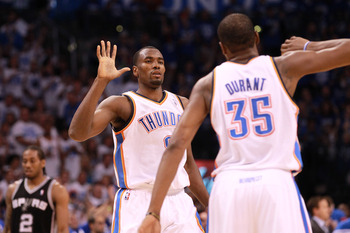 Ronald Martinez/Getty Images
The Thunder's three stars are all under 24 years of age. There is not a lot of mileage on their legs, while the Heat are definitely showing their age.
Kendrick Perkins and Derek Fisher are the two veterans on the roster. Their wisdom and leadership shouldn't be undervalued.
These guys are going to be ready to go late in the fourth quarter and will run the Heat off the floor. Loud City will give them the motivation and energy they will need to stay fresh all game.
Playing 45 minutes will wear down LeBron James and Dwyane Wade in a long series.
4. Athletecism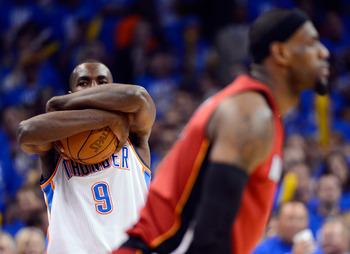 Ronald Martinez/Getty Images
No one can argue the Thunder's athleticism. While the Heat are very athletic themselves, I give the edge to OKC because of their age.
Serge Ibaka is a killer in the lane for the Thunder. He is a shot-blocking machine, the likes of which have not been seen since Mutombo.
Ibaka has 49 blocks so far in the playoffs. The closest Heat player to him is Wade with 24.
Durant and Westbrook might be the two most athletic players in the entire league. Durant is Allen Iverson in Tim Duncan's body, and Westbrook is a miniature version of Clyde Drexler.
3. Team Play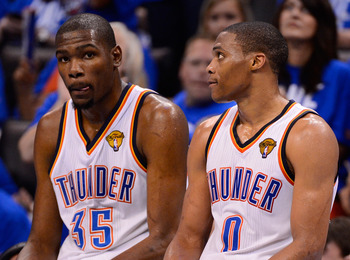 Ronald Martinez/Getty Images
Something that has plagued the Heat has been a stagnant offense. Chris Bosh launching threes at critical points in games.
You won't see Kendrick Perkins or Serge Ibaka doing that.
The Thunder are buying into coach Scott Brooks' system. The best shot prevails. Whatever player on the floor has the best look at the basket takes the shot.
The offense doesn't stop. They will always look to run the fast break, but when they must go into their half-court offense, the ball moves around a lot. It doesn't sit with one player at the top of the key while the shot-clock winds down.
With Durant and Westbrook sharing the duties of resident superstar, the Thunder are going to be tough to beat in a series.
2. Loud City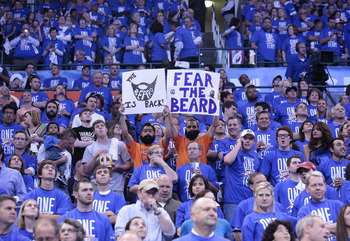 Brett Deering/Getty Images
I can't help but feel bad for Seattle SuperSonics fans. That said, Oklahoma City has the loudest arena in the NBA.
Dubbed Loud City by the media and fans, Chesapeake Energy Arena gets loud. It has a college-type atmosphere where fans are all buying in. They are wearing James Harden's beard, making signs and standing much of the game.
Normally home-court advantage is not that big of a deal. With OKC, it is the biggest deal.
The fans in OKC are smart, too. They know basketball. They know when their team has made a great play, even if it is just a player fighting through a screen. They know when their squad needs some extra help, and get the loudest when the opposition is on the ropes.
It can't be easy for the Heat trying to communicate when they are losing and can't hear each other from three feet away.
1. Kevin Durant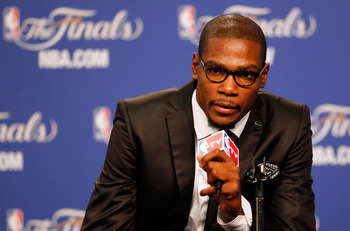 Mike Ehrmann/Getty Images
Kevin Durant is a player unlike anything we have ever seen before. He has the wingspan of a seven-footer and his jump shot has a release point of about 12 feet up. Not only is he a matchup nightmare, but he is a tenacious defender.
He is a very smart player as well. When Westbrook is going off offensively, he has no problem doing other things to help his team. Setting screens, running the pick-and-roll grabbing offensive rebounds keeps the Thunder's runs alive.
I haven't seen a player like this in a while. He has that other level that champions have. That indescribable quality. Kobe has it. Michael had it. Magic had it.
I don't want to put Durant on their level quite yet, but this season will be his launch pad for those conversations.
Keep Reading

Oklahoma City Thunder: Like this team?