Can Jacoby Jones Emerge as a True No. 3 Receiver Threat for Baltimore Ravens?
June 7, 2012

Andy Lyons/Getty Images
One of the main criticisms of the Baltimore Ravens offense is that they've never managed a way to get a third wide receiver more involved. Since quarterback Joe Flacco joined the team in 2008 (coincidentally also when offensive coordinator Cam Cameron came on), no Ravens No. 3 has had more than 34 receptions in a season.
So though it seems like an upgrade for the Ravens to have brought on veteran receiver Jacoby Jones to compete for—and likely win—the team's No. 3 receiver job, that doesn't mean he's going to make an impact this year.
In the past four years, the Ravens have tried four different receivers at the position—Demetrius Williams, Kelley Washington, T.J. Houshmandzadeh and most recently, Lee Evans. Though Evans' season was hampered by injures, he was still active for nine games, but managed to catch just four passes for 74 yards.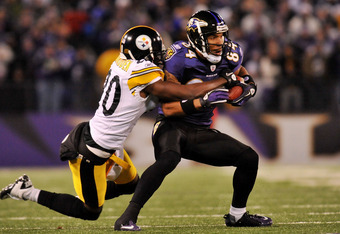 Larry French/Getty Images
Evans played just 336 offensive snaps (compared to 1,031 for Torrey Smith and 1,033 for Anquan Boldin) last year; Houshmandzadeh had only 625 in 2010, Washington had 514 in 2009 and Williams had 172 in 2008—splitting time with Marcus Smith, who played 187 snaps (snap counts courtesy Pro Football Focus).
These numbers indicate that the Ravens simply don't use—or don't know how to use—a No. 3 receiver.
A No. 3 job is perfect for Jones, however. Last year with the Houston Texans, Jones was thrust into the role of No. 1 receiver when Andre Johnson was battling injuries, and it didn't suit him. He had the most inconsistent year of his career, proving that the added responsibility didn't produce better results.
With less being asked of him in Baltimore, Jones can focus on maximizing his strengths—namely his speed. He won't have to carry an offense on his back and can serve as a big-play safety valve when Boldin and Smith are facing double coverage.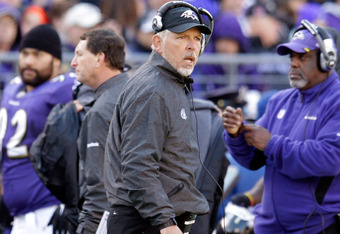 Rob Carr/Getty Images
Jones has quite the opportunity to make an impact on the Ravens offense this year, and he has the requisite skills to do so as well. While he's no lock to beat out LaQuan Williams and Tandon Doss for the job, his experience gives him a leg up on the competition, and he adds a much-needed veteran presence in an offense full of young receivers.
Unless something changes in the Ravens' passing philosophy though, Jones' biggest impact may be made in the return game, where he's likely to return both punts and kicks, something he did while with the Texans.
If history is any indicator, Jones may have the ability to be an effective No. 3 receiver in Baltimore, but he won't get many chances to prove it. Look for Jones to see maybe 500 to 600 offensive snaps as the team's No. 3 receiver.
He'll need to make the most of those plays, get open and get Flacco's attention, because no matter how good he looks, there may be little room for Jones in Cameron's conservative offense.