Stanley Cup Finals 2012: Complete TV Guide to Game 5
June 7, 2012

Justin K. Aller/Getty Images
On Wednesday night, the New Jersey Devils defeated the Los Angeles Kings, 3-1, in Game 4 of the 2012 Stanley Cup Finals to avoid a series sweep.  The series returns to New Jersey for Game 5, scheduled for June 9 at 8 p.m. EDT.
The Kings have dominated in the 2012 Stanley Cup playoffs with a 15-3 overall record, but at home, the record is a pedestrian 5-3. 
Also, the Kings have closed out only one playoff series on the first try, as all three of their losses have come in a Game 4 after going up 3-0. 
Keeping that in mind, Wednesday night's loss was predictable.
Adam Henrique saved the Devils from elimination again in these playoffs.  In Round 1, Henrique scored in double overtime of Game 7 to send the Florida Panthers home. 
In the Eastern Conference Finals, he scored another overtime goal, this time in Game 6, against the New York Rangers.  Henrique, just a rookie, has become New Jersey's most clutch performer in the playoffs.
History repeated itself in Game 4.  If history repeats itself again in Game 5, the Los Angeles Kings will hoist the Stanley Cup at the Prudential Center on Saturday night.
The Kings will win Game 5 in overtime.  Los Angeles has won its previous two Game 5s in overtime.
The Kings lead all playoff teams in penalty kill percentage (93.1 percent) and goals against average (1.50), which shows their defensive strength.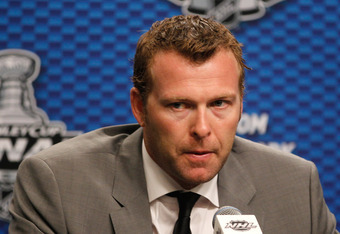 Bruce Bennett/Getty Images
Look for Game 5 to be low-scoring.  After all, the Kings have outscored the Devils in the series 9-5 through four games.
Expect another rock-solid performance from Vezina Trophy candidate Jonathan Quick, who has clearly been the hottest goaltender in the 2012 Stanley Cup Playoffs. 
Amongst goaltenders with more than two minutes of ice time, Quick ranks second in both goals against average (1.39) and save percentage (.948).  Most importantly, Quick has led his team to 15 playoff victories.
If history repeats itself, Devils goaltender Martin Brodeur will let in an overtime goal.  Brodeur surely would not want to end his Hall of Fame career on a sour note. 
The Devils should play extremely motivated in Game 5, so the all-time wins leader can play at least one more game.  With this matchup in New Jersey, the fans will do everything in their power to keep Brodeur playing in 2012.
Another thing working in New Jersey's favor is the Kings' anemic power play unit.  In the 2012 Stanley Cup playoffs, Los Angeles has a 10.8 percent power play success rate.
In Game 4, no Devils player had a negative plus/minus rating.  Both teams acquired six penalty minutes, and the Devils kept up with the Kings shooting the puck.
New Jersey head coach Peter DeBoer had to be satisfied with his new lineup.  Defenseman Henrik Tallinder returned to the ice after missing nearly the last five months of the season, while Petr Sykora provided the Devils with some veteran leadership and Stanley Cup Finals experience when he returned to the lineup after being a healthy scratch in the Eastern Conference Finals.
After winning Game 4, and bringing the series back to the Prudential Center, the Devils have picked up some momentum heading into Game 5.  The Kings will kill this momentum quickly.
With a 10-0 road playoff record, Los Angeles has not lost away from Staples Center in the 2012 Stanley Cup playoffs.  Game 5, of course, is a road game for the Kings. 
The Kings have not let a playoff series get past five games this season. 
Los Angeles leads all playoff teams with a positive 19 plus/minus rating.  Four Kings players have at least a positive 10 plus/minus rating, compared to only one for the Devils (Henrique).
Both squads are under a lot of pressure heading into Game 5.  The Kings want to win the first Stanley Cup championship in franchise history.  Their undefeated road record suggests they will have no problem completing the task Saturday night. 
The Devils, though, are playing at home for their fans and for Brodeur. 
They beat the Kings in Game 4, so they must repeat what worked Wednesday night to avoid losing the cup. 
This season could be magical for New Jersey, which has no guarantee that either Brodeur or captain Zach Parise will return to the team next season. 
12 players who suited up for the Devils this season are at least 30 years old.  Half of these players are at least 35 years old.  This means many Devils may not have another opportunity to win the Stanley Cup championship.
On the other side, the Kings have only sent out six players this season on the wrong side of 30.  Their younger nucleus will have more chances to win the Stanley Cup than the current Devils squad.
New Jersey has desperation on its side in Game 5, but Los Angeles has history on its side.  History will prove victorious on Saturday night, as it has many times before.  To witness history, watch Game 5 of the 2012 Stanley Cup Finals at 8 p.m. EDT on Saturday, June 9.