Stanley Cup: Will the New Jersey Devils Have 'The Preposterous Dream, Part 2'?
June 7, 2012

Jeff Gross/Getty Images
When the puck dropped on the 2010-11 NHL season, there was reason for optimism in Newark. The Devils had locked up their prized deadline acquisition, sniper Ilya Kovalchuk, to a monster 15-year contract after some wrangling with the NHL, and they had a new head coach, longtime Devil John MacLean, at the helm. Yes, fans in New Jersey were excited, and on paper, it looked like the team would finally break out of the "one-and-out" playoff slump they had been in, which saw them eliminated in the first round three straight seasons. It was a time for hope. A time for optimism. Then, the bottom fell out.
Since recounting the disastrous "MacLean Era" (if you can call such a short, disastrous tenure an 'era') would give half of North Jersey worse indigestion than a Jimmy Buff's double with the works, let's just concede that the short time Mr. MacLean led the team was about as successful as Germany's invasion of Russia during World War II, and almost as destructive. In what was perhaps the lowest point in franchise history, MacLean was mercifully, but unceremoniously, dismissed on December 22, 2011 by General Manager Lou Lamoriello, as the team floundered at the bottom of the NHL standings.
What happened next was something of a miracle, as Lamoriello coaxed former head coach Jacques Lemaire out of retirement (most likely by using a form of persuasion that could only be bested by these guys) and the team went on an unexpected and unprecedented run. As the spring approached, there was talk that New Jersey could actually make the playoffs. It was referred to as "The Preposterous Dream."
By now, we all know that the Preposterous Dream fell just a bit short, and the Devils missed the playoffs for the first time since 1996. Still, the hope--and yes, the utter absurdity--of that spring is once again swirling around this team after they won Game 4 of the Stanley Cup Finals to avoid a sweep at the hands of the Los Angeles Kings.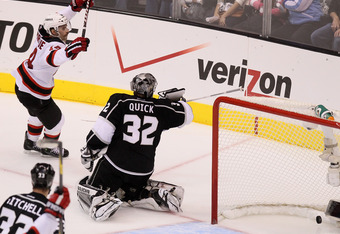 Jeff Gross/Getty Images
Although only one team, the 1942 Toronto Maple Leafs, has come back from a 3-0 deficit to win the Stanley Cup Finals, the Devils believe they can climb back into the series starting with a win on Saturday at home. Head coach Peter DeBoer, who has brought a calm and winning attitude to the entire organization as he guided them through his first season in Newark, certainly thinks this team could be the first to do it since then.
"They believe. They're in the fight, they've got a lot of pride, and we've been in adverse spots before," he said after his team's win in Game 4. "We know we just have to stick with it and it'll turn."
A win in Game 5 would be a huge step in the direction of this season's own "Preposterous Dream." Can they do it? Who knows? But one thing is certain: a team that plays with this much grit, with this much heart, can't be counted out until the final buzzer.