Euro 2012 Predictions: Projecting Advancing Countries for Each Group
June 7, 2012
Shaun Botterill/Getty Images
Euro 2012 features seven of FIFA's 10 best teams as well as nine other deserving nations. All of them earned the right to play in this competition and a number of them are legitimate contenders to win the entire thing.
The UEFA European Championship is no stranger to underdog winners, either. Greece surprisingly took the tournament in 2004, while Denmark won in 1992.
Spain, Germany and the Netherlands are hands down the top contenders, but it could be any one of the 16 teams in the tournament that hoists the trophy on July 1. 
Group A (Russia, Poland, Czech Republic, Greece)
Winner: Russia
Runner-Up: Greece
The opening match between Poland and Greece will be the most important of this group. The Russians should be able to win at least two of their three group matches, but the Poles and Greeks aren't guaranteed anything.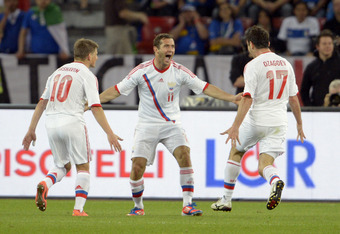 Claudio Villa/Getty Images
The Czech Republic aren't completely forgotten, as this group is the most wide open of any in the tournament, but the Greek defense and Polish attack are more likely to make something happen than what they bring to the pitch.
A draw in the opener would force the Greeks and Poles to fight for a win in their remaining two games, while a loss would be devastating.
Greece went undefeated in qualifying, though, and sports a stifling D. They get the nod over the host country's young squad.
Group B (Germany, Netherlands, Portugal, Denmark)
Winner: Germany
Runner-Up: Netherlands
The Germans should walk through this group—even against Portugal—but will have their hands full with the Netherlands.
The two European powerhouses are favorites to meet again in the final and have better all around teams than what the Portuguese offer. Denmark, unfortunately, is an afterthought here.
Cristiano Ronaldo is good enough to change a game on a single kick, but the Germans and Dutch have simply too many weapons at their disposal.
Group C (Spain, Italy, Croatia, Ireland)
Winner: Spain
Runner-Up: Ireland
Spain easily dispatches every team in this group, but the No. 2 spot is wide open.
Italy is surrounded by controversy at the moment, and they've been dropping off steadily since their 2006 World Cup triumph. Croatia is dangerous, but is far from consistent and is capable of being caught by surprise.
The Irish, on the other hand, have absolutely nothing to lose as this is their first international competition in 10 years. They're not only happy to be here, but they're still livid after the World Cup qualifying hand ball incident and they have a captain who is known for timely goals.
In arguably the biggest surprise of the tournament, Ireland will sneak into the knockout phase with a win over Croatia and a draw against Italy.
Group D (France, England, Sweden, Ukraine)
Winner: England
Runner-Up: France
Sweden and Ukraine could certainly make noise, but this group is all about redemption for the English and French.
The Three Lions have a new boss, a fairly solid mix of veteran leadership and youthful talent, and have a wild card up their sleeve in Wayne Rooney when he returns from his two-match ban.
England has struggled mightily in international competition over the years, but they'll finally make it look easy on their way out of Group D.
France, meanwhile, has a new-look squad and a ton of youthful talent. Look for them to make noise in the knockout phase.
| Date | Time (p.m. ET) | Team | vs. | Team | Group | Venue | TV Info  |
| --- | --- | --- | --- | --- | --- | --- | --- |
| June 8 | 12:00 | Poland | vs. | Greece | Group A | National Stadium | ESPN (US), ESPN Deportes (US), ESPN3 (US),International Coverage  |
| June 8 | 2:45 | Russia | vs. | Czech Republic | Group A | Stadion Miejski (Wroclaw) | ESPN (US), ESPN Deportes (US) ESPN3 (US),International Coverage |
| June 9 | 12:00 | Netherlands | vs. | Denmark | Group B | Metalist Stadium | ESPN (US), ESPN Deportes (US) ESPN3 (US),International Coverage |
| June 9 | 2:45 | Germany | vs. | Portugal | Group B | Arena Lviv | ESPN (US), ESPN Deportes (US) ESPN3 (US),International Coverage |
| June 10 | 12:00 | Spain | vs. | Italy | Group C | PGE Arena | ESPN (US), ESPN Deportes (US) ESPN3 (US),International Coverage |
| June 10 | 2:45 | Ireland | vs. | Croatia | Group C | Stadion Miejski (Poznan) | ESPN (US), ESPN Deportes (US) ESPN3 (US),International Coverage |
| June 11 | 12:00 | France | vs. | England | Group D | Donbass Arena | ESPN (US), ESPN Deportes (US) ESPN3 (US),International Coverage |
| June 11 | 2:45 | Ukraine | vs. | Sweden | Group D | Kiev Olympic Stadium | ESPN (US), ESPN Deportes (US) ESPN3 (US),International Coverage |
| June 12 | 12:00 | Greece | vs. | Czech Republic | Group A | Stadion Miejski (Wroclaw) | ESPN (US), ESPN Deportes (US) ESPN3 (US),International Coverage |
| June 12 | 2:45 | Poland | vs. | Russia | Group A | National Stadium | ESPN (US), ESPN Deportes (US) ESPN3 (US),International Coverage |
| June 13 | 12:00 | Denmark | vs. | Portugal | Group B | Arena Lviv | ESPN (US), ESPN Deportes (US) ESPN3 (US),International Coverage |
| June 13 | 2:45 | Netherlands | vs. | Germany | Group B | Metalist Stadium | ESPN (US), ESPN Deportes (US) ESPN3 (US),International Coverage |
| June 14 | 12:00 | Italy | vs. | Croatia | Group C | Stadion Miejski (Poznan) | ESPN (US), ESPN Deportes (US) ESPN3 (US),International Coverage |
| June 14 | 2:45 | Spain | vs. | Ireland | Group C | PGE Arena | ESPN (US), ESPN Deportes (US) ESPN3 (US),International Coverage |
| June 15 | 12:00 | Ukraine | vs. | France | Group D | Donbass Arena | ESPN (US), ESPN Deportes (US) ESPN3 (US), IInternational Coverage |
| June 15 | 2:45 | Sweden | vs. | England | Group D | Kiev Olympic Stadium | ESPN (US), ESPN Deportes (US) ESPN3 (US),International Coverage |
| June 16 | 2:45 | Czech Republic | vs. | Poland | Group A | Stadion Miejski (Wroclaw) | ESPN2 (US), ESPN3 (US),International Coverage |
| June 16 | 2:45 | Greece | vs. | Russia | Group A | National Stadium | ESPN (US), ESPN3 (US),International Coverage |
| June 17 | 2:45 | Portugal | vs. | Netherlands | Group B | Metalist Stadium | ESPN (US), ESPN3 (US),International Coverage |
| June 17 | 2:45 | Denmark | vs. | Germany | Group B | Arena Lviv | ESPN2 (US), ESPN3 (US),International Coverage |
| June 18 | 2:45 | Croatia | vs. | Spain | Group C | PGE Arena | ESPN (US), ESPN3 (US),International Coverage |
| June 18 | 2:45 | Italy | vs. | Ireland | Group C | Stadion Miejski (Poznan) | ESPN2 (US), ESPN3 (US),International Coverage |
| June 19 | 2:45 | England | vs. | Ukraine | Group D | Donbass Arena | ESPN (US), ESPN3 (US),International Coverage |
| June 19 | 2:45 | Sweden | vs. | France | Group D | Kiev Olympic Stadium | ESPN2 (US), ESPN3 (US),International Coverage |