Evaluating Washington Wizards' Options with Third Overall Pick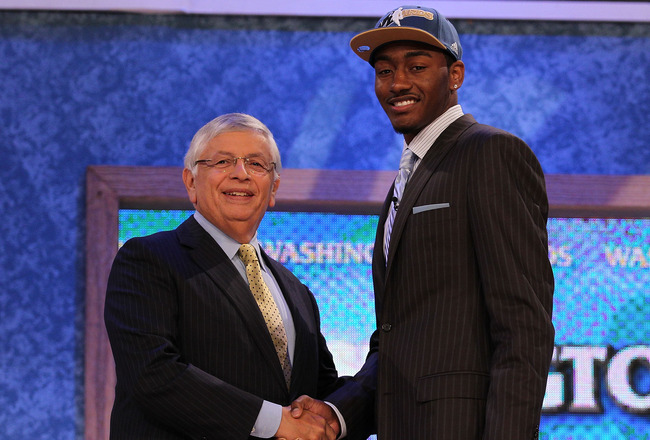 Al Bello/Getty Images
Amazingly it took a season-ending, six-game winning streak for the Wizards to reach a disappointing 20-46 record in 2011-2012. Yes, every NBA team suffered from a shortened schedule because of the lockout, but Washington failed to show any major signs of improvement. They didn't even show fans a glimmer of hope.
An atrocious 2-15 start cost head coach Flip Saunders his job, and weekly appearances on Sportscenter's Not Top 10 helped the immensely talented Nick Young and Javale McGee earn a ticket out of town.
I can't argue that guys like Jordan Crawford, Chris Singleton and Trevor Booker wouldn't make for solid role players off the bench.
The problem? Well...for the Wizards, they start.
That's not to say that these young players have no potential in the NBA, because they do. But right now, the pieces surrounding Washington's face of the franchise, John Wall, simply aren't suitable to compete against the better teams in the league.
The lowly Wizards likely stand three-four years and a few solid draft picks away from serious playoff contention in the deep Eastern Conference. But with GM Ernie Grunfeld's recent track record, success in D.C. is far from certain.
In 2008 Washington took McGee 17th overall, passing on names like Serge Ibaka and Deandre Jordan. In 09' Grunfeld infamously passed on guard Ricky Rubio before making the no-brainer selection of Wall in 2010. And just last year, the Wizards made Jan Vesely the sixth overall pick, overlooking many including Kawhi Leonard.
Even John Wall's numbers suffered a (very) slight drop in 2011-2012, partly because of the lack of a supporting cast. It is the Wizards job as an organization to surround their talented point guard with high-character pieces that complement his style of play.
Here's a look at the five players most likely to be joining Wall in Washington next year:
Michael Kidd-Gilchrist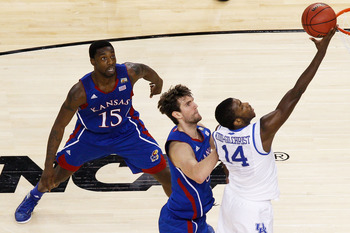 Chris Graythen/Getty Images
Position: Small Forward
Class: Freshman
Ht: 6-6
Wt: 216
Pros: Still just 18-years-old, Kidd-Gilchrist is simply a freak of an athlete. His length and speed allow him to attack the basket at will, and his ability to absorb contact and finish at the rim is second to none in the 2012 draft class. He plays best in open space, and has a transition game suited perfectly for the NBA.
Kidd-Gilchrist has all the intangibles including a will to rebound and defend with the best of them. His versatile size will allow him to match up against three-four different positions on the court, and more consistency his half-court offensive approach could make him a superstar at the next level.
Cons: Just like with any 18-year-old one-and-done talent, questions about maturity and development exist. Skepticism about Kidd-Gilchrist isn't extremely common, however, scouts worry that a lack of improvement in the jump shot could turn him into a one-dimensional player offensively. His range on the perimeter is mediocre at best, and he will have to improve his ball-handling skills to be a successful small-forward in the NBA.
Conclusion: There's a good chance that Kidd-Gilchrist won't even fall to the Wizards at three; however, it would be a mistake to pass on him if he does. Grunfeld and co. can't undervalue this kid's athletic ability and overall potential like they have in the past, and the idea of Kidd-Gilchrist running the fast-break with John Wall is promising to say the least.
Thomas Robinson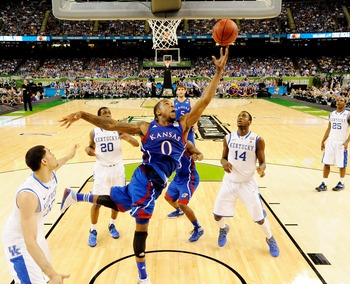 Pool/Getty Images
Position: Power Forward
Height: 6-8
Weight: 240
Pros: At 240 pounds with a wingspan of 7'1", Thomas Robinson has all of the physical tools needed to succeed at the NBA level. He is strong and explosive, but also possesses the footwork to defend efficiently in the post. His aggressive style of play allows him to rebound exceptionally well out of his area as he ranked second in the nation with nearly 12 boards a game this past year.
Robinson has a decent mid-range jumper, and his consistent progression in three years at Kansas reveals a hard work ethic as well.
Cons: Though efficient, Robinson is not dominant in any aspect offensively. His jump shot lacks consistent range, and he is not incredibly impressive with his back to the basket.
Despite his leaping ability, he may run into problems with taller power forwards and centers blocking his shot as he stands at just 6'8". He is a solid defender, but hasn't shown signs of becoming a superior shot blocker himself. He needs to limit the turnovers as well.
Conclusion: Thomas Robinson is more likely to be around at the third pick than Kidd-Gilchrist, and he offers the Wizards a solid power-forward that could step into the starting lineup immediately. Many believe Robinson is the safest bet among the 2012 lottery picks, and a strong presence inside is something that has been lacking in Washington for years.
He is athletic enough to run the floor with Wall, and could turn into a double-double machine with some improvement. Overall, Robinson would be a solid selection for the Wizards with the third pick.
Andre Drummond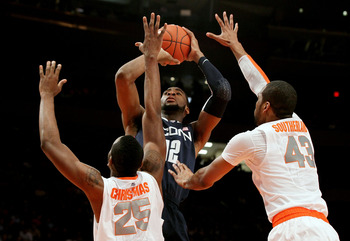 Jim McIsaac/Getty Images
Position: Power Forward / Center
Height: 6-11
Weight: 270
Pros: At just 18 years of age, Andre Drummond has arguably the highest ceiling of any player in the 2012 NBA Draft. Just shy of seven feet tall, the athletic big man is capable of running the floor and finishing at the rim with authority. He is strong and explosive, yet has a soft touch inside of 12-15 feet. Drummond is active in the paint contesting shots and grabbing rebounds, and has above average passing skills for a center.
Cons: Drummond does currently lack a go-to post move that could make him dominant. Maturity issues are relevant as he was known to disappear for stretches during his freshman year at UCONN. He also failed to get to the free throw line with any sort of frequency and shot an abysmal 29% when he was there. He has somewhat of an awkward shooting motion and release, which could prove ineffective at the next level.
Conclusion: Simply put, Andre Drummond is a raw, undeveloped talent with enormous potential. He has the size and physical features to become a premier big man in the NBA; however, it will require significant dedication and hard work.
He is incredibly young and has plenty of room to improve, but needs the right situation with the right teachers to succeed. Overall, taking Drummond in the top three-five picks is definitely a risk; however, it might be one worth taking for the Wizards who desperately need a presence down low.
Bradley Beal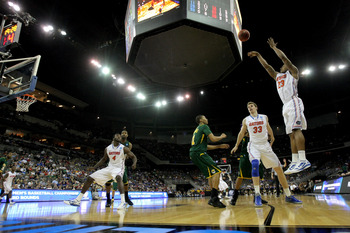 Doug Pensinger/Getty Images
Position: Shooting Guard
Height: 6-4
Weight: 207
Pros: It may come as a surprise that Bradley Beal has drawn comparisons to Ray Allen. But with a solid build and nearly flawless mechanics, the 6'4" SG from Florida has enormous potential at the next level. He doesn't drive often, but is capable of finishing when he does. Beal's shooting ability stretches the floor and forces defenses to account for him at all times. Undoubtedly he has NBA range, and plays solid defense on the perimeter as well.
Cons: Might be slightly undersized at the NBA level and runs the risk of having shots blocked or altered in the paint. Although he rebounded effectively in college, his totals are expected to drop significantly once he is matched up against taller guards.
Needs to work on attacking the basket and finishing in traffic to avoid becoming a one-dimensional offensive threat. Beal was also a streaky shooter in his freshman year at Florida and lacked a consistency that would make him a sure-thing in the NBA. Could also improve ball-handling skills and passing abilities.
Conclusion: Despite hall-of-fame comparisons, I would stay away from Bradley Beal with the third overall pick. He could certainly stretch the defense and serve as an effective spot up shooter, but plenty of those can be found in free agency in the modern NBA. He lacks the versatility and physical tools to warrant a top three pick in the draft, and though he might shoot 40%+ from three one day, the Washington Wizards need a legitimate first or second scoring option to complement Wall.
Harrison Barnes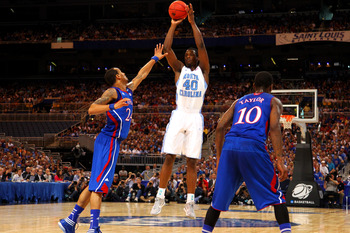 Dilip Vishwanat/Getty Images
Position: Small Forward
Height: 6-8
Weight: 223
Pros: Similar to Thomas Robinson, Harrison Barnes has the body and skill set to start in the NBA today. At 6'8", he is almost an oversized guard with the athletic ability to develop into something great. His height allows him to shoot over defenders where he is deadly from mid-range, and he has the speed to be effective in transition.
His perimeter game is average, but is still a work in progress as he played in the post throughout high school. Barnes possesses the tools to become one of the game's premier players.
Cons: Much of the concern around Harrison Barnes is centered around his current lack of ability to create his own shot. Spotting up, he is excellent; however, he is inconsistent off the dribble, and sometimes forces up low percentage shots. Barnes sometimes struggles to get to the basket, as he doesn't have the blinding quickness we often see today in the NBA, and could develop a more consistent three point shot.
Conclusion: Overall, I find Harrison Barnes to be one of the best options for the Wizards at three. His size and athleticism will allow him to impact the game immediately, and his raw talent makes for a high ceiling. With a bit of work, he could become extremely versatile and a serious scoring threat. With a pass-first point guard like he had in Kendall Marshall at UNC, Barnes will get open looks and has the ability to turn into a number one option for the Wizards offensively.
Keep Reading

Washington Wizards: Like this team?