Heat & Celtics, NBA Draft 2012, Lakers Trades, Plus Latest News & Buzz (Podcast)
June 7, 2012

J. Meric/Getty Images
Can the Boston Celtics close out this Eastern Conference thriller against the Miami Heat?
The Oklahoma City Thunder already proved that true theater of the absurd is possible. An "underdog" team struggling for momentum can climb back from an 0-2 deficit, equalize the series at home, win a pivotal road game AND "classically" close out in front of the home faithful.
In this episode of Basketball by Association, we discuss why the Celtics are now only one step away from repeating the exact same blueprint. More importantly, can the Miami Heat step up to yet another career-defining challenge?
Bleacher Report's Basketball by Association is your final destination for all things pro hoops, featuring Assistant NBA Editor Ethan Norof and NBA Lead Blogger Joel C. Cordes.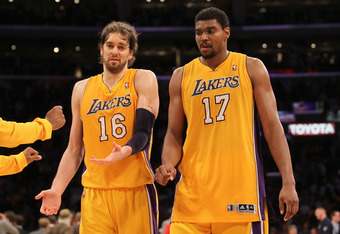 Stephen Dunn/Getty Images
If the player fails to load, you can also listen to the episode here:
Also on tap for this show are the latest, completely ridiculous Phil Jackson and Orlando Magic rumors.
We also ask, "where does the San Antonio Spurs' collapse ranks in NBA history, and will Tim Duncan come back now that he fell short?"
Should the Los Angeles Lakers trade Pau Gasol, Andrew Bynum or both? If they are looking to deal, which swaps make sense?
We also talk about the four teams with multiple first-round picks in the 2012 NBA Draft. Who has the most work to do with a pair, and which franchise can use their duo for the biggest positive difference?