World Football Strange but True: Euro 2012 WAGs Sport Lip Tattoos
June 7, 2012

WAGs and lip tattoos: Hey, why the heck not?
If it's time for a major tournament, that invariably means it's time for the English tabloids to woo the WAGs out of hibernation.
And if it's English tabloids that interest you, The Sun is definitely what you're after.
The other day, The Sun published what, at first, seemed to be another run-of-the-mill WAG article ahead of Euro 2012. It started out well enough, with Theo Walcott's main squeeze, Melanie Slade, looking quite lovely in the lead picture.
Next, The Sun treated us to a delightfully bum-tastic shot featuring the backsides of Charlene Suric (Gaël Clichy), Daniella Semaan (Cesc Fabregas), Bouchra van Persie (Robin van Persie, duh) and Slade.
Fair enough, right? And at that point, the article seemed to be turning out quite well.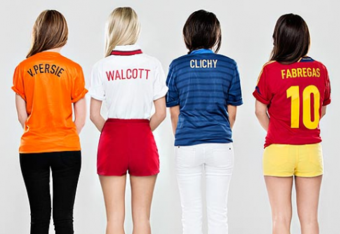 The eye-candy, however, took a turn for the weird thereafter.
Following such a tasteful introduction, each WAG was then pictured wearing lip tattoos. The lip tattoos, as you might have guessed, featured the national flag of each WAG's partner. And it was weird.
Another appropriate adjective: creepy.
Slade, lovely lady that undoubtedly she is, looks like a mime while wearing her lip tattoo. Mimes are creepy.
And as difficult as it is to make Suric look the slightest bit unattractive, the lip tattoo almost does the trick with her as well.
Still, though. Hello, Charlene!
What do you think, readers? Weird? Creepy? Or am I the one being weird and this is all really great?
Let me know in the comments.
(h/t: Kickette)