Pittsburgh Steelers' Biggest Position Concern for 2012
June 7, 2012

Jared Wickerham/Getty Images
Let's face it. Between the competitive nature of the NFL and the salary cap, it can be very difficult to keep your roster stocked 100% of the time.  Add player injuries and holdouts to the mix, and you can see why NFL GMs don't get much sleep.
So as we meander through the summer, post draft and pre-camp, let's take a look and see where the 2012 Pittsburgh Steelers stack up at some key positions heading into Latrobe. 
Quarterback
When you employ Ben Roethlisberger, you have little concern regarding this position.  Granted, Ben has collected his share of injuries over the seasons, but he seems to troop on through it all. 
Charlie Bach and Byron Leftwich are most likely going to back Ben up once again.  Lefty has been injury-prone the past few seasons, while Batch, despite his age (37), will almost always deliver when needed.  Let's set the worry factor for this position at LOW.
Running Back
Of the four offensive spots that I will grade, this is the one that scares me the most. 
I don't expect Rashard Mendenhall to play in 2012.  If he does, it won't be until late November/December.  There is no need to rush a player back from an ACL injury like the one he suffered when playing against Cleveland.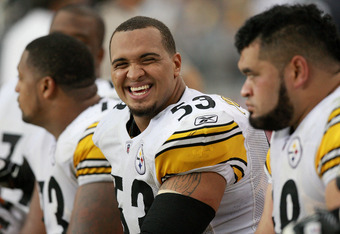 Karl Walter/Getty Images
With that said, how comfortable are you with Isaac Redman as your every down back?  Say what you want about his pre-season exploits the past two years and his marvelous effort vs. Denver in the playoff game, but remember, he was an undrafted RB from Bowie State for a reason, no pedigree.  Yes, yes you can mention Willie Parker and what he did and I will tip my cap to that, but to think that Redman can be a 1,200 yard back is a bit of a stretch. 
What if Redman goes down?  Does the thought of John Clay or Baron Batch at the position help you sleep better?  I didn't think so. 
Todd Haley wants to run more, but I still say Ben will throw for 4,000+ this year, based on the true lack of depth and experience at this position.  My worry factor here is HIGH.
Offensive Line
With the additions of David DeCastro and Mike Adams in the first two rounds of April's NFL draft, the Steelers pretty much said what was important to them regarding the holes they needed to fill ASAP for the immediate future.
I'm not here to grade the draft, but I will say that both of these two should be starting come September.  And with Maurkice Pouncey anchoring the center position, you feel a bit safer.
The questions that remain are: Who will make up the final two starters and where will everyone play?  Is Max Starks going to be back?  Can anybody feel safe with Jonathan Scott starting on a regular basis?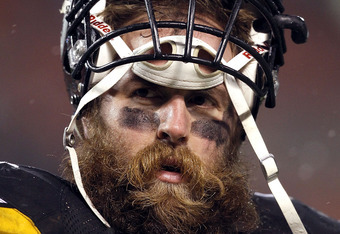 Matt Sullivan/Getty Images
The line could look like Adams, (LT) Willie Colon, (LG) Pouncey, (C) DeCastro, (RG) and Marcus Gilbert (RT) when it's all said and done. 
With so many questions, but so much potential, let's set the worry factor at MEDIUM for this one.
Wide Receivers
If you are worried that Mike Wallace won't play in 2012, don't be.  To get the big money he covets, Wallace knows that he has to play this season. 
Together with Antonio Brown and Emmanuel Sanders, you have a nice trio of players at this spot; and when you add a veteran like Jerricho Cotchery your receiver corps seems to be intact.  My worry factor here is LOW.
Tight Ends
Heath Miller continues to provide quality numbers at this spot, setting a career high in 2011 for average per catch (12.4) and snaring 51 passes, second best in his eight year career. 
Wes Saunders will see more playing time as the switch of David Johnson to FB has been made.  Depth here could be a concern if injuries play a role, but for now the worry factor is LOW.
Defensive Line
No matter how you slice it, losing Chris Hoke and Aaron Smith hurts.  Despite the injuries suffered over the past few years, replacing those two won't be easy. 
Add to the situation the fact that Casey Hampton is getting older, as is our favorite Grizzly Adams type, Brett Keisel.  When you add Ziggy Hood's so-so effort in 2011, this position becomes a bit of a nail-biter. 
Yes, Cam Heyward has some moments to smile about, but it's not enough to keep me from setting my worry factor at HIGH.
Linebackers
Always the strength of the defense, there is little reason why you would think there should be much concern when you have LaMarr Woodley and James Harrison anchoring your outside, with Lawrence Timmons and Stevenson Sylvester positioned inside. 
Larry Foote and Jason Woirlds add depth to this position, along with the tantalizing prospect of third round pick Sean Spence from Miami, FL. We put our worry factor for linebackers at LOW.
Defensive Backs
Of all the positions on the roster, this one has always been the biggest head-scratcher for me. 
Yes, Ike Taylor is fast and can cover most of the players he faces, but at times he can lapse into a cloud.  Willie Gay is gone to Arizona.  Granted, Troy Polamalu is your anchor back there, but injuries are starting to slow him down, and Ryan Clark is no spring chicken.  Is there anybody backing them up who jumps out as the savior here?  I didn't think so. 
And do we need to recount the playoff loss in Denver where our secondary made Tim Tebow look like John Elway?  My worry factor here is HIGH.
Special Teams
Shaun Suisham should play the role of kicker again, and the hope is he will post numbers better than the 74% of FG kicks he made in 2011.  Antonio Brown will no longer return kicks, a mistake if you ask me.  That leaves punter Jeremy Kapinos, who was one of the worst a few years ago.  My worry factor here is MEDIUM.
John Phillips is on Twitter at http://www.twitter.com/PGHJohnPhillips