Usain Bolt: Why Oslo Diamond League Is Critical to His Hopes of Olympic Gold
June 7, 2012

Paolo Bruno/Getty Images
"Usain Bolt set a meet record in Rome last week. He's totally gonna high-step through the Olympics just like he did in Beijing!" –An Uninformed Track Fan
Top-level sprinting only registers with most Americans once every four years. In between each Summer Olympiad however, almost all of us are left in the dark. We remember what Bolt did in 2008, and we see him outrunning Sergio Aguero in those Faster Than the Speed of Bolt commercials, so we just assume he's a sure bet to dominate in London as well.
But the world's fastest man has actually had an up-and-down go of things over the past couple years. In particular, Bolt has struggled with his starts. He either gets off the line too slow and needs to play catchup, or more consequentially, he gets off the line too fast and ends up disqualifying himself.
The latter happened to Bolt at the world championships in South Korea last season, where a false start cost him the opportunity to defend his 100-meter title. The immediate DQ came as part of a newly enacted and highly controversial zero-tolerance false start rule.
After the incident, Bolt played it cool, telling reporters, "Looking for tears? It's not gonna happen. I'm OK." But this time, the charismatic Jamaican's words weren't able to mask his true feelings. The somber, despondent look on Bolt's normally jovial face said it all: What the hell is wrong with me?
Bolt has been more consistent this year, gliding over the track with the same effortless mastery we've become accustomed to. But like a batter with the yips are getting drilled with a fastball or a pitcher who's afraid to throw a strike after giving up a homer, you can tell the false start rule is ruminating in his head.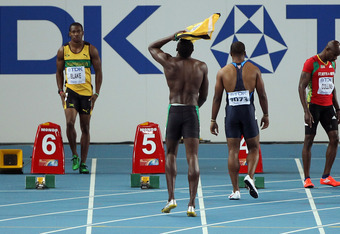 Andy Lyons/Getty Images
In Rome last week, Bolt broke the previous meet record with a 9.77 time, but he needed a comeback effort to do so. Bolt was slow off the line, spotting Countryman Asafa Powell an early lead before coming back to beat him. Was it a coincidence? Yeah, there's a good chance it was. But if it was the yips?
Uh-oh.
And that brings us to the Oslo Diamond League event that will take place later today, where Bolt will face off against his compatriot and rival, Asafa Powell.
We all know what Bolt can do in the last 80 meters of a 100-meter race. He's 6'5" with legs like a gazelle. But if he comes slow off the line once again, there will be serious questions facing him as he heads into the Olympics. Winning this race shouldn't even matter; all Bolt should care about is working on his starts.
Because the further into his own head he gets, the higher the likelihood this problem manifests itself at the highest level of competition. And for someone who talks as much smack as Bolt does, that could make him look less like a world-class sprinter and more like a world-class buffoon.
*The 100m race in Oslo will take place at 3:50 ET.