NCAA Baseball Super Regionals 2012 Live Stream: Where and When to Watch Online
June 7, 2012
After a long season that began all the way back in February, there are only 16 college baseball teams left standing for the Super Regionals. Just eight of them will advance to the College World Series after this weekend's play, however.
The field has a good mix of national powerhouses like Florida and UCLA, as well as some underdogs looking to making a shocking appearance in Omaha. And, with pitching as the great equalizer, it's impossible to count any of those sleeper teams out.
Here's all the important information about the Super Regional round, including where to catch the action online. Also, there's a look at some of the most intriguing series on the schedule. For a printable bracket to see how the tournament is shaping up, click here.
Where: Super Regional Sites
When: Friday, June 8 through Monday, June 11
Watch: ESPN, ESPN2 and ESPNU
Live Stream: ESPN3.com
Matchups to Watch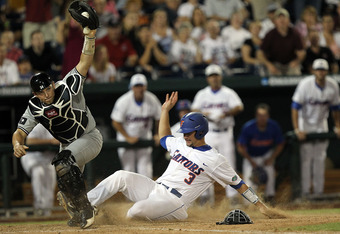 Ronald Martinez/Getty Images
Florida vs. NC State
Florida is led by power-hitting catcher Mike Zunino. He was selected with the third pick in the MLB draft by the Seattle Mariners. He's cranked out 18 home runs this season, making for an impressive tandem with Preston Tucker, who had 15.
The Wolfpack haven't generated as much hype as the other top seeds, but that doesn't make them any less dangerous. Ace Carlos Rodon is 9-0 with a dazzling 1.61 ERA. The offense features four hitters with batting averages above .330.
Ultimately, the series will be decided by Florida's starting pitchers. The Gators' offense will score runs and the team's bullpen is tremendous. So the starters just have to make sure the game doesn't get away from them in the early innings.
Prediction: Florida in three games
LSU vs. Stony Brook
Raph Rhymes was one of the nation's best hitters this season, hitting .452 and getting on base in more than half of his plate appearances. The Tigers also have highly-rated prospect Kevin Gausman leading their rotation, leaving them with no shortage of star power.
America East representative Stony Brook was an afterthought heading into the regionals, but the Seawolves scored at least eight runs in every game to become the only No. 4 seed to advance. That type of offensive production gives them a chance to beat anybody.
Gausman, the fourth overall pick by the Baltimore Orioles, has the tools to slow down the Seawolves. The team's other two starters haven't been nearly as reliable, however. Don't be surprised if Stony Brook's surprising run continues.
Prediction: Stony Brook in three games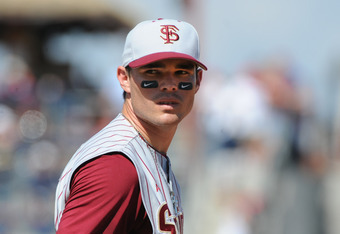 Al Messerschmidt/Getty Images
Florida State vs. Stanford
Florida State's biggest strength is its well-rounded roster, which bodes well for a tournament format. James Ramsey and Jayce Boyd are the stars, but the Seminoles have speed throughout the lineup that can wreak havoc on the bases, and a strong staff to keep opponents in check.
Similarly, Stanford has a balanced offense with multiple players who can come up with a big hit at any time. The Cardinal don't have as much pitching depth, though. They lean heavily on top prospect Mark Appel, who has gone 10-1 with a 2.27 ERA.
If the Seminoles can work the count against Appel, they should be able to get him out of the game early and take advantage against the bullpen. Look for two close games, but for the Seminoles to just have too many weapons.
Prediction: Florida State in two games