Titans' Advanced Stat of the Week: Matt Hasselbeck's Historical Comparison
June 7, 2012

Brian Bahr/Getty Images
One of the great statistical games to play is to find historical comparisons for modern NFL players. It's a fun way to learn about the past and get a sense for where current players stand in relation to the all-time greats.
Matt Hasselbeck defines a certain level of quarterback play. He's had a long and successful career. He's occasionally been among the better quarterbacks in the game. He's been to, but never won a Super Bowl.
When you look at his historical comparison list, you find exactly the kind of names you'd expect: Archie Manning, Ken O'Brien, Neil Lomax, Don Meredith. All of these men were good players who occasionally had moments of greatness, but were a cut below elite.
No one embodies that particular role better than Jake Plummer.
Plummer was a consistent winner as long as his team had talent. His career probably ended a few years too early, as he walked away from the game at just 32 years old. He wasn't the kind of quarterback who could lift a franchise, but he was a great option for a team that already had pieces in place.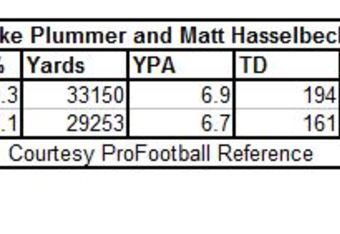 It's easy to forget that Plummer had a lot of success in Denver. He helped lead the Broncos to the playoffs for three straight years before being replaced as quarterback by Jay Cutler in 2006 when the team stood at 7-4.
Hasselbeck has posted slightly better stats in many respects respects because his career was mostly built after the 2004 point of emphasis on illegal contact which lead to inflated passing statistics.
Hasselbeck has spent most of his career in a West Coast offense that emphasized accuracy, and that's a key difference with Plummer. Jake the Snake was famous for a free-wheeling style punctuated by dazzling scrambles and insane interceptions.
While they aren't the best match stylistically, they were equally effective. Using the "+" stats which compare a player to league average, we find that in most categories, Plummer had five or six seasons in which he was better than league average. Hasselbeck had a same number, of above average seasons.
Both players had very similar peaks as well. Hasselbeck's best year was 2005 when he took the Seahawks to the Super Bowl. Plummer's best season was also 2005 when he made his only Pro Bowl.
The disappointing part of the comparison is Plummer's early retirement. Because he didn't play late into his 30s, we never got to see just how far he could grow. Many quarterbacks like Plummer shake off their erratic play as they age. He could have been an excellent late bloomer at quarterback and had a late-career resurgence like Rich Gannon.
While neither player will sniff the Hall of Fame, Hasselbeck and Plummer are worth remembering as better-than-average pros with good careers.